Hinsdale Junior Woman's Club defies odds in hosting in-person benefit-sets fundraising record in the process
By Mike Ellis
Since March 2020, in-person gala shave been basically non-existent in Illinois, due to state restrictions and general public fears over the Coronavirus pandemic. But one local non-profit organization pivoted and exercised its ingenuity to stage a successful in-person benefit—and even set a club fundraising record in the process. The Hinsdale Junior Woman's Club (HJWC) is known locally for organizing one of the premier parties in Chicagoland each year at its annual benefit, with proceeds fulfilling a series of grant requests submitted by regional charities. "It's this day every year that we all just celebrate," 2021 benefit managing co-chair Courtney Casey said. "Everyone goes to dinner beforehand, and a lot of people have after-party plans. It's a really fun day to get together with your friends." The HJWC was one of the few organizations that enjoyed an in-person gala in 2020, holding its benefit in February, just a month before the world was turned upside-down. But when the pandemic hit, like all other clubs, the HJWC was forced to rethink its programming for the year ahead.
"We didn't know what this year was going to bring," 2020-21 club president Lauren Kavanaugh said. "We didn't know if we could have benefit; we didn't know what the fundraising challenges would be." Benefit managing co-chair Courtney Casey said the club monitored restrictions, and adjusted accordingly throughout the year, and Kavanaugh said the club opened meetings and events to as many members in-person as feasible. "People still wanted to get out, but get out safely," Kavanaugh said. "So when we were able to have 50-person meetings, all 50 slots were full, and the rest of our membership was on Zoom." In October 2020, the HJWC benefit committee unveiled a plan to host an event for several hundred guests the following April in Chicago, where the club had held its last seven benefits, dating back to 2014. The theme was a Grammys-inspired "Platinum Unplugged." "Our members wanted something safe and in-person," Kavanaugh said. But in January, with restrictions still in place, and the Coronavirus showing no signs of evaporation, the committee approached Kavanaugh to discuss contingency options. Kavanaugh replied that she had a "feeling" of the "pulse of the club."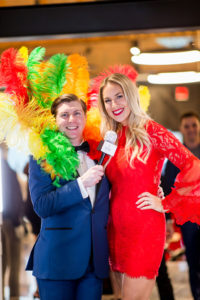 "We didn't know what this year was going to bring. We didn't know if we could have benefit; we didn't know what the fundraising challenges would be."
"The pulse of the club was that they wanted an [in-person] event," she said. Watching other organizations continue with virtual events, Kavanaugh said "we felt as though our April 24 date was out far enough where we would be able to have an in-person event in accordance with state guidelines." Kavanaugh conveyed her thoughts to the benefit chairs, and the committee began exploring options for restructuring the gala. Casey said the committee discussed how it could create an event for those that wanted to participate in-person, while also providing an element to include others uncomfortable with gathering. She said "local" was a major talking-point during their conversations, and observing that Hinsdale businesses were struggling under pandemic conditions, the committee elected to bring the benefit back to the western suburbs for the first time in eight years. "We want to be able to go out to dinner here, and not have to go outside our community," Casey said. "We love that about our community." According to Casey, the committee originally mulled a "business crawl" concept throughout downtown Hinsdale, but determined that this would have been "logistically very complicated." For a couple of weeks, Kavanaugh said the club explored staging multiple parties simultaneously at a handful restaurants or country clubs spanning from La Grange to Clarendon Hills. But due to the limited number of benefit committee members, they realized it would have been immensely challenging to adequately staff each facility.
"That's when they went back to the drawing board—again—to figure out the structure that we eventually went with," Kavanaugh said. Ultimately, the benefit committee found the new Burdi Clothing space that opened in the former Hartley's Cycle Shoppe property on Hinsdale Ave. in 2020. "It felt really on the pulse of what we wanted to do with the theme of the event," Casey said, adding that the committee was grateful when owner Rino Burdi consented to host the benefit. At this stage, in-person events were limited to 50 people indoors at a time, so the committee settled on a rotating gala, whereby four separate groups of 50 would attend the same event in one-hour intervals. Vaccine supply increased shortly before the benefit was held on April 24, bolstering vaccinations and confidence in the pandemic trajectory. What ensued was an event that celebrated the HJWC, while more generally seeming to mark the return of in person gatherings as well. "The energy was undeniable," Kavanaugh said. "It felt like the town came out to celebrate," Casey said, adding that "it's been a unique year for everybody," and "people are craving that connection" after experiencing more than a year with limited social interaction. Guests pre-registered for gift cards to sundry downtown stores and restaurants, which they procured at the "red carpet preparty" main event at Burdi Clothing.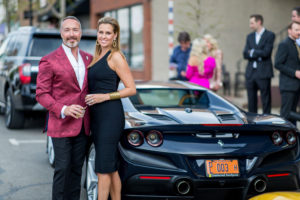 "All the local restaurants' reservations were full from 5 p.m. to closing time, with people all dolled up, coming to or from our event," Casey said. Ladies came attired in their full sartorial splendor, having waited patiently to dress up for a night out on the town. DJ Matt Roan supplied musical entertainment for attendees, who browsed the new store, while visiting with friends and neighbors in public in some cases for the first time in more than a year. Perhaps the most popular attraction for ladies was a "360 glam cam" that provided a unique twist on a photo booth. The carousel-like camera produced a panoramic moving picture for friends that joined together on a small hexagonal base, to their great delight and entertainment. That evening, some benefit committee members initially expressed hesitation about having the endurance to essentially repeat the same party four times; but everyone at the old cycle shop appeared happier at the end of the evening. "We really enjoyed ourselves," Casey said. … "We had no expectations this year, because everything kept changing. We planned one event, and that completely changed." Kavanaugh said the club received "only positive feedback—which never happens." "Everyone had a great time," she said. "People were able to have dinner with one group; go to the event, experience it with a different group; and then afterward, attend an after-party with a different group. People who wanted to see their friends that spanned different subgroups within the club within the club were able to experience that."
"Platinum Unplugged" reaped farther-reaching social dividends than the interaction that transpired at Burdi Clothing. Casey said some friends from the city reached out to her, inquiring how the benefit committee was able to execute an in person event, desiring to recuperate their own gatherings as well. The benefit also yielded the richest harvest for a single year in the more than 70-year history of the HJWC, as the club announced in May that it raised more than $305,000, eclipsing the $300,000 plateau for the first time. This total was employed to fund grant requests from 27 regional nonprofit organizations, including Assistance League, Center for Independence, The Home 2 Home Project, Reclaim13, Simply from the Heart and Wellness House. Kavanaugh said what ultimately made the benefit so comprehensively successful was that the club's outlook for the entire season was consistently "what can we do." "We didn't know what this year was going to bring," she said. "We didn't know if we could have benefit; we didn't know what the fundraising challenges would be. With this team that we built…everyone just kept working together and moving forward, and saying, 'How can we do this?' And we did—and we broke records." For more information about the Hinsdale
Junior Woman's Club, visit www.hjwc.us
*Photos by Marcello Rodarte (full gallery from HJWC event here)