Hinsdale Central Red Devils post its best season record
By Scott Jonlich
The 2021 Hinsdale Central Red Devils baseball team recorded the best record in its school's history. Coming off a 2020 COVID-19 pandemic year that wiped out spring sports, the club was uncertain that the baseball season would even come to fruition due to Illinois restrictions. It was only in mid-March of this year when the school was informed there would be high-school baseball in the spring. Despite the uncertainty that baseball would be played at all, the club finally began practicing on April 5. The seniors coming back included team captain and catcher Brian Daker, who was just getting to know some teammates. While they had limited workouts in 2020, game experience between teammates was not possible. Before the 2021 season, they had to work fast and furious with seven practice dates to be game-ready for the seasonopener on April 17 at Oak Park-River Forest High School. Despite the long layoff, the Red Devils finished the 2021 season with a 23-4 overall record and 15-3 in conference play, led by junior pitcher Lucas Montesantos. The right-hander earned conference player of the year honors with a perfect 5-0 record in the regular season, plus a victory in the playoffs, 6-4, against Downers Grove South.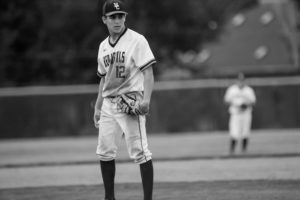 "You don't have to worry about passed balls, you don't have to worry about location because (Daker) is going to frame it. He's gonna do whatever you can to get the strike."
His battery-mate Daker went on to become the team's most valuable player and runner-up to conference player of the year. "I remember being in my practice facility with my club team (Rake City) in the winter, Montesantos said. "It was probably February when I learned we were going have a season. We didn't know what to expect coming into this season, because of what happened in sports. It took the backburner [to the pandemic] when something as important as your health comes up." The Hinsdale Central baseball community came out in droves to support their Red Devils with an eagerness for baseball as hundreds of faithful fans surrounded the field for the playoffs in early June. Central defeated Glenbard East 8-2 in a regional semifinal on June 4, and cruised past Oak Lawn, 9-2, for the school's first regional championship in 15 years. Downers Grove South proved to be a tougher challenge, but the Red Devils prevailed, 6-4, in a sectional semifinal on June 9. The season-ending 6-2 sectional loss on June 11 to Brother Rice was witnessed by nearly a thousand locals, as the Red Devils' season ended at the hands of the Catholic League powerhouse packed with Division I prospects.
"The success that we had this year wasn't based on talent as much as it was based on heart and the ability to come together."
Hinsdale Central manager Jason Ziemer said his baseball club responded to the community support. "It was great to see the community come together over our national pastime," Ziemer said. "Over the past year, I have seen our community divided over a number of different issues regarding COVID, schools and athletics. It was great to see people of all ages come out and come together over our team." Ziemer said his team of young men is a great example of what the community has produced. "Many of them have played baseball together for over ten years, and coached by many in the community over that time," he said. "Also, these guys are exceptional young men off the field and in the classroom, which is a testament to the community. The public high school in any community can be a great unifying force. It was great to see the community unify around the local high-school team and this group of exceptional individuals." Ziemer's assistant coach Brent Kittel is one of the individuals who has been a mentor to much of the roster as an instructor with the local Devils Baseball Club. Kittel worked closely with the pitchers, calling pitches in his first full year with the Red Devils alongside Ziemer and coach Bill Kloska.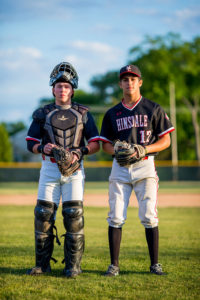 "Our coaches kept it simple. They told us to give it everything we had. Forget who we're playing. It doesn't matter if we're playing the best team or the worst team. Respect your opponent and just go out there."
Kittel was impressed with how the team jelled together. "The success that we had this year wasn't based on talent as much as it was based on heart and the ability to come together," he said. "These guys believed in each other more than any team I've ever coached, and there's a certain bond and a love that these guys have." "Our coaches kept it simple," said Daker, a senior who will be playing in IMG in Bradenton, Fla. during his gap year, as he hopes to land with a Division I college by graduation. "They told us to just give it everything we had—forget who we are playing. It doesn't matter if we're playing the best team or the worst team: just respect your opponent, and go out there and give it everything you have." Montesantos referred to Daker, his trusted receiver and team MVP as "Buddha," a tribute to his catcher's ability to handle pitchers. "If I am not noticing the catcher or an umpire, then you know they are doing a good job," Montesantos said. "I didn't have to worry at all what my catcher was doing.—And that's a blessing in this sport, because a lot of the time, that doesn't happen, and you can just really put ultimate trust into what's going on behind the plate. You don't have to worry about passed balls, you don't have to worry about location, because [Daker] is going to frame it. He's going to do whatever you can to get the strike."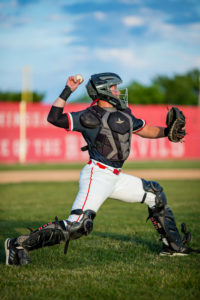 "It was great to see the community unify around the local high school team of exceptional individuals."
Daker and Montesantos were happy to finally be battery-mates after a year that was not meant to be in 2020. Montesantos was a sophomore last year, and did not have the opportunity to work with the then-junior Daker during the COVID-19 winter and spring workouts, until early this year. Reflecting on the team's success this year, Daker gave Montesantos props on his ability to locate pitches and lead the team. "Monte has the best change-up with a lot of sink to it," Daker said. "His slider goes east-west, and it's unlike a curveball that goes north-south. He has the best stuff I have ever seen, and when we see his competitiveness, we all want to play our best."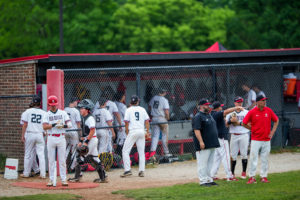 *Photos by Marcello Rodarte