Two Thousand attend in-person Walk for Wellness House – Welcome Home!
By HM Staff
The annual Walk for Wellness House 3k walk/5k run, held on Sunday, May 1, 2022, brought cancer survivors, families, friends, and volunteers together and in-person for the first time in two years at the main location in Hinsdale, Chicagoland and beyond. The Walk represented a homecoming for Wellness House participants who are returning for in person programs; for the community that hasn't celebrated together in two years; and for staff and Board welcoming everyone back! The unity of a caring community passionate about the Wellness House mission made this year's Walk a smashing success – raising more than $620,000! The Walk was made possible by Presenting Sponsor, The Inland Real Estate Group of Companies, and the more than 30 corporate sponsors and supporters that so generously partnered with them this year. Proceeds from the Walk are used to provide Wellness House programs for people living with cancer, at no cost to them and accessible from anywhere.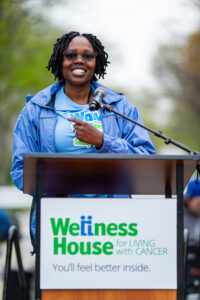 There were more than 1800 people in attendance at the Walk in Hinsdale, and more than 200 walkers that participated at locations of their own choosing at Mile Square Health Center in Chicago's Medical District and other locations where participants could walk their way. Special thanks to Gina Pongetti Angeletti and Molly Haunty who co-chaired this year's Walk with passion and enthusiasm, and to THE CROWN ROYALS TEAM that broke their own record with more than 100 team members and $122,000! This team initially met within a Wellness House support group and grew larger and more impactful each year. The achievement of each one of the 130 teams and 2000 Walk participants provided a meaningful and critical impact on the mission of Wellness House, a nonprofit that envisions a community where all people affected by cancer thrive.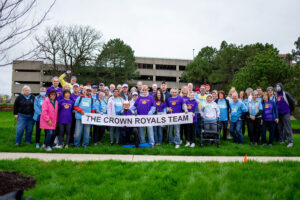 Over 32 years ago, a group of people came together because they saw, firsthand, the impact of cancer on their family and friends. Out of concern and determination, Wellness House was born to lighten cancer's burden through programs that prepare and empower people to fully live life with cancer and beyond. Wellness House uses a psycho-social approach based on research, addressing the whole person – socially, emotionally, physically, spiritually, and psychologically. Since opening their doors in 1990, 44,000 people have been impacted by Wellness House. Offered at no cost, and as a complement to medical treatment, their programs educate and support participants so they will improve their physical and emotional wellbeing. For more information, visit www.wellnesshouse.org
*Photos by Marcello Rodarte