Q&A With Tina Weller
By HM Staff
What inspired your candle business?
I have been playing with candles as a hobby before Covid and during that stressful time in life really started enjoying the hobby. In October of 2020, I was diagnosed with a health issue and doctor's advised to try to watch things I consume. They recommended I eat and enjoy by following a more cleaner lifestyle. I never realized what was hidden in fragrances till my health become such a major focus in my life. I began to understand that the word Premium in fragrance labels dosn't mean clean and as I asked manufacturers for their data sheets there were warning signs of death, and exploding hearts that made me realize that my love for candles and fragrances needed to be looked at at a deeper level. I launched Fumée Claire and partnered with a clean manufacturer of fragrances and started learning a life of a manufacturer. I played with scent to develop the 12 candle scents and then evaluated the marketplace to see what else could set us apart from other candle manufacturers. I developed a luxury brand candle that was clean but gave a room a beautiful fragrance. I launched with our products in May of 2021. I love making the candles in small batches giving consumers a fresh product I could be proud of.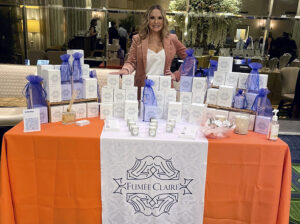 How is FUMEE CLAIRE different than other candle products?
We use coconut based wax and have eliminated 40 harmful cancer causing chemicals that can be hidden in fragrances and wax. Our products are safe for you, your family, your art and pets. Many who have experienced allergies with fragrances are loving Fumée Claire candles. Fumée Claire's name means Clean Smoke in French. This is what you see when you blow out our products. My mother was French, so as I came up with the name, I couldn't find a better tribute to a lady that influence me to work hard, dare to be different and live my dreams without fear. As we developed the packaging with the Fumée Claire name, the French baroque influence only seemed fitting to be on the product. I wanted you to have something in your home you would just love seeing and smelling. I made sure every element of the product was a reflection of my vision of luxury, clean living and beautiful. Even the top cover of the candle is a plantable seeded cover to grow wildflowers instead of plastic. As glass is now becoming more available again the body products will also be in glass as of June.
What is it about candles that people have come to enjoy for thousands of years?
Candles have enlighten lives from the time of the Romans. In today's marketplace they are a personal reflection of one's style, lifestyle and personal taste. Everyone loves a variety of scents, and candlelight adds a beautiful warm atmosphere to any room. Candles are often linked to romance and love, from the soft glow of candlelight to the aroma's that fill the air they can set an atmosphere of warmth and love in a home. In my home for years, you would be welcomed by many candles lit. I love mixing scents throughout the home. In different rooms you could be taken on a new adventure of scent. Our scents from Fumée Claire have been inspired by my adventures, experiences and passions in life. They are meant to tell a story of something special in my life.
You have introduced your product at local events. How important is it that customers can experience the product in person?
The Launch of my product has been from vendor shows and personal connections. Once a person smells a candle they will react, or tell me stories of what it reminds them of, usually a memory in their life. This connection of scent to life is really intriguing to me and helps me develop my scent lineup. I listen and learn everyday so I truly enjoy the personal interaction with my clients. It is feedback that helps develop scents. I am currently working on 6 more scents for future launches. I try to best describe my candles with top notes what you smell when you put them to your nose, Middle notes is what you smell when it is burning and base notes is what is left in the air from the scent after extinguishing. I have shipped products now to 20 states from online sales which I am fascinated by and I am now seeing repeat orders from these out of state clients. I love to see this growth beyond my Chicagoland area. Being a small batch candle manufacturer will allow me for years to release seasonal scents and keep the staples that sell well year round.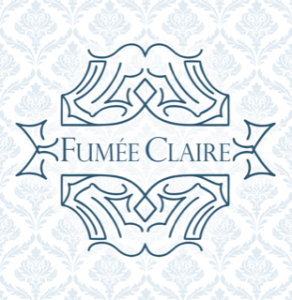 I am always excited to see customers and when they bring their friends and tell them all about their favorites this makes me very happy. I also appreciate when I am told how beautiful the product and packaging is which happens all the time. I am really proud of this! I also love how as I enter homes around Hinsdale, Fumée Claire candles are being gifted and burnt for many homeowners enjoyments. What are your favorite scents? Every time I pour a candle I fall back in love with the scent but if you ask me which scents I think are home runs. I love Isle of Capri, a mix of Bougainvillea, Lemon, Basil and Mediterranean fig. I love Cabo Sunrise, which is Orange Blossom, Agave and Sea Salt. But if I could only pour one candle the rest of my life I am most proud of Aspen Christmas it is a mix of Fraser Fir, Evergreen, Lemon, Cypress, and White Birch Pine. I really think it's the best Christmas Candle I have ever smelled. I really am proud of my custom blended scents. Each one takes me to those places and brings a smile to my face. More info please visit www.fumeeclaire.com
*Photos provided by Tina Weller