Wellness House reinstates its annual in-person fundraiser
By Maureen Callahan
More than three decades ago, a group of concerned Hinsdaleans affected by cancer had a collective vision of a place of healing. The result was the Wellness House (WH). Having experienced the effects of cancer in family and friends, they strove to create a warm and welcoming place of healing- at no cost to the patients and families it serves. Now, 32 years in the making, WH benefits community members every day through programs that educate, support, and empower cancer patients and their families.
"Until you need us, you might not know we're here. We're here and happy to help."
The organization has grown considerably, now partnering with other Chicagoland healthcare organizations to benefit patients outside of the immediate area. "We hope to help as many people as possible, even if they can't physically get to us," said WH Executive Director, Lisa Kolavennu. In addition to in-person programs, a variety of online programs are now available for patients and caregivers.
Significant fundraising is necessary, as all WH programs are complimentary. The organization's main revenue-generating event, The Wellness House Ball, took place Saturday, Oct. 15, at the Four Seasons, Chicago. The theme of this year's annual black-tie event was "All In." It was the first in-person fundraiser in two years.
"Wellness House hopes to foster a familial atmosphere to the patients and caregivers it serves," Kolavennu remarked. Dinner, served at long, community-style tables, reinforced the feeling of togetherness it strives to provide. WH members were invited to share stories of their journeys through a life-altering condition at a frightening and vulnerable point in life. Supporters were offered a first-hand experience with the beneficiaries of their donations.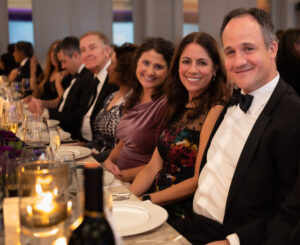 The guests danced until midnight, breaking to visit the expansive dessert and candy bar. A live auction with paddle raises rounded out the evening, ensuring the perpetuation of next year's programs. Funds raised will go toward 500 online and in-person monthly offerings, touching on a variety of topics from information and education to exercise, nutrition, and stress management. Child and family support groups and counseling are also available. All WH programs are evidence-based and intended to help cancer patients reduce side-effects, learn coping and relaxation techniques, exercise safely, and most importantly, feel less isolated.
WH ball chairperson, Lauren Houder, summed up the evening as she offered the dinner blessing. "When my family gathers," she began, "we always say 'thank you for bringing us together and we certainly miss those who are not here.'" WH makes every effort to meet the needs of area cancer patients and their families- both physically and emotionally- to be sure they are here for as long as possible.
*Photos by Pablo Rajczyk