Drake Oak Brook Hotel's Executive Chef, Ezequiel Dominguez
By Larry Atseff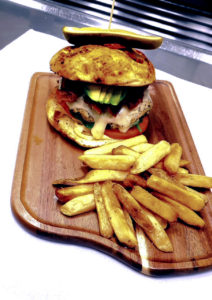 Some of the biggest names in dining are located in Oak Brook. Yet, one of the biggest, busiest, and best kitchens in Oak Brook isn't even associated with those big names. The chef that runs the whole operation is very quiet and unassuming but he is extremely well accomplished. His name: Ezequiel Dominguez, Executive Chef, Drake Oak Brook Hotel. It's one thing to take care of breakfast, lunch, or dinner crowds with the same menus and times, day after day. There is a routine you can count on. It's quite another thing when preparing several wildly different and delicious menu items at the same time. After all, the Drake Oak Brook Hotel, is a Marriott Autograph Collection Hotel, top-of-a-line luxury hotel, serving business travel, as well as local residents. At the Drake Oak Brook Hotel, there's breakfast, lunch, dinner, each with its own menu. There's room service. There's the elegant, intimate Colonial Room. The Polo Lounge is where you can enjoy drinks and a meal. There's the Sinatra Room for private parties. There are outdoor patios and even "igloos" for outdoor dining in the winter. There are banquets for conventions and meetings for hundreds at a time. There's a full brunch serving a couple of hundred, every Sunday. There are bridal showers. And weddings…lots of them…twenty alone in the first two months of 2022. On top of all this and coming soon, a kitchen for a restaurant featuring international cuisine. Later on this year, a large, luxury swimming pool is being added, complete with food and drink amenities. And all the food, for all the activities, come from one large kitchen managed and led by Ezequiel. We asked Jim Nagle, owner of the Drake, how he was able to find someone who can manage it all. He said, "My wife Tely discovered Chef (Dominguez) working at a downtown restaurant in Chicago in 2010. We hired him to run a tapas restaurant for us in Indiana. Then he was working for us in Kane County, and in 2015, he joined us here at the Drake, after some extensive renovations took place. The Drake Oak Brook Hotel, is a far cry from the humble beginnings of Ezequiel in Santo Tomás, Estado de México in the south of the Republic of Mexico.
"In the beginning, I learned how to follow instructions and follow the recipe. When you do this, the food comes out like it's supposed to."
He has always liked being in the kitchen. When he was five years old, he helped his mother; she taught him how to make delicious tapas and bread and he follows the recipes to this day. Speaking of which, he says: "In the beginning, I learned how to follow instructions and follow the recipe. When you do this, the food comes out like it's supposed to." He has become an expert in Mediterranean cuisines such as Spanish tapas, classic American cuisine, and French-infused cuisine. Following the recipe and teaching this to all his kitchen help is part of the secret to the success of the kitchen. While the kitchen is large, he works with a relatively small staff, up to 10 on a busy night. "Everyone follows the recipe, the steps. That's the only way we can handle the wide variety of meals and different serving counts at the same time." When the kitchen is humming, he watches over the stations and helps where he sees the need for an extra hand. In addition to watching the kitchen, he has to make sure the wait staff is well trained and up to speed on the menus and the day's specials. When he is not supervising in the back or the front, he is ordering the food. He adds, "We get everything fresh, nothing frozen." When it comes to beverages, he has help from in-house expertise.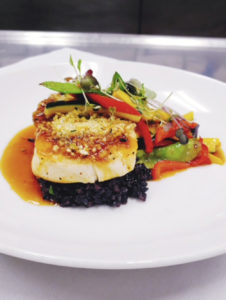 In addition to a large kitchen, there is also a very large commissary space to take in all the food and store all equipment it takes to set up the tables, meeting rooms, and dining rooms, and constantly keep things clean and safe. When you walk through the hotel entrance you see the intimate Colonial Room on your right and the Polo Lounge on your left. But then you are reminded there is so much more when you notice the meeting areas, ready and waiting to be used, or already in use. A special word about The Colonial Room. It is a great, quiet place for lunch or dinner in an elegant, relaxed atmosphere, at surprisingly reasonable prices. Two favorites at lunch: Grilled Chicken & Avocado sandwich, and Stacked Meatloaf. A favorite at dinner is the Chilean Sea Bass or Filet Mignon. Naturally, tapas and other Spanish delicacies are also on the menu. There is even a High Tea. From the outside, the renovated Drake Oak Brook Hotel, is a beautiful hotel with 154 rooms. And, now you know it is also home to delicious dining you can enjoy in so many ways, thanks to Ezequiel, his kitchen and his talented staff.
*Photos provided by Ezequiel Rodriguez