Kelly Cruises & Tours celebrates 35 years in the industry
By Larry Atseff
On October 25, The Oak Brook Women's Club was given a very educational and entertaining behindthe- scenes look at what made Kelly Cruises & Tours a success. It all began in 1964 when Nancy Kelly was looking for a job in the Los Angeles area. Fortunately, she got hired by the John Tetley Company, which specialized in booking people at luxury hotels in California and Las Vegas. Nancy said, "I didn't know a thing about the hotel business, but by listening and watching and putting into practice everything I heard and saw from the best in the business, I learned all the right ways to treat customers in the luxury hospitality business. The biggest lessons I learned include to be a good listener to your clients and deliver.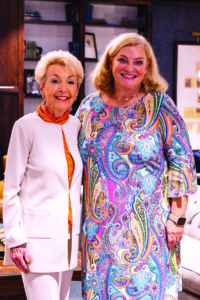 Secondly, get to know your contacts. Finally, work only with the best because when you are in the business of luxury personal service, you are putting your customers in the hands of others. I saw how well it all worked, and I came to love everything about the business!" As a result, the watchword then and now for Nancy and her daughter Susan Kelly-Costello has always been, "We appreciate your business and promise to take good care of you." After two years at Tetley, and nine months after getting married, Nancy and her new husband returned to Chicago. People at Tetley were good enough to put her in touch with people at the Ambassador East and West. She was hired and continued to learn more and more. Her next step in hospitality occurred when her sister asked her to join a cruise agency where she was working. Nancy started in "outside" sales.
She didn't know a thing about this either, but she learned how to be good at finding groups for cruises for business meetings and those who wanted cruises for vacation pleasure. In fact, she got so good the company said we are paying you too much, and with that, plus encouragement from family members, and knowledge and determination to do things better, she opened Kelly Cruises on March 17, 1987. That date was no accident. As her business started growing, she made good connections. One was Wally Phillips, of WGN radio fame, who had heard about her. He asked if she would go on his show and talk about cruises. He started calling her at home on Sundays at 7:00 a.m. She spoke to his listeners about cruises, and she did that for years. That led to cruises hosted by WGN radio personalities, which are still popular today. Obviously, it led to more and more people booking cruises with Kelly Cruises.

*Photos by 726 Visuals