The Couple Behind Merry Richards Jewelers
By Larry Atseff
If your wife's first name was Merry, and your first name was Richard, and you wanted to open a jewelry store, would you consider naming it Merry Richards Jewelers? Well, that's exactly what Merry and Richard Cheng did in 1985. It just seemed obvious and natural. According to Richard: "We also got a little encouragement from the Mary Tyler Moore tv show. Mary's maiden name was Mary Richards."
Why are they so successful?
As it turns out, Merry Richards has turned out to be the perfect name for what they do so well. In fact, the very first thing Merry said when we sat down with the couple was, "Let me tell you. We love the business we're in because our customers are happy when they come in. They want to celebrate a happy occasion, like a wedding, or an anniversary, or a birthday, or something they want to remember, and they want to do it with jewelry. When they leave, they are even happier, because we have given them good advice on the jewelry they are looking for, we give them beautiful gems in custom settings that they like very much, and we give them a good value for the money. The way I spell my name, Merry, says happy; so It works." Richard adds, "We get great satisfaction from helping people celebrate. Our customers like our approach. We never push. They tell others. We are very fortunate that they have spread the word." Simply put, the name, how they care for customers, along with valuable help along the way, and a lot of hard work, has paid off. These two immigrants never met while growing up in Taiwan, but they eventually got married there in 1984. Richard and his family came to the US from Taiwan in 1970 and settled in New York City. His father was an attorney, and his mother was a doctor. His brothers followed them to also become doctors and lawyers…except for Richard. "I was the black sheep.

"Since my father was an important figure in Taiwan, my mother always made sure that she and my 5 sisters and one brother, were taught 'good taste'."
I started selling jade for my brother to jewelry stores, after college in the US, as a first job. I found that I liked selling and I liked to travel. I learned the basics well so I could pick out the best gems for their quality and size, their clarity, and the way they were cut and mounted in their settings. I learned how to price jewelry for good value and still make a profit. I also learned to treat customers with great respect, which is most important in gaining trust." While Richard worked out of New York City, Chicago was part of his territory. He found the Chicago cost of living was a lot better than New York. He said, "I also found people to be more friendly. Someday, I thought, it would be a good place to live." During these years, Merry was growing up in Taipei, Taiwan. Her father was a two-star general who followed Chiang Kai-Shek, when he left mainland China for Taiwan. She said, "Since my father was an important figure in Taiwan, my mother always made sure that she and my 5 sisters and one brother, were taught 'good taste'". Merry described her mother as elegant, and she loved jewelry. "She always dressed in nice clothes. She taught us about fashion and style." Merry grew up loving to read and learn. She particularly read books and magazines on fashion, so it was natural for her to develop a very good appreciation for fashion. She also developed an eye for how clothes and accessories like jewelry can go well together and reflect the person wearing them.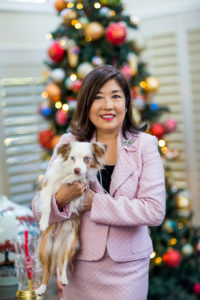 Love at first sight
Through a friend of one of her sisters, Merry met Richard completely by chance, when he visited Taiwan from the states. As Richard tells it, "It was love at first sight. And, when I met Merry's mother, I just knew one day I would like to marry Merry." Indeed, they did get married in Taiwan in 1984. They settled in Chicago in 1985, near "jewelry row". For about a year, Richard continued to travel Monday through Friday, and Merry stayed at home. As she was getting restless with little to do, she said to Richard, "Let's open a jewelry store. You know about jewelry, I know about style and fashion, and we can work together and attract people to a store and make a business." Fortunately, Richard had impressed the owner of the jewelry company he represented. The owner, Sing Lau, said, "I will start your inventory and you can sell my jewelry and together we can make a good business." Merry and Richard worked hard 6 days a week, and slowly, but surely, they developed a loyal following. Merry is rightfully proud of combining her practical day-to-day experience in the store, with her love of reading to become a "self-taught businesswoman". She also got her GIA Diamond Degree.
The Move to Oak Brook
As the business grew, they noticed that a lot of their customers lived in the Oak Brook area. One day, because they were curious, they came out, drove around, and fell in love with the village and the neighborhoods of Oak Brook. They moved to Oak Brook in 1989 and opened their store on Route 83, opposite Oakbrook Center. Over the years, they have added well known jewelry designers, and fine Swiss watches. And, knowing that taking care of customers is so important, they do more and more custom jewelry work, which now accounts for about a third of their business. In this regard, Richard offers this tip for men who want to surprise: "Give her a gem in a neutral, solitary setting so she can see the gem. Then say, 'I want you to design the setting around the gem'". Likewise, they also attract couples getting married who want beautiful, loose diamonds that can be customized to mark weddings in memorable ways. They have jewelers on premise who use CAD (computer advantage design) to turn design ideas into beautiful mountings and settings for the high quality gems that Richard and Merry have become expert at selecting. Further, every sale is backed with a 100% satisfaction guarantee. In addition, they have also amassed a collection of very rare gems, for those who are looking for something that is not only valuable, but very unusual. They carry Paraiba Tourmaline from Brazil, Pink Imperial Topaz gems, Best Colombia Emeralds, Burma Rubies, and Ceylon Sapphires. Merry jokes: "Sometimes, Richard is more like a collector than a jeweler." Today, Merry Richards Jewelers is located on 22nd street, just opposite Costco. To carry on the tradition they started in 1985, fortunately their son Scott has joined the company and he is a Gemologist. In addition, as Merry says "We have a great team. They all are professional, skillful and knowledgeable."
Giving Back
Merry and Richard devote time to important causes. Merry has been a member of the Oak Brook Chapter, Infant Welfare Society, for years. It provides quality, community-based healthcare to children and families in the Greater Chicago area who would otherwise lack access to basic medical services. The Chapter is famous for its annual Mistletoe Medley, a fashion show/luncheon that is a major fund raiser. In addition, both Merry and Richard belong to The International Leadership Foundation, a non-profit organization that promotes awareness of the economic effectiveness of the Asian American Pacific Islander (AAPI) community and provides scholarships and leadership training for over a thousand AAPI college students nationwide. If you have something special coming up, you might Just remember Merry and Richard.
*Photo by Marcello Rodarte