We recently had the opportunity to sit down with Phil Vettel, who recently retired after writing dining reviews for the Chicago Tribune for 31 years. Naturally, we picked out a comfortable neighborhood spot, known for its food, Sam Vlahos' Pierce Tavern in Downers Grove. Phil started out covering general news topics for the Suburban Tribune in 1979. Stories included restaurant reviews. As the Tribune consolidated operations, Phil then moved to headquarters on Michigan Avenue in 1983, covering entertainment beats, which again included restaurants. In 1989, he was offered the opportunity to review restaurants on a full-time basis, and the rest is the following history. Imagine. Eating at quality dining establishments regularly, and getting paid for it. He estimates he's done about 1500 reviews over time. "I've met with some of the brightest, most interesting people who cook, savored "well prepared" food, and even learned how to become a good cook myself He says modestly, "My friends think I am good, but I don't think I am quite ready to have over one of those special chefs I've met." "Over time, I have been to the fanciest, most expensive, as well as the restaurants that offer excellent meals that are not the most expensive. My goal always has been to give the average reader an honest, useful review that tells them what the restaurant is good at, what's the price point, and what to expect. I didn't write for the chefs, I wrote for the typical reader."
"Over time, I have been to the fanciest, most expensive, as well as the restaurants that offer excellent meals that are not the most expensive. My goal always has been to give the average reader an honest, useful review that tells them what the restaurant is good at, what's the price point, and what to expect. I didn't write for the chefs, I wrote for the typical reader."
Things Phil has learned about chefs and the restaurant business
"First and foremost, the chefs at the top restaurants are artists, just as much as a painter, or a ballet dancer, or a musician. They are very creative. They know how to combine ingredients in ways that make food taste special, unique, and wonderful. They know how to present the ingredients of a meal so that colors and textures entice, and set the stage for eating. To put it simply, for these chefs, you would be astonished at how much thought goes into an appetizer, an entrée, or a dessert. Presentation is so important to these chefs, that you'll often see them stationed at the 'pass thru', just before it is taken to the diner's table. If the presentation is not right, back it will go." The 'best of the best' make every item on the menu taste great. A perfect example is Rick Bayless and Frontera Grill Restaurant. After spending years in Mexico, learning about ingredients and how to cook them, he brought his knowledge and several Mexican chefs to town and introduced authentic Mexican cuisine to Chicago in 1987. He practices the saying, 'if it grows together, it goes together'." "Then, there are the chefs who are excellent at certain dishes.
They grew up with the meal, or they learned it along the way. The rest of the menu may not stand out, but they are known for signature dishes. These chefs are businessmen; they know how to make money." "Then there are the chefs who know what the customers in their neighborhood like, and they give them what they like at a reasonable price." "No matter the level of cuisine expertise and creativity, the successful ones also know how to manage a kitchen, from training the staff to instilling enthusiasm for preparing food. In many ways, when it is busy, they are like a conductor, leading an orchestra. On a personal level, they've also learned to be ready for anything; including even solving a plumbing problem on a busy Saturday night." Vettel says his timing as a reviewer was perfect. "I had a ring-side seat and watched as Chicago evolved as a dining mecca and top chefs started coming to town Like Bayless, they saw Chicago as a place to conquer. Of course, there was Charlie Trotter, who was self-taught. In addition, restaurants like Gordon's, in River North, led by Gordon Sinclair, became known not only for great food, but also for great chefs; people like John Terzcak, Ron Blazek, Michael Smith, Stewart Parsons, and Don Yamauchi." Another factor in attracting top chefs: Chicago rents are far more reasonable than New York, San Francisco, Paris, Tokyo, or Bangkok. Not only that, in crowded cities like those, people live in small quarters with virtually no room for decent kitchens.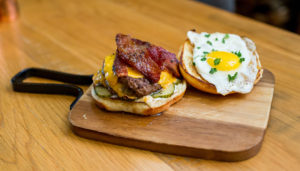 "I've met with some of the brightest, most interesting people who cook, savored "well prepared" food, and even learned how to become a good cook myself. He says modestly, "My friends think I am good, but I don't think I am quite ready to have over one of those special chefs I've met."
Therefore, dining out, including fine dining, is part of their culture. In Chicago, fine dining can be more of an occasion." For Phil, in choosing restaurants, several factors came into play. If it was a new restaurant, that was news, which made it easy. He would also select by type of cuisine, geography, and price point. He made sure that he rotated selections on those bases, over time. He also developed a couple of traditions. During the summer, as people put out lists for "summer reading", he would put out lists of restaurants for "summer eating". For New Year's Eve, when it was hard to get reservations, he would list restaurants who would honor reservations if they called and asked for a Phil Vettel table, on a first come-first-serve basis." When preparing for a review, he made sure the restaurant had no idea he was coming. He followed this routine: he made reservations, never in his name. Second, he used several credit cards with other names. Third, he would go back 2 or 3 times just to make sure he captured the character of the place. And fourth, he would talk to the chef before publishing the review. If the experience was not a good one, the review would never see the light of day. Interestingly, when doing a review of a meal, early on, Phil would have some wine. He adds, "In the last 10 years, as the cocktail culture really took off in the US in general and Chicago in particular, I found it important to explore that part of the restaurant experience as well." Over the years, Phil has seen restaurants make mistakes and then recover. When restaurants with Michael Jordan's name first came on the scene, the menu reflected food that diners would find at a stadium, and they catered to visitors to Chicago. It became a tourist trap. Jordan wanted a restaurant where he could take prominent friends. Today, Michael Jordan's is a solid steak house restaurant in Oak Brook. When asked about the current state of affairs of restaurants, Phil remarked, "As you might expect, the pandemic has made the tough business of running a restaurant even tougher.
"No matter the level of cuisine expertise and creativity, the successful ones also know how to manage a kitchen, from training the staff to instilling enthusiasm for preparing food. In many ways, when it is busy, they are like a conductor, leading an orchestra. On a personal level, they've also learned to be ready for anything; including even solving a plumbing problem on a busy Saturday night."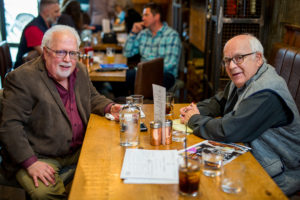 Restrictions on guest seating and social distancing in the dining room and the kitchen have meant fewer customers and fewer wait staff and kitchen help available to work, despite the fact that rent stays the same or is even higher." On the plus side of trends, he says "New American Cuisine has been growing. It is a cuisine that speaks to today's approach of less is more and healthy. The food is sophisticated in the sense that it is locally sourced, simply prepared, and light on sauces. When used, sauces are vegetable-based." Also, on the plus side, he offers this suggestion. "People are getting tired of just accumulating more stuff. Instead of more stuff, have a dining experience. Go to a fine dining restaurant. Here are a couple of relatively new ones I am planning to try. There's Claudia, led by chef Trevor Teich, who just opened in Bucktown. He features a tasting menu approach with four different Modernist meal experiences from the chef's table at around $225 per person. Another is Monteverde, with superb pastas by James Beard Award-winning chef Sarah Grueneberg. Or, you can come to a great neighborhood restaurant like Pierce Tavern in Downers Grove and enjoy a grilled cheese brisket."
*Photos by Marcello Rodarte