Hinsdale is a hotbed for one of America's fastest growing sports
By Larry Atseff
As crazy as the name sounds, the recent national growth of Pickleball is even crazier. The growth includes Hinsdale. Here's more believe it or not. There are professional Pickleball players and one came to Hinsdale in August. His name is Zane Navratil and he is ranked number 3 in the world. A few more fun facts. Joseph Voigt is a local "ambassador" for the USAPA (USA Pickleball Association), and is behind a lot of the local growth including working with the Hinsdale Park District to turn several tennis courts into Pickleball courts at Brook Park. There are also two courts at Robbins Park at 7th and Vine Streets. It is free to play at these parks. He is also helping Jen Gellwas run a mixed doubles tournament on September 12. He says, "All credit goes to the game itself, because it is more than a game, it is a social event that people look forward to. Some play it 7 days a week. They just can't get enough of it." "Thwack, thwack, thwack. 'Good shot'. 'Oh, it's just out.'" Those are the kinds of sounds and shouts you hear over at Brook Park, off of Third Street, in the southeast part of Hinsdale, backed up to the Tollway. Seven days a week, from 7am to 11 am, on 6 pristine, well-maintained courts, dozens of singles and couples show up every morning.
"All credit goes to the game itself, because it is more than a game, it is a social event that people look forward to. Some play it 7 days a week. They just can't get enough of it."
Those sounds explain a lot. Rallies can take 15 to 20 shots or more. Teams are formed ad hoc, and the aim is to just have fun and get some exercise along the way. The game is based on racket sports (tennis, badminton and table tennis) and there are several levels of skill, as with any sport. You play on a court that is easy to cover, measuring 44 feet long by 20 feet wide in total, with a net separating each side which measure 20 feet by 22 feet. You play with a flat paddle with honeycomb holes and a wiffleball-like ball with holes in it. You can play singles, but most people play doubles. One side keeps serving into the service area on the opposite court until they lose a point. The games go to 11 points and you have to win by 2 points. People come from all over to Brook Park. On a recent Saturday morning, we spoke with John Walsh, who came all the way from Elmwood Park who said, "Play it once and you'll get hooked. Good workout, and no one is playing for blood or money." Vivek Ghai, a retired physician from Forest Park, says "If I don't play, my day is incomplete. It is great exercise. I have been here for 3 hours and my fitbit says I used 1500 calories. Before I started playing, I just sat at home, and was getting a little depressed. This has literally changed my life." Linda Jones of Hinsdale said it is an easier game than tennis and a friendlier game too. "Once it was just for older people,but we play with my grandkids and they love it. They are now teaching it at more and more schools. It has become really fast growing." (According to Voigt, Hinsdale Central and LT have offered Pickleball for 35 years.) She said "When we go down to Florida, an hour north of Orlando there is retirement community which has 120 courts and there are people in their 80's who are pretty good." Marcia Nolan, Hinsdale, said "It is highly addictive. Lots of fun. We play 2-3 times a week. And, we get together socially." No wonder the Salt Creek Tennis Club, Hinsdale Racquet Club, Midtown Athletic Club, and The Community House, and other community centers offer Pickleball.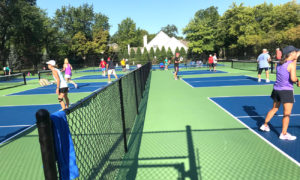 So, is it time to get off the couch? Stop by the locations mentioned and find out how you can have some fun, get some exercise and even meet some new people. How Pickleball got started Here's how this deceptively simple game got started and has recently grown by leaps and bounds. After playing golf one Saturday during the summer of 1965, Joel Pritchard, congressman from Washington State and Bill Bell, a successful businessman, returned to Pritchard's home on Bainbridge Island, WA (near Seattle) to find their families sitting around with nothing to do. The property had an old badminton court so Pritchard and Bell looked for some badminton equipment and could not find a full set of rackets. They improvised and started playing with ping-pong paddles and a perforated plastic ball. At first, they placed the net at badminton height of 60 inches and volleyed the ball over the net. As the weekend progressed, the players found that the ball bounced well on the asphalt surface and soon the net was lowered to 36 inches. The following weekend, Barney McCallum was introduced to the game at Pritchard's home. Soon, the three men created rules, relying heavily on badminton.
They kept in mind the original purpose, which was to provide a game that the whole family could play together. From that beginning, today there is the USA Pickleball Association, and there are now nearly 8,500 locations on the USA Pickleball's Places2Play map. In 2019, the official website claimed that 3.3 million people are playing the game in the US. Voigt estimates that there are hundreds upon hundreds in the western suburbs of Chicago alone. How the game got its name The name of the game is another story. This comes from the USAPA website: Joan Pritchard, wife of Joel, one of the founders, went to Marietta College, which happened to have a strong rowing team at the time, so she knew how regattas were run. As it happened, the University of Washington had a top-tier rowing program, and hosted annual regattas which Joan attended, cheering her Marietta team. Regattas pit the best varsity teams against each other. Afterwards, the leftover "spare" oarsmen from competing schools participated as combined crews in a separate just-for-a-fun "pickleboat" race. In her mind, she thought the game her husband and his friends created was sort of like bits of other games (badminton, table tennis, tennis) so, to her, it just seemed natural to call their new game Pickleball. There has never been another name.