Maintaining Tradition in Evolving Healthcare
By Larry Atseff | Photos by Victor Hilitski
Hinsdale Magazine recently had an opportunity to meet with Adam Maycock, President & CEO of UChicago Medicine AdventHealth Hinsdale and La Grange hospitals. The goal was to learn how the hospital focuses on providing whole-person care to the community.
As of January 2023, a new healthcare partnership was established. UChicago Medicine (UCM) and AdventHealth joined forces. The partnership includes AdventHealth Hinsdale, La Grange, Bolingbrook, and Glenoaks Hospitals. What is unique about the agreement is that AdventHealth maintains business operations and, most importantly – cultural control of the four hospitals.
Hinsdale Magazine caught up with President Maycock to learn about the partnership and what is new at the hospitals. As it happens, he has been employed by AdventHealth for over 20 years. Through two partnerships and the pandemic, Maycock has held a leadership position at AdventHealth Hinsdale and La Grange. He was raised with a strong Adventist faith; his father is a retired pastor.
Can you tell us more about your background?"
I was born in Tennessee and raised in Alabama, with a deep connection to the Adventist church. Through my parents and religious beliefs, service is the space where I choose to dedicate my career to healthcare. I started at AdventHealth in market research and grew in the company through operations.
My wife, Khadja, is a nurse practitioner who has committed to raising our three daughters, who keep us busy! Hinsdale is now home, as it is such a welcoming community, much like the south where we are from.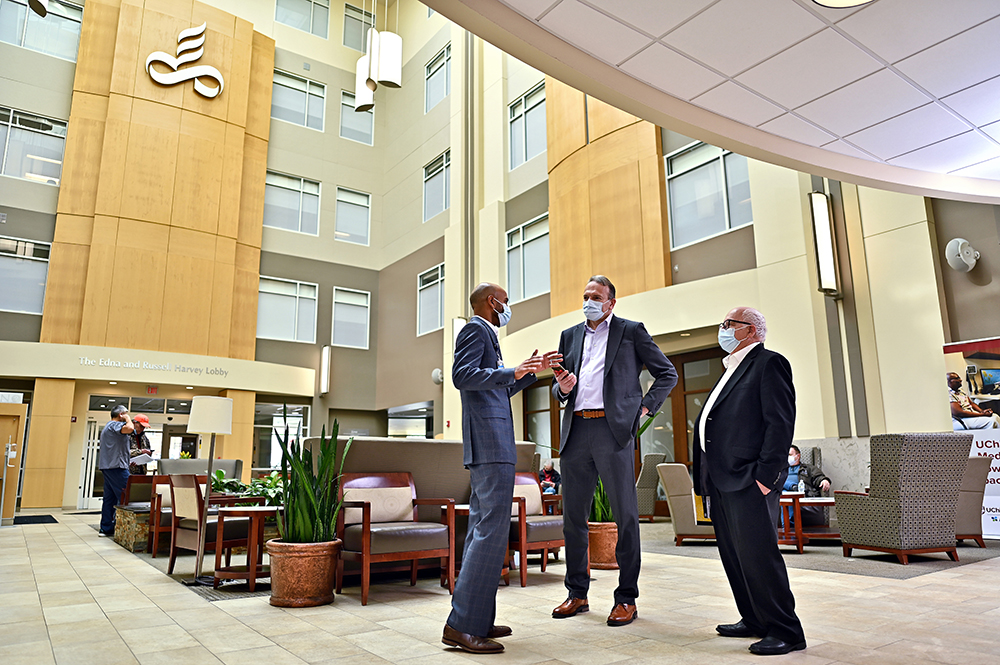 How does the recent partnership benefit patients?
The partnership with UCM allows for optimal clinical collaboration between an academic hospital system and community health. Patients do not have to drive past us; they can receive "downtown care'" in their backyard.
UCM AdventHealth Hinsdale and La Grange Hospitals have been serving the community for over 170 years collectively. Hinsdale Hospital was founded by the Seventh Day Adventists by David and Mary Paulson. La Grange Memorial Hospital became part of the AdventHealth System in 1999. Both hospitals have grown in part through the generosity of the community.
What are some examples?
The healthcare industry is constantly evolving to maintain quality care for patients and remain fiscally sound. Over the last ten years, Hinsdale and La Grange Hospitals have served their respective communities; however, they operate as one hospital with two campuses. We have reduced service line duplication and consolidated to be more efficient in serving those in need.
For instance, in 2019, we opened the Center for Advanced Joint Replacement at La Grange, a state-of-the-art facility dedicated to the finest orthopedic surgery. They replaced over 2,500 joints alone in 2022.
Hinsdale Hospital is known for its exceptional Women's and Children's department; generations of Hinsdaleans have been born at the hospital. The range of care includes a labor and delivery unit and a Level II Neonatal Intensive Care unit that is currently being renovated.
The Cancer Institute, located on Ogden Avenue, is well-versed in advanced cancer technologies and offers access to clinical research trials. They also are home to leading-edge imaging services to detect cancer at its earliest stages, radiation oncology therapies, minimally invasive surgical procedures, and breast reconstruction.
Both hospitals continue to have basic community services, such as Emergency and Surgical services.
Tell us about the staff surrounding you and their ability to adapt.
I cannot overstate the high quality and expertise of the doctors, nurses, and support team at Hinsdale and La Grange hospitals. Their ability to navigate a pandemic and a changing healthcare landscape is impeccable. I attribute this to their dedication to our mission of Extending the Healing Ministry of Christ. The team thrives on our mission and continues to foster our commitment to whole-person care. For us, it is about patient care; we want to maintain our patient experience and great outcomes. ■