Hinsdale Little League hits it out of the park
By Maureen Callahan
To be the best requires ongoing dedication. Hinsdale baseball players, coaches and parents put forth that effort. From Little League to travel ball, some players begin practicing while the snow is flying, honing their hitting, pitching, and fielding skills. By the time the season starts in April, they're raring to get to the field. After regular season competition is over, top players are recruited through all-star selections as the top talent at their age level. After much intense practice and a long season, the 10- 11- and 12-year-old Hinsdale Little League teams worked their way through tough competition in the district, sectional and state tournaments, resulting in state championship rings all around! With over 550 players aged 6-12, Hinsdale Little League is important to this town, and it is supported by the dedicated service of more than a hundred volunteers. The league is also fortunate to benefit from the support of local travel teams, which encourage Little League participation. The coaches acknowledged the level of dedication put forth by parent volunteers and for the level of family support and commitment to the league.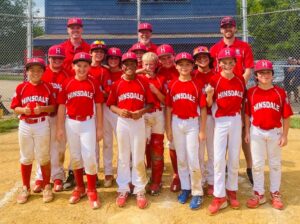 10 AND UNDER (10U) RECAP AS TOLD BY COACH JOHN O'TOOLE
The 2022 Hinsdale Little League 10U district team was a special group of kids that worked hard, respected their opponents, played the game right and looked out for one another. The boys came from different elementary schools and different baseball teams but melded together through long practices under the hot sun. The players excelled individually, but were even better as a team, remaining undefeated in the post season, while outscoring opponents 188 to 10. Every player brought a unique skill set to the table and contributed with key hits and defensive plays during the post-season run. The team is particularly proud of its defense, which was recognized by an opposing coach as "the best defense he had seen in a decade of coaching this level." The boys were proud to represent Hinsdale in the State Championship run and can't wait until next season.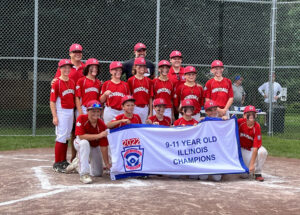 11 AND UNDER (11U) RECAP AS TOLD BY COACH CRAIG CASSELL
The 2022 Hinsdale Little League 11U district team was a great group of kids, who worked unbelievably hard to earn the State Championship. The commitment from the boys and their families to practices and games from late June through July and early August was intense at times. That said, the boys were proud to represent the Village of Hinsdale while traveling to all the games and understand the honor bestowed on them during the Little League tournaments. Each player brought something special to the team and contributed with key plays during at each tournament game. The 2022 11U team will be remembered as grinders. GATA!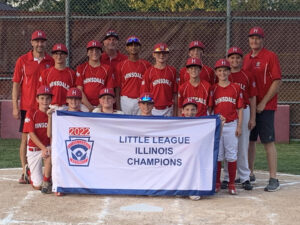 12 AND UNDER (12U) RECAP AS TOLD BY COACH STEVE PABST
The 2022 Hinsdale Little League 12U district team was a motivated group of kids that worked extremely hard and came together to play as a team, rather than as individuals. Each player embraced his specific role. It seemed like someone new stepped up to be the hero at every game. We pitched multiple no-hitters, played exceptional defense, and had countless big hits, which made for an exciting run. They showed strength the whole way, playing in front of huge crowds, defeating the defending state champion twice, and winning four elimination games to earn another State Championship title for our program. Although we fell just short of representing the Great Lakes Region at the Little League World Series, the kids truly enjoyed a once in a lifetime experience. From taking batting practice at Wrigley Field, having several hundred people show up in support to send them off to Regionals, to playing on ESPN, they all bonded together and made some lifetime memories. The boys represented themselves and the community very well. Their coaches could not be prouder!