Hinsdale's 10 and 12-year-old capture Little League Crowns
By Larry Atseff
Hinsdale Little League has a rich tradition, going back to the 1950's, and draws about 550 kids across several age groups for the teams annually. In Little League baseball, there are 10 and Under leagues, 11 and Under leagues, and 12 and Under leagues. At the end of the season, players from teams at all three levels are chosen as All-Stars to represent their towns in Statewide tournaments. Teams compete at District, then Substate, then to the State Level. All- Star teams at 12 and Under also have the opportunity to go all the way to the Little League World Series in Williamsport, PA. Hinsdale Little League has had many teams win Districts, Sectionals, but not as many at the State level. Over the last 20 years, there have been 2 Hinsdale teams that have won State at 12 years and Under. The first team was 4 years ago. This team left an impression on a group of 8 year olds who watched them on ESPN from Fuller House in downtown Hinsdale. The players watching that Hinsdale team on ESPN, as 10 and Under, and 11 and Under, were positioned to make a deep run at State and beyond in 2020. Unfortunately, Covid 19 intervened. This year, Hinsdale All-Stars, 10 and Under, and Hinsdale All-Stars, 12 and Under, have just won State titles. Preston Tims, manager for the 10 and Under team, and Adam Linn, manager for the 12 and Under team, both commented that putting All Star teams together has its challenges. One obvious challenge is taking groups of kids who had never played together and turning them into a team. In addition, since many of the kids were used to playing key positions like pitcher, catcher, and shortstop, several had to learn positions that were new to them. Extra practices this year worked out well because it gave players time to learn new positions, as well as learn how to play well as teammates. It paid off.
This year's 10 and Under Hinsdale All Stars
This year's group of 13 who are 10 and Under, went 11-0 on the way to becoming State Champs. They won in Burr Ridge at the District level, then they won at sub-state, playing Burbank, and then they won State, playing in southern Oglesby. They won that last game in the state round by beating Elmhurst in extra innings with a walk-off sacrifice fly by Cal Gambla that scored teammate Chase Morris. The 10 and Under group of 13 players came from 8 different regular season Hinsdale Little League teams and 4 different Devils Baseball Club travel teams. Along the way, some of their most competitive games were played in the first round against Clarendon Hills. According to Manager Tims, "Not only was it great baseball, but the boys had fun playing against their friends, neighbors, and Devils travel teammates." He added, "The boys also had a great time rooting for the 12 and Under Hinsdale All Stars who also won State. Our kids attended a number of their 12 and Under District and Sub-State games and were a formidable cheering section. We learned a lot from the perseverance of 12 and Unders to come back and win their Sub-State tourney after a tough early loss." "Speaking of rooting, I believe we had the best cheer: In a huddle we slowly started chanting 'Hinsdale' and gradually make it faster and louder…then the leader would shout 'who are we? And everyone else would shout back 'Hinsdale!' The 2021 Hinsdale 10 and Under All Star roster: Keaton Cassell, Logan Douglass, Cal Gambla, Luke Main, Spencer Marnell, Chase Morris, Jude Rastorfer, Landon Ronaldson, Dylan Thick, Clayton Tims, Brock Willits, Matthew Wiskowski and Liam Wos. Besides Manager Tims, Dads coaching included Craig Cassell, and Bill Main. The team naturally celebrated along the way. The District championship was celebrated with pizza and the arcade at Papa Passero's. They had a post practice team pizza party at the Peirce Park picnic tables before the State tournament began and they had a team party at Fuller House after returning from the State championship game in Oglesby.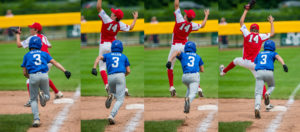 This year's 12 and Under Hinsdale All Stars
According to Manager Adam Linn, this year's Hinsdale's All Stars were very fortunate to host District and Sectional play at Peirce Park on the way to State championships. The team opened up against Plainfield with a 24-0 win, followed by 24-5 and 11-4 wins over our friends from Clarendon Hills. "We were confident, but we lost a key member of the team, Luke McLaughlin to a broken right index finger that required surgery. Fortunately, we were able add another player as we headed into the sectionals." "At 12 and Under, only one team continues on from Sectionals. In our first game we were immediately introduced to a pitcher from Alsip who shut us down for 5 1/3 innings with a devastating fastball. Quinn Rooney had a critical 15 pitch at-bat for a double, driving in Brayden Jurgenson with the tying run in the bottom of the 6th inning. Rooney's at-bat drove the pitcher to his max pitch count and out of the ballgame. Cam Linn walked it off with a line drive single for a 2-1 victory. It was an exciting victory that energized our fans to come out for a big Friday night game vs Burbank" "Unfortunately, before the biggest crowd we have seen at Peirce Park, we played one of our worst games against Burbank. We could not find the strike zone and walked 7 kids in the first inning alone giving up 9 runs on zero hits. The game ended 16 to 4 after the 4th inning 10 run rule limit. Needless to say, we were all embarrassed and wanted to make amends for such a poor showing. The following day we beat Western Springs, 16-6, and earned the opportunity to play Burbank once more. We would need to beat them twice to make it to State, a daunting task."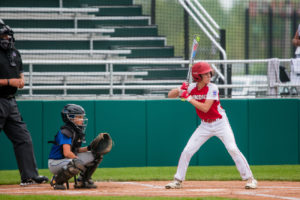 "Our boys remained confident and broke the game open in top of the 4th with a 5-run inning, led by a RJ Lewis bunt single and a Quinn Rooney grand slam. A 6-3 victory. We had new life and planted the seed of doubt in a Burbank team that had already packed their bags for the State tournament. With a great pitching performance by Greyson Alesia and Rooney and a 3 run HR by Owen Sunderson, we stamped our trip to State with an 8-3 victory over Burbank. The two wins against Burbank gave us the confidence that we could beat anyone." "Two days later in Paris, IL we opened up against South East Elgin. Steady pitching from Brayden Jurgenson and a 4 RBI-day from Kaden Aucoin powered us to a 12-9 victory. In our minds, Bourbonnais loomed as our biggest competition. They were the team that knocked us out of State at 10 and Under. Our bats did not disappoint as the boys were amped up and we had 10 hits including home runs by Max Judge and Owen Sunderson. Judge toed the rubber and with a steady defense behind him, he held Bourbonnais in check, sealing our 2nd win in State. We still needed to win a 3rd game to clinch the State Title. We were faced with a rematch against South East Elgin. Our offense stayed hot with another 10-hit performance and an 8-1 win. Key offensive players of the game were Cam Linn 3-4, Kaden Aucoin 2-3, Owen Sunderson 2-3 5 RBI HR, Max Judge 1-3 HR, Matthew Tomfohrde 1-2 2 RBI, and Graham Marnell 1-2. The tandem of pitchers Brayden Jurgenson and Quinn Rooney held South East Elgin in check." "The team succeeded in achieving its goal that we set back in June of winning State for only the 2nd time in 20 plus years for Hinsdale Little League. The icing on the cake was that we were now the team that would represent the State of Illinois at the Great Lakes Regional Tournament. For the players, this meant being on ESPN.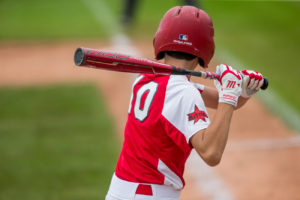 Regionals were held about 20 miles north of Indianapolis in a brand-new stadium complex in Whitestown, IN. The Midwest Regional and the Great Lakes Regional games were held at the facility." "The team was given a "Rock Star" treatment departure, with a luxury bus and police escort from Peirce Park. Family and fans came out to wish the team well, including the 10 and Under State Champs." "With Covid-19, each regional team was isolated in their own pods. The Great Lakes Regional included teams representing Wisconsin, Michigan, Indiana, Kentucky, and Ohio. The top 2 teams would be moving on to Williamsport, PA to the Little League World Series. By the luck of the draw IL and IN were given byes and did not play until Monday after the required Friday check in. Unvaccinated kids and coaches were required to have Covid tests every 2 days. While it was great to be in a hotel with all the other teams, our interactions were limited as no one wanted to be sent home due to positive Covid test." "Our first game was against Kentucky, which had several kids over 5"10, so our boys had a sense of nervousness at the start of the game. However, we jumped out ahead 2-0 in the first inning with a double by Cam Linn, an Owen Sunderson RBI single, and RBI double from Max Judge. All of a sudden, there was an air of confidence that we can play at this level. Quinn Rooney pitched a gem with 11 strikeouts. There was a 4th inning onslaught of 3 triples by Jupiter Pohlenz, Quinn Rooney, and Cam Linn, and a key single by James Wasson to put the game out of reach. Final score: 5-1, over Kentucky." "We had made our way to the Regional Semi-Final game against Michigan.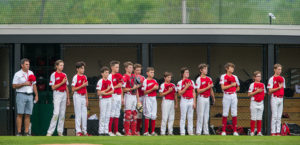 Winner is guaranteed a trip the Little League World Series. We liked our chances, with our hot bats and knowing that even if we lost the game, we would still have one more shot to make it to Williamsport." "Michigan put out their best pitcher and limited us to 3 hits (Rooney, McLaughlin, and Marnell all had singles). Michigan opened up the flood gates in the 4th inning extending a 2-0 lead to 6-0. We did not play a great game but we were still confident we could win our next game…especially because we had a day off and we would face the winner of Kentucky vs Ohio in a win or go home game. We knew who ever won would have a depleted pitching staff for our game. Unfortunately, Kentucky came down with a positive Covid-19 test and would have to forfeit the game. This allowed Ohio to have enough rest to bring back their best pitcher against us." "We were still extremely confident that we could beat Ohio. We gave up a 2-run home run in the first inning and it remained 2-0 thru 4 innings. Their pitcher was the real deal, striking us out 13 times in the game. Our kids became frustrated with the strike zone and could not solve the pitcher. Things turned ugly in the 5th when we were not able to throw strikes, and ultimately, Ohio expanded the 2-0 lead hitting the run limit and officially knocking us out of the tournament." "Even though there were lots of tears and emotions following the game, the coaching staff reminded the 14 players that they have achieved something only one other team in Hinsdale had accomplished. They gave it their best and left it all out on the field, and that was all we asked for. They had a once in a lifetime experience for 12 year-old baseball players."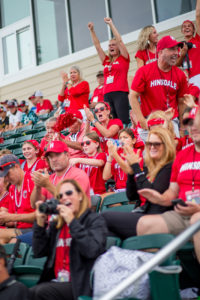 *Photos by Marcello Rodarte