By Valerie Hardy
When winter weather arrives, many Midwesterners head south in search of some sun. A key exception, however, is the portion of the population that has been anxiously awaiting the first snowfall in hopes of the perfect powder to usher in another season on the slopes. While the temptation to travel east or west to ski or snowboard is understandable, those who choose to head for the hills – literally – and ski or snowboard closer to home will not be disappointed. Ski destinations in and around Illinois promise snow-filled fun for seasoned skiers and novices alike. So when the temperature takes a dip, be sure to take a trip to one of these drivable destinations to ski or snowboard a sampling of some of the best runs in the Midwest.
ILLINOIS
Four Lakes Alpine Snowsports – Lisle, IL
Four Lakes has been offering a unique ski experience right in the heart of the western suburbs for the past 60 years. With beginner, intermediate, and advanced trails as well as "The Alley" Terrain Park, it is the perfect place to hit the slopes for an hour or the day. Seven rope tows take visitors up the slopes, making Four Lakes a particularly accessible experience for first-time skiers and snowboarders. Four Lakes' newer Twilight Saturdays offer a discounted ticket price from 5-9 p.m.
Villa Olivia – Bartlett, IL
People from all over the Chicagoland area visit Villa Olivia for downhill skiing and snowboarding. The hill at Villa Olivia features seven runs, a chairlift, and six rope tows, giving rookie and veteran skiers and snowboarders opportunities tailored to their skill level. Not a skier or snowboarder? Tubing is also available. Visitors can purchase a two-hour unlimited tubing package, which includes use of the magic carpet conveyor lift and a snow tube. After hitting the hill, warm up with a hot drink or snack at Villa Olivia's Ski Café.
Chestnut Mountain Resort – Galena, IL
Take a scenic drive from Chicagoland to see and ski the rolling hills of Galena. At Chestnut Mountain, a range of slopes awaits skiers and snowboarders of all skill types. Beginner slopes include the Old Main, Acorn, Bunny, and Rookie's Ridge. Intermediate slopes are the Apache, Blackhawk, Bobcat, Buck, Catwalk, Chute, Crazy Horse, Fever, Fox, Geronimo, and Moser. For a true adrenaline rush, advanced skiers and snowboarders will want to check out the Eagle, Mine Shaft, and Warpath slopes or the Farside Terrain Park. Those who like a challenge but prefer to be on wheels may opt to go to the Farside Bike Park for lift-serviced downhill mountain biking. Onsite lodging is available.
Snowstar Winter Park – Andalusia, IL
Travel to the Quad Cities for a premiere ski and snowboard experience at Snowstar Winter Park. With 15 skiing and snowboarding trails, 11 snow tubing lanes, and a 28-acre terrain park with 40-foot jumps and over 40 features to try, this is the ideal outdoor playground for both beginner and advanced skiers and riders to practice their tricks and refine their techniques. Concession areas allow visitors to quickly refuel and return to the slopes.
IOWA
Sundown Mountain Resort – Dubuque, IA
For a ski and snowboard experience that is drivable but feels like a vacation, visit Sundown Mountain for a snowfilled adventure for both experienced enthusiasts and newbies. With a variety of scenic runs carved among picturesque cedar trees (21 trails in total), two terrain parks, and a park facility specifically designed for children ages 3-11, Sundown Mountain is a fit for winter athletes of all ages and abilities. Offsite lodging in downtown Dubuque is plentiful, with Ski & Stay packages available at Hotel Julien, a boutique hotel that blends elegance and historic charm, and at the Holiday Inn Dubuque/Galena.
MICHIGAN

Timber Ridge Ski Area – Gobles, MI
When the temperature drops, hit the historic Timber Ridge Ski Area, Southwest Michigan's oldest ski hill. Family-owned and operated, Timber Ridge offers skiing, snowboarding, tubing, and other snow sports. With green runs on up to double black diamonds, and with two terrain parks on the premises, there is a fit for each member of the family. Most lift rides are less than a minute long, which means less time getting cold and more time carving snow!
Bittersweet Ski Resort – Otsego, MI
Select from 20 runs, seven chairlifts, two wonder carpets, and two rope tows at Bittersweet Ski Resort. Learners of all levels can grow their snowboard and ski skills through the resort's Snow School, or just watch and learn from the master skiers in Bittersweet's various racing programs. Snowboarding is allowed on all slopes, and night skiing is offered as well. Lodging is located offsite in nearby Kalamazoo.
Crystal Mountain – Thompsonville, MI
Crystal Mountain, located in the heart of Northern Michigan, is a community- built ski resort operating for over 60 years. It features 59 downhill slopes, with 27 of these lighted for night skiing. Also prominent are the resort's three terrain areas (Jester's Alley, Little Vincent, and Megan's Way Pump Track) and seven glade areas. Lifts number eight in total: one high-speed quad, three quads, two triple, and two carpet. For outdoor adventurers who would rather remain on flatter terrain, Crystal Mountain is home to 15.5 miles of cross-country ski trails, some of which are also equipped for nighttime use. The resort contains over 250 guest rooms and houses the Crystal Spa plus an indoor pool and fitness center.
Boyne Mountain Resort – Boyne Falls, MI
With all Boyne Mountain Resort has to offer, it is well worth the drive! Over 60 downhill trails (with 12 lifts) await skiers, and Disciples 8 – the first eight-person chairlift in the Midwest – is opening this season. The resort also offers Sno-Go downhill biking, horseback riding, ziplining, and so much more to explore the outdoors. Don't miss the chance to take a walk on the wild side on SkyBridge Michigan, the world's longest timber-towered suspension bridge. When it is time to come inside, the Avalanche Bay Indoor Water Park is there to greet guests of all ages.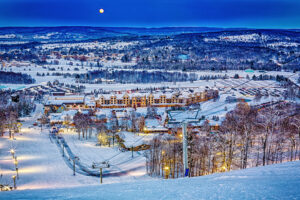 WISCONSIN
Wilmot Mountain – Wilmot, WI
Considered the "Matterhorn of the Midwest," Wilmot Mountain celebrates 85 years of snow skiing and more this season. Owned by Vail Resorts, Wilmot invites patrons to ski or ride for $40 per day with an EPIC 7-Day Pass, making a day on the various green, blue, and black runs affordable. A substantial tubing area with its own entrance is also part of Wilmot's winter offerings, and Walt's Tavern (named for Wilmot Mountain's founder, Walter Stopa) is visitors' top stop for "Beers, Brats, Bloody's and Tots."
The Mountain Top at Grand Geneva Resort & Spa – Lake Geneva, WI
Come for the day or stay at The Mountain Top at Grand Geneva & Spa. The Mountain Top boasts 20 downhill ski runs, a six-acre terrain park, and the Burton Riglet Park, built with younger children in mind. Here, young skiers learn through a series of stations, with certified instructors coaching the kids through the course. Visitors can also enjoy ice skating, sledding, snowshoeing, and cross-country skiing. Those interested in staying indoors can be pampered at the resort's Well Spa + Salon or grab a bite and beverage at Leinenkugel's Mountain Top Lodge or another restaurant on the property.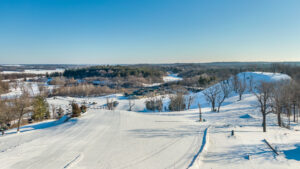 Alpine Valley Resort – Elkhorn, WI
If you are ready to shred, hit the slopes at Alpine Valley Resort. With over 100 skiable acres and 20 runs ranging from beginner to expert, Alpine Valley is a prime place to build or challenge your snowboard or ski skills. With four wonder carpet lifts, two rope tows, a snow carousel, three high-speed quad advanced chairlift systems, and four triple chairlifts, customers spend less time in line and more time on the slopes at Alpine Valley. With onsite lodging available, skiers and snowboarders may further maximize each moment on the mountain.
Cascade Mountain – Portage, WI
For winter adventurers looking to get a little further away from home, Cascade Mountain is a great escape. With 48 trails of varying difficulties, visitors may need to return a time or two to experience them all. The longest trail at Cascade is "Far Out," a beginner cruising trail, just over a mile long, which takes skiers and snowboarders past forests, waterfalls, and other scenic terrain. Three terrain parks – Cottontail, Mountain Top Park, and J.J. – provide progressive challenges for those looking to hone their jumps and tricks. Cascade also offers tubing, thrilling riders with a slide down a snowy 900- foot chute, a feature that is fun for the entire family.
Granite Peak – Wausau, WI
Skiing Granite Peak is like gliding through a piece of history. First opened in the late 1930s, Granite Peak is on Rib Mountain, a geological formation over two million years in the making. Rib Mountain is the second highest point in Wisconsin, bringing thrill-seekers from all over the state and beyond. Explore over 200 acres of terrain, spread across 60 trails and serviced by Wisconsin's only 6-pack chairlift. Skiers and snowboarders looking to catch some air have four progressive terrain parks from which to choose. While there is no onsite lodging at Granite Peak, downtown Wausau, with its authentic ski town feel, is just minutes away and features a variety of hotel options.
*Photos provided by?