Sears Homes offer a glimpse of a past
that will stand well into the future
By Maureen Callahan | Photos by 726 Visuals
Instead of looking online or working with a realtor to find your ideal home, imagine being able to order it from a catalog. Choose the number of bedrooms, room dimensions and finishes to meet your specifications, all within your personal price point. If you were looking to buy from 1908 through 1940, the Sears Modern Homes Catalog would have been the guide to your dream home.
Caveat emptor: you had to assemble it yourself! Or hire someone to do it for you.
Building a home from a kit was a massive challenge, but one gladly undertaken by thousands of that era. In a period in which quality wood and labor were scarce, the kit circumvented the need for skilled carpentry. All studs, screws, lumber, and framing members were numbered and keyed to a detailed guide. It was all ready to be put together. The homeowner would (simply!) take their leather-bound instruction book, onto which their name was embossed in gold on the cover- and follow the exact directions of assembly.
According to the catalog, buyers who wished to assemble their own homes needed only an "elementary understanding of construction techniques." The instruction manual sagely forewarned the customer to follow only their handbook and "not take anyone's advice as to how this building should be assembled."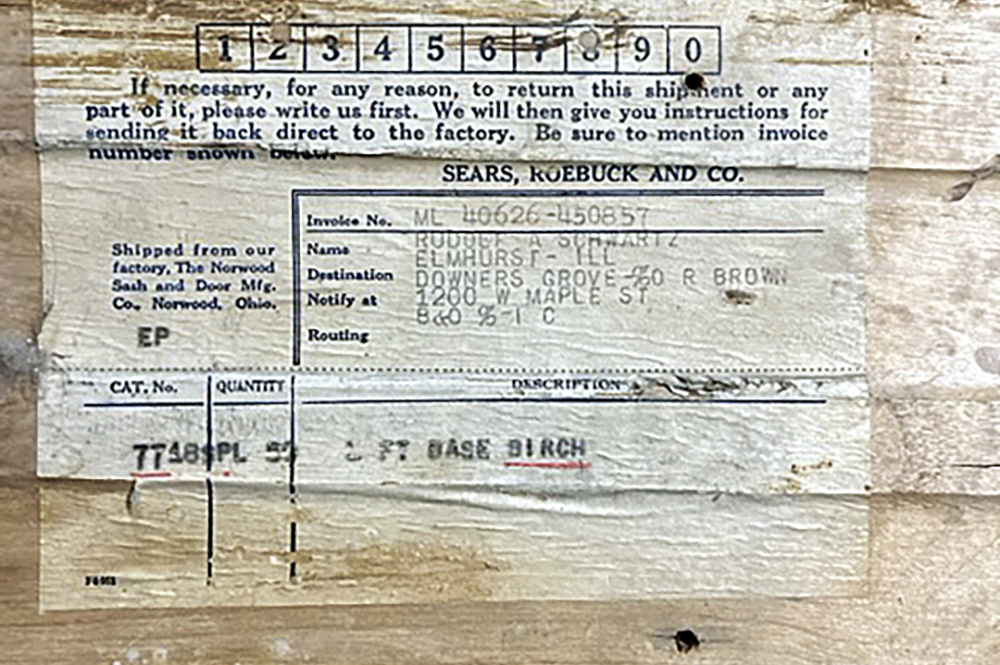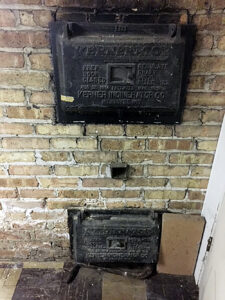 Elmhurst residents, Tom and Whitney Pasquesi, feel lucky to have found a Sears home in a beautiful neighborhood. For Tom, it's his second time calling one of these architectural treasures home. He grew up just a short distance away in another Sears home- the appropriately named Elmhurst model.
The Pasquesis feel their current home, the Barrington model, is unique when compared with modern homes today. They have enjoyed fixing it up and making it their own. During a renovation, they uncovered a brick chimney used for incineration, which was original to the house.
Wedged in with baseball player Frank Robinson's 1964 card, they also found the home's bill of lading- the boxcar's receipt of the home kit when it arrived at the railroad station- a century ago.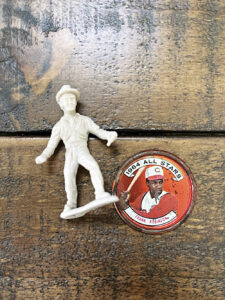 Originally marketed at $2,606, the Sears Modern Home Catalog described the Barrington model this way:
The Barrington retains the dignity of an old English home and has the practical interior of modern American architecture. Whether you consider economy, beauty, or convenience as of first importance, the Barrington home assuredly meets these and every point of merit with satisfaction. Exterior features at once stamp the mark of quality. The well-balanced projection at the front forms the entrance, leading to a tapestry brick terrace, guarded by a decorative railing. Sided with wide shingles and exposed fireplace chimney.
Timing, as they say, is everything. The housing market is no exception. In the period the Barrington home was built, people were just starting to work their way out to the suburbs. It is estimated that in 1900, only about 8,000 Americans owned cars. One decade later, Ford introduced his Model T, enabling people to get out of the city and head to newly developing areas.
By the end of World War I, housing analysts predicted the need for at least a million new homes to keep up with the flood of immigrants through Ellis Island. Sears Modern Home sales skyrocketed in the 20s, when their largest catalog was published. With more than 450 available house designs, there were outhouses, garages, barns, and chicken coops to boot.
At that time, Sears and Roebuck claimed one buyer in four as a current customer. Existing faith in a recognized brand played a large part in the success of a mail-order home that came to symbolize the iconic American dream. While other companies such as Montgomery Ward and Aladdin Homes had offered house-building kits since the late nineteenth century, their numbers paled in comparison. Sears held the advantage of brand recognition.
Customers selected a design from the Modern Homes catalog and sent in a dollar, which bought them a full set of blueprints and estimated bill of materials. When the buyer placed the order, the dollar was applied toward the purchase price. Working blueprints and the exact bill of materials followed.
Shortly after the paid home order was received, a loaded boxcar, sealed in wax from Sears' forty-acre mill in Cairo, IL, arrived directly at the customers' local railroad station. Each community handled the deliveries differently, but in most towns, the railroads allowed buyers 24 to 48 hours to break the seal, take inventory of the contents, and unload the tens of thousands of pieces. That was a lot of trips by wagon or, if you were lucky, Model T, to the building site! This is why so many Sears homes are found within a two-mile radius of railroad tracks.
Certain communities had the advantage of a switching roundhouse and railroad sidings, and customers were therefore afforded more time to unload. At times, there was room on the track for the car to remain seven to ten days while being unloaded. Such is the case in several communities with a high number of Sears homes.
Sears estimated the average assembly time of a house to be 90 days, although most took longer. About half of the buyers built the homes on their own, often with the help of family and friends. Other less courageous buyers hired carpenters or builders to assemble the home for them.
Masonry was not included in the kit price. Block, brick, cement and plaster were additional costs borne by the homeowner. The bill of materials advised how much of each input was necessary, depending on the particular model. Electrical, plumbing and heating equipment were not included in the kits, either, but were available from Sears for an additional cost, at three different price points for the "good, better or best," grade.
Many zip codes in Illinois, as well as Michigan and Ohio, can offer the address of at least one Sears home. The exact numbers are unknown, due to an unfortunate purge of records when the housing department closed. Elgin had the largest known collection of Sears homes in the country, with more than two hundred.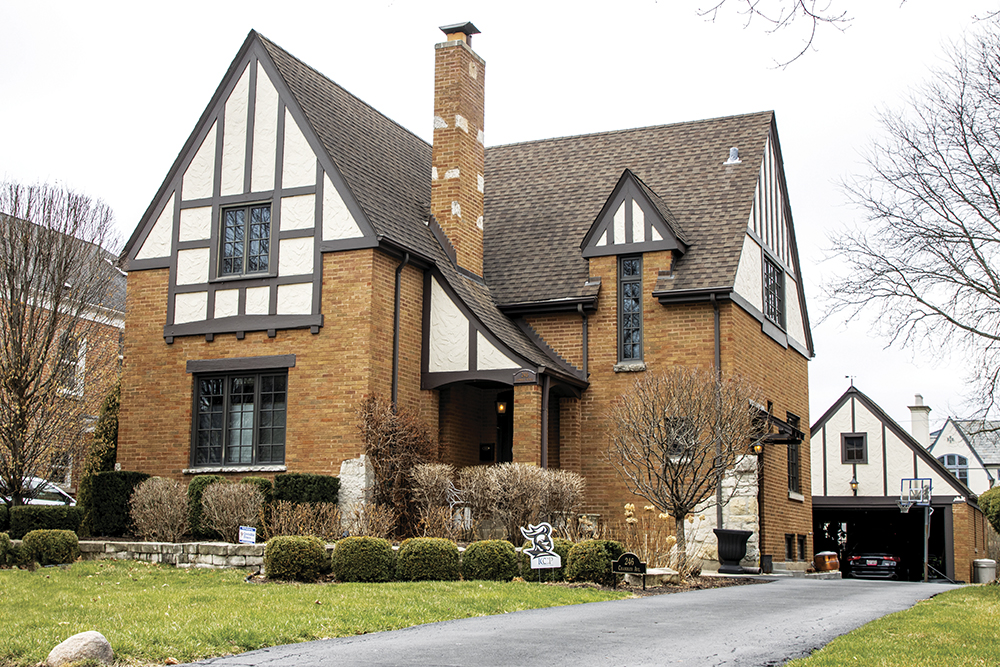 Sears homes were named after cities in the Midwest, with 107 names having originated from Illinois cities and villages. One such model, the Elmhurst, is featured here. It is unclear whether the home model was named for Elmhurst, IL or Elmhurst, MI. House models were first named in the 1918 Sears Modern Home Catalog- the bungalows, foursquares and colonials were previously numbered.
The largest order Sears ever received for its homes was placed by Standard Oil in 1918 in the amount of $1 million. This sum bought 192 modest two-story homes for refinery workers and miners in Carlinville, Wood River, and Schoper, IL. Two thirds of these homes are still standing today-a testimony to their standard of quality and craftsmanship.
Sears' sales hit its pinnacle in 1929 at $12 million. There were 48 sales offices from Washington to Chicago. Despite its hugely successful operation, 1932 marked the beginning of the end of the housing division, as the Great Depression took hold and plummeting sales ensued. By 1940, the department was completely shuttered, and the plant sold to its employees. Shortly thereafter, they began building crates for shipping large aircraft overseas for the war effort.
Over decades, some have been repurposed into anything from funeral homes to boutiques to taverns. Unlike other homes which define moments of history, such as the unique but short-lived, steel Lustrons, Sears homes are anything but oblivious. They have earned a place in American housing history. ■