Oak Brook Park District Marks Sixty Years
By Larry Atseff
The Oak Brook Park District is celebrating being 60 years young this year. All 173 acres of it, with beautiful, spacious grounds and an unmatched array of facilities and activities for everyone to enjoy year-round. Complete with an award-winning staff to help you thoroughly enjoy it all. The 60th-anniversary celebration started by dedicating its Summer Concert Series to '60s music. The Summer Concert Series alone celebrated 40 years of performances. Haley Colucci, Marketing and Communications Manager, said, "It was such a joy to watch our community celebrate the Park District's 60th this year at the 'Celebrating the '60s Summer Concert Series.' We are looking forward to continuing the festivities on Friday, November 4. Be sure to check the Oak Brook Park District's website for the details."
Friday, November 4 Open House
The Park District will have several themed activities starting October 31 and throughout the week. On Friday, November 4, there will be an Open House at the Family Recreation Center, complete with food, beverages, games, raffles, and fitness related activities that the whole family can enjoy. The day will end with a "Flick and Float" at the Family Aquatic Center.
Much To Celebrate
There is no question that over its 60 years, the Park District has worked extremely hard on its mission: to provide the best in park and recreational opportunities, facilities, and open lands for the community. Executive Director, Laure Kosey, said, "We couldn't be happier as we reflect on all the recreational opportunities at Central Park as we celebrate 60 years here at the Oak Brook Park District. Looking at our timeline and how much growth we have been through as a Park District is truly inspiring. We can't wait to see what the next 60 years bring to the community we proudly serve!" The Park District's vision is to provide a diverse range of opportunities designed to keep the community happy, fit, and active while being its very best and feeling its very best.
Unmatched Variety and Quality Of Facilities
It all starts with Central Park, with the entrance at Forest Gate Road, just off Jorie Boulevard. In this space, the Family Recreation Center and Family Aquatic Center, several baseball fields, an indoor tennis center, outdoor tennis and basketball courts, a magnificent artificial turf soccer field, and several more soccer fields are housed. The Sandlot, a unique universal playground, and two basketball courts are also found here. Central Park West is a building designed for gatherings (complete with a koi pond), space for disc and foot golf, and sledding on the nearby hill in winter. Ginger Creek offers fishing, trees, and ponds in beautiful, quiet settings along with three miles of paved trails. In the winter, the trees and paths adjacent to Route 83 are adorned with special holiday lighting. In addition, there is the 40-acre Dean Nature Sanctuary and three satellite parks: Saddle Brook, Forest Glen, and Chillem Park, at other locations in Oak Brook.
Quality Staff
To run the park, including all the facilities and all the programs, it takes a large, well-trained, and dedicated staff of over 200 employees, not to mention all the volunteers that help at special events throughout the year. Due to their dedication, Oak Brook Park District has won numerous awards, including:
2017 Commission for Accreditation of Park and Recreation Agencies (CAPRA)
2018 – 2021 Government Finance Officers Association of the United States and Canada (GFOA)
2018 Illinois Park & Recreation Association Outstanding Park & Facility Award
2019 Public Relations Society of America – Chicago Chapter – Skyline Award
2019 Publicity Club of Chicago Golden Trumpet Award
2021 Chicago Tribune Top Work Place Award
2021 Illinois Association of Park Districts (IAPD) Best of the Best Awards
2022 IPRA Champions for Change Award
Special Programming and Amenities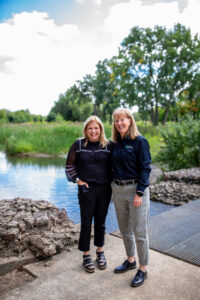 Two ongoing programs deserve special mention. The first includes programs serving adults 60 and older. There are social and recreational programs and brain games, from bridge to Mah Jongg, offered, as well as park walks and midday movies. There are groups like the Pinstripes Club that bowl at Pinstripes in Oakbrook Center. Pickleball, group exercise classes, and aquatic and tennis programs are also available for older adults. The Pioneer program provides all individuals 60 and older with various unique social and recreational opportunities, including luncheons and trips to Chicago, ball games, and trips to estates and other nearby attractions. The Travel Club is available for all adults traveling as singles, couples, or with friends. Group travel options offer an enjoyable experience with group savings, transportation, organized activities, socialization, and free time to explore independently.
Members travel to different areas to learn about its history, geography, and culture. The park district provides an escort to assist the group as needed. This group will be traveling to San Antonio from November 30-December 4, and on a trip to the Canadian Rockies and Glacier National Park in the summer of 2023. Last is Lifetime Learning, with programs covering real estate transactions, Medicare basics, and financial counseling. The Park District also offers safety programs such as Rules Of The Road. The second special amenity worth noting is The Sandlot. It is a unique, universal playground designed to be inclusive for everyone, regardless of age or ability. It is a collaboration between the Oak Brook Park District and the Oak Brook Park District Foundation. The park removes physical and social barriers so all individuals can play side by side with peers and family members. It features innovative equipment, including a dual-track zip line, a poured-in-place surface baseball diamond, and two levels of play, fully accessible through ramping.
The Future Looks Bright
In 2023, the Park District will continue adding amenities to Central Park, funded partly by an Open Space Land Acquisition and Development [OSLAD] grant and a Department of Commerce and Economic Opportunity (DCEO) grant. The Oak Brook Park District will allocate the grant funds to restrooms, a concessions facility, shelter and amphitheater space, a fitness challenge course for all ages, table games including ping pong, chess, and checkers, as well as a bocce court. An accessible pathway will accompany the amphitheater, and an accessible fishing area will be created along Ginger Creek. Park Board President, Sharon Knitter, said, "Growing our services, offerings, and space has been an exciting venture here at the Park District. The staff's commitment to serving the Oak Brook community has been inspiring. Whether it be a walk through the park with a friend, a child's first 'win' on our soccer fields, or families dancing together at our concerts – we look forward to making more memories in these new spaces." The Oak Brook Park District is proud to offer the residents amenities, facilities, and programs at a reasonable cost. For a complete list of Oak Brook Park District programs and information regarding upcoming additions, visit www.obparks.org