Making Oak Brook Soccer a Win-Win for Everyone
By Larry Atseff
Soccer started out in this country in the 1960s when dads and moms would form teams and leagues so their boys and girls could learn to play the game and know the value of team play and competing. They made arrangements with local park districts for fields. High schools and colleges eventually added soccer as a sport and now there are national professional leagues and teams. A national nonprofit organization called AYSO (American Youth Soccer Organization) was formed in 1964 to help grow the support, much like Little League has done for baseball. According to Illinois Youth Soccer Association, there are 81,000+ boys and girls playing soccer in the state in 2021. What follows is the story of how Oak Brook's soccer fields in 2022 are quickly becoming an economic engine for the village thanks to a close collaboration between the Village and a private, local organization that specializes in youth soccer coaching and sports management.
Background
Oak Brook's Sports Core Soccer Fields were most recently under the management of the Oak Brook Park District. Upon the expiration of the agreement between the Village and the Park District for the fields in early 2021, the Village took back the 20+ acres devoted to soccer. In turn, the Village then looked to the Oak Brook Sports Core Advisory Committee (made up of Village residents and Trustees) for recommendations, since they advise the village board, on entities including the Oak Brook Golf Course, Oak Brook Bath Tennis Club, and the athletic fields. The Co-Chair of that committee, John Anos, introduced Dave DiTomasso, a 24-year acquaintance, who it happens is the co-founder of Chicago Empire FC (football club). John felt the timing may be right to address Oak Brook's under-utilized soccer fields. Dave started Chicago Empire FC in 2016 with fellow soccer professionals Wes Lomnicki and Matt Tunis. Chicago Empire Football Club (CEFC) currently houses players from seven to eighteen-years-old and has 475 players and 36 teams enrolled, plus 250 more players in Empire FC South in the southern suburbs.
It is no accident that some of the best soccer teams in Illinois high schools come from these areas. Together the three of them oversee a coaching staff of 12. See sidebar listing the impressive and extensive playing and coaching history of Dave, Wes, and Matthew. After the introduction, Dave and his team were asked to set about a proposal for the village to consider which would entail upgrading the quality and the use of the Oak Brook soccer fields. Seeing a large amount of Oak Brook athletic fields acreage involved and the proximity of Oak Brook to Dave and his partners' soccer activities, Dave and his team prepared a "full spectrum of soccer field management services" package to the Village in November 2021. That proposal consisted of two entities. First is Chicago Empire FC, which is the anchor tenant for the soccer fields. The second entity is standalone Premier Athletic Management (PAM) which offers soccer clubs, adult leagues, and really any organization from the midwest to utilize the nine soccer fields for rentals, camps, and tournaments, in order to maximize the monetization of the fields. PAM also routinely reaches out to the Oak Brook community and other communities to use such fields for a multitude of other activities including lacrosse, frisbee, and cross country.
The proposal they presented guaranteed the Village a dedicated field maintenance revenue stream, an annual fee for field rental, and when field rental exceed a threshold; additional revenue sharing to the village. This agreement later developed into a lease agreement for the nearby soccer office building as well. The proposal was approved by the Board of Trustees on January 25, 2022. As Trustee Michael Manzo said, "This year is probably the single greatest one-year financial turnaround that the Oak Brook Sports Core has ever seen. Our prior agreement with the Park District resulted in 100% of soccer revenues being paid to the Park District, but now with Premier Athletic Management we have shared revenue and a true partnership."
Quickly Up And Running
Chicago Empire is already making full use of the fields for their 475 players. Importantly, because of the reputation of Empire, PAM has been able to already attract several outside soccer team activities. For example, they have been able to attract numerous teams from the NWSL (National Women's Soccer League). Together with the Chicago Red Stars, the fields are being used for Training by teams coming to town to play the Red Stars. When the Mexican National soccer team came to Chicago for an international match, the team stayed at the Drake Oak Brook Hotel. In mid- July, a major college combine for High school aged players attracted over 500 players from all over the country for two separate four-day events. These events also drew over 150 college coaches to attend and recruit potential players. Some schools attending were Ohio State, Marquette, Duke, West Virginia, UC Davis, Belmont, Colgate, Northwestern, Denver, and Illinois.
A Win-Win For All Concerned
As Dave explains, "When PAM attracts events from all over the Midwest like this, it is wonderful for the seven Village hotels, restaurants and retailers, because families accompany their players." Trustee Manzo again: "In less than one year, the Village has received 500+ hotel night rentals as a direct result of PAM's soccer events/ referrals. In my 11 years on the Village Board, I do not recall even one single night hotel stay as a result of soccer operations prior to this season. The partnership with PAM has already greatly benefited the Village." In this vein, over the last dozen or so years, soccer, like other sports, has also flourished with the development of tournament play on weekends, where teams are invited to compete regionally.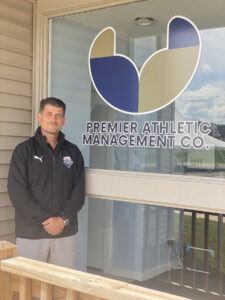 An apt description is "sports tourism". As Dave looks ahead, he sees a bright future and a win-win for everyone. "Young players get excellent coaching, and the fields are used more fully, realizing more revenue to the village. And, when we have regional events attracting players' families, they generate revenue for the whole community. And, by the way, PAM works with the entire Oak Brook community, including nearby Christ Church, and Oak Brook Polo to ensure long-lasting relationships." He says, "I love the game of soccer. I love teaching the game. And, now, soccer is making a real win-win contribution all around."
——————————————————————
Soccer Playing Experience and Coaching Qualifications:
Dave DiTomasso
Dave DiTomasso grew up playing soccer in Columbia, Maryland and has played on winning teams in that state and nationally. He has also played professional soccer in Europe and the US, but his first love has always been teaching the game.
Dave has coached club soccer for over 30 years to boys and girls in 5 states, including Illinois. At the college level, he coached women and started the men's soccer program at Elmhurst College (now Elmhurst University) in 1999. Dave is currently coaching the highly ranked Men's Soccer program at Elmhurst. His coaching qualifications are stellar:
• USSF (United States Soccer Federation) "A" License
• USSF (United States Soccer Federation) Illinois ODP (Olympic Development Plan) Staff Coach
• United Soccer Coaches Premier Diploma and 30 Under 30 Mentor
• United Soccer Coaches National Staff Instructor
• United Soccer Coaches Director of Coaching Diploma
• United Soccer Coaches Goalkeeping I & II
• Master's Degree in Sports Management
• Head College Coach 24 Years
Dave's title with Empire Chicago is Executive Director and Technical Director. Dave DiTomasso is President of Premier Athletic Management.
Wes Lomnicki
Partner Wes Lomnicki is an Elmhurst native. He too has outstanding playing and teaching qualifications. After earning All-State Honors at York High School, Wes played soccer at the University of Wisconsin-Whitewater and was part of a team that made four consecutive NCAA Tournament appearances.
• United Soccer Coaches Premier Diploma
• Masters Degree in Soccer Coaching (Ohio University)
• USSF (United States Soccer Federation) C License
• La Liga Formation Methodology Level 3 Diploma
• Named to NSCAA 30 under 30 coaches in 2013
• Elmhurst College Men's Soccer (7 years)
• Head Club Soccer Coach 15 years Wes has the title with Empire Chicago of Director of Coaching
Matt Tunis
Partner Matthew Tunis serves as Operations Director for Empire. He has a Master's Degree in Business from Elmhurst University. He played soccer at Ocean County College in New Jersey which was ranked fourth nationally in their division.
• USSF (United States Soccer Federation) License
• United Soccer Coaches Lvl 6 Diploma
• Grassroots 4v4 License
• Masters of Business Administration, Elmhurst University
• Goodsports USA Manager/Operations Director
• Rage Soccer Club Technical Director, Reading, PA (3 years)
• Reading United PDL Staff Coach
• Alvernia University Assistant Coach- 4 year
—————————————————————-
For more, contact Dave at 630-886-8484, email [email protected] or [email protected]. You can also learn more by going to chicagoempirefc.com or oakbrooksportscore.com.