Books and conversations with their authors are the subject of a new podcast
By Maureen Callahan
The written word has been under threat since the onset of the digital age. For former Oak Brook resident and Downers Grove North alumnus, JC Gabel, it doesn't have to be. He promotes books through conversations with their authors on his new podcast, Big Table. While a student at Columbia in the mid-90s, Gabel hand-made the first issue of Stop Smiling, an arts and culture magazine. For the next 15 years, it was reminiscent of the heyday of magazine publishing- think 1960s Esquire and early editions of Rolling Stone. It evolved into a full-on, glossy covered publication featuring interesting stories that lined up under eclectic umbrella themes. Stop Smiling published original stories about timeless themes- things that couldn't be found elsewhere. It also featured some of the last comprehensive interviews with writer Kurt Vonnegut, film director Robert Altman, and singer/songwriter Lee Hazelwood. Over the past two decades, Gabel has contributed to the Wall Street Journal, The Paris Review, LA Times, and NY Times, among others. Ten years ago, Gabel and his wife, Sybil, moved to LA to work for Hollywood-based Taschen Publishing Company. Now Editorial Director and Publisher of Hat & Beard Press, he has edited (with Sybil's copy-editing help) and published more than 50 books. As an article in the Books section of the LA Times pointed out a few years ago, he is committed to bringing back the small press. Despite the rough sport publishing has become, Gabel and his committed force are doing it. Three years ago, he founded Invisible Republic, a non-profit arts organization that he currently co-chairs with a friend.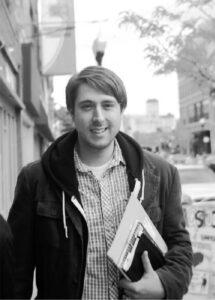 Big Table Podcast is the first digital enterprise of Invisible Republic. The 45 episodes available thus far explore art and culture across different genres via conversations with authors. Each episode features Gabel interviewing a writer about their recent book, followed by an excerpt from the book, usually read by the author. Topics are niche subjects of varied categories. In episode 39, Ben Shattuck reflects on how the walks he took near his New England home during the lockdown inspired Six Walks, in which he traced several of the routes of American literary legend Henry David Thoreau. The Steve Keene Art Book, episode 35, chronicles the work of a Virginia-based artist that has produced over 300,000 original works of art-likely more than any other American artist. Alexandra Lange, author of Meet Me by the Fountain, delves into the history and purpose of a post-war slice of Americana, the shopping mall, in episode 40. To tune in, visit www.bigtablepodcast.org Contributing Editor, Maureen Callahan, chatted over Skype with Gabel from his suburban LA home and studio.
HOW DID HAT & BEARD EVOLVE? Hat & Beard was founded, and grew from, the remnants of Stop Smiling, my magazine, as a West Coast publisher and print collective. It focuses on books instead of magazines, which are nearly impossible to make profitable in our post-post digital age. The goal was to create something with an international aesthetic editorially, something visually stunning but hard to define or pigeonhole. I'm eternally grateful, every day, for the opportunities that crop up serendipitously. And for the tens of thousands of folks who have bought our books directly from us, which is the only way to make money with books these days. Retail and Amazon sales leave nothing for the author and publisher to split. So many of our books have been catalogs to art exhibitions we have staged at galleries, museums, and alternative art spaces. That said, up until recently, we were only doing illustrated books or "art books," per se, and have only just started to publish what one might call a trade book, or literature- words-driven titles.
WHY HAT & BEARD FOR A NAME? The name of the company is an homage to Los Angeles-born jazz musician Eric Dolphy. I first discovered jazz music in my late teenage years. He was a personal favorite. We wanted an LA reference without it being explicit. "Hat and Beard" is the first song on his famous 1964 record, Out to Lunch, which was released months before Dolphy's untimely death at age 36. The song itself, thematically, is about Thelonious Monk. Just the words "hat" and "beard" conjure up a vision of the hat-and-beard-loving Monk at the piano, cigarette-in-hand, pounding away at the keys, one bebop masterpiece after the other, in his own improvisational style.
HOW DO YOU CHOOSE WHICH BOOKS TO PROFILE FOR THE PODCAST? I am confident that whatever interests my friends, as well as myself, will also interest other like-minded individuals. We trust our instincts. Music, art, and film (usually in that order) have always driven my worldview. Most of our books reflect the tastes of my friends- and their friends- collectively. If we would want to buy it, then we're pretty sure others will as well. We go with whatever immediately grabs us. We don't do a ton of research.
WHAT IS YOUR GREATEST DIFFICULTY WITH A VENTURE LIKE THIS? The struggle has always been how to scale things without access to proper operating capital. Everything we have done with Hat & Beard has been a scrappy, boot-strapping affair. It's exhilarating, but also unsustainable, if it can't grow into a thriving business. We're trying to reinvent the book-selling model through our forthcoming book clubs, which cut out the punishing margins we are forced to deal with in a post-Amazon, monopoly-as-new-normal business environment. We're trying to avoid, as British novelist Martin Amis puts it, a "moronic inferno" of loss. Since we are a small operation, we work closely with the authors to make their books successful. There isn't a lot of hierarchy. We're all selling books at events, side by side. We're all hustling to get media exposure for the work, through word-of-mouth, etc. More succinctly, "We're all in this together," as George Orwell famously said.
WHICH OF YOUR PROJECTS BRING YOU PARTICULAR PRIDE? I am extremely proud of the legacy of long-form storytelling we perfected over 15 years with Stop Smiling, "The Magazine for High-Minded Lowlifes." Subsequently, what I was able to create with a tight-knit team with The Chicagoan and the Pitchfork Review, expanded the long-form tradition of journalism and creative non-fiction in an age of lowest-common-denominator listicles and blurb culture. I spent two decades working as a magazine editor and publisher. Then, one day, it was time to move on to books full-time.
*Photos provided by JC Gabel