By Maureen Callahan
Everybody loves an underdog. Daniel "Rudy" Ruettiger is one of the most memorable in the history of film. Thirty years ago, audiences watched him muscle his way into one of the country's most selective institutions, the University of Notre Dame (UND).
This non-scholar of less athletic ability than his teammates worked harder than anyone around him. Coach Ara Parseghian was able to see beyond Rudy's 5-and-a-half-foot, 165 lb. stature to see the oversized heart of this walk-on football hopeful, ready to give his all at every turn.
Ruettiger graduated third from the bottom of his high school class. "I got into Notre Dame because I forged a path other than the traditional route," said Ruettiger. "I didn't have SAT scores and high grades. I found people at Holy Cross College who helped me. I had to work very hard, but I also managed to build relationships which ultimately opened the golden door for me."

"Eventually, they let me in to Notre Dame," Ruettiger relayed, "because at some point, people don't care what you know when they know how much you care. When they see that, you'll succeed, because others will help you get where you want to go."
Since Rudy's release in the fall of 1993, we've watched him chase down his dream. According to Ruettiger, we'll be able to share new moments as the director's cut of Rudy will soon be released. "They just called me the other day to let me know," he said, smiling.
On the eve of this classic sports film's 30th anniversary, Hinsdale Magazine Group Contributing Editor, Maureen Callahan, interviewed the most loveable underdog in the history of college athletics.
For anyone who ever thought their dream was out of their reach, there's Rudy.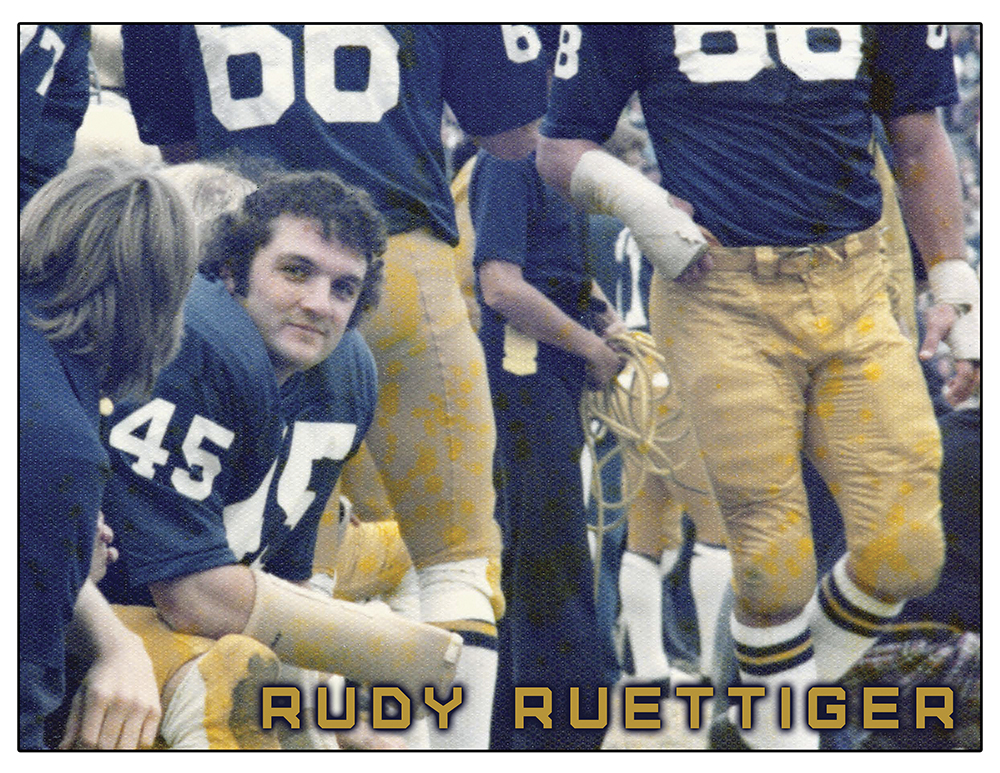 How close is the movie to real life?
The takeaway message of Rudy is hope. That was crystal clear. We had to change some things to make the movie work, however.
I did grow up in Joliet. I attended Joliet Catholic. We were a huge family- 14 kids. My family was more behind my ambitions than was depicted in the movie, however. My mom always understood the importance of dreams. She told us to think big. The idea of me going to UND wasn't realistic to my father, though, so he couldn't really get behind it. My brothers and sisters supported me, though.
Were the characters accurate?
It would have been impossible to fit everyone that impacted Rudy's story into the movie- for better or for worse. Some of the characters were amalgamations of people. For example, Rev. John Cavanaugh, CSC, the priest who helped Rudy figure out how to get into the university, represented several priests who watched out for Rudy. D-Bob, the tutor Rudy met early on at Holy Cross, is a real guy. The two became lifelong friends. He represented the people who helped Rudy.
Rudy's brother, Frank Ruettiger's character, was written as the nemesis. He actually supported Rudy in real life. The writers needed a representation of the people who criticized Rudy, however, so that was assigned to Frank.
Fortunately, we found very credible actors that carried the story. Sean Astin, who played the title role, was perfect because he wasn't the greatest athlete as a kid but tried the hardest for his coaches. His childhood wasn't easy as the son of Patty Duke, who struggled with mental illness. He didn't have a perfect life.
Ned Beatty, who played Rudy's father, started out in real life as a struggling actor with 8 kids. Finally, he made it in Hollywood. It made him plausible, as my real father was a man who lived under much stress.
Charles Dutton, who played Fortune, the stadium groundskeeper, had spent time in prison before getting paroled and becoming an actor. He was kind of a tough guy, beat up by life, so that edge he showed was real. But like his character, he didn't let life get him down.
Was there any pivotal part of your story that was left out?
Yes. After high school, I was in the Navy for a while. It gave me a mindset of complete structure and discipline. My Lieutenant Commander was a UND graduate.
One day I noticed his class ring. I asked him how I could get one. He said, 'study hard and you can do it.' He also called me a leader among midshipmen, which built up my confidence. And that's when I started dreaming. When you believe in yourself, you dream big.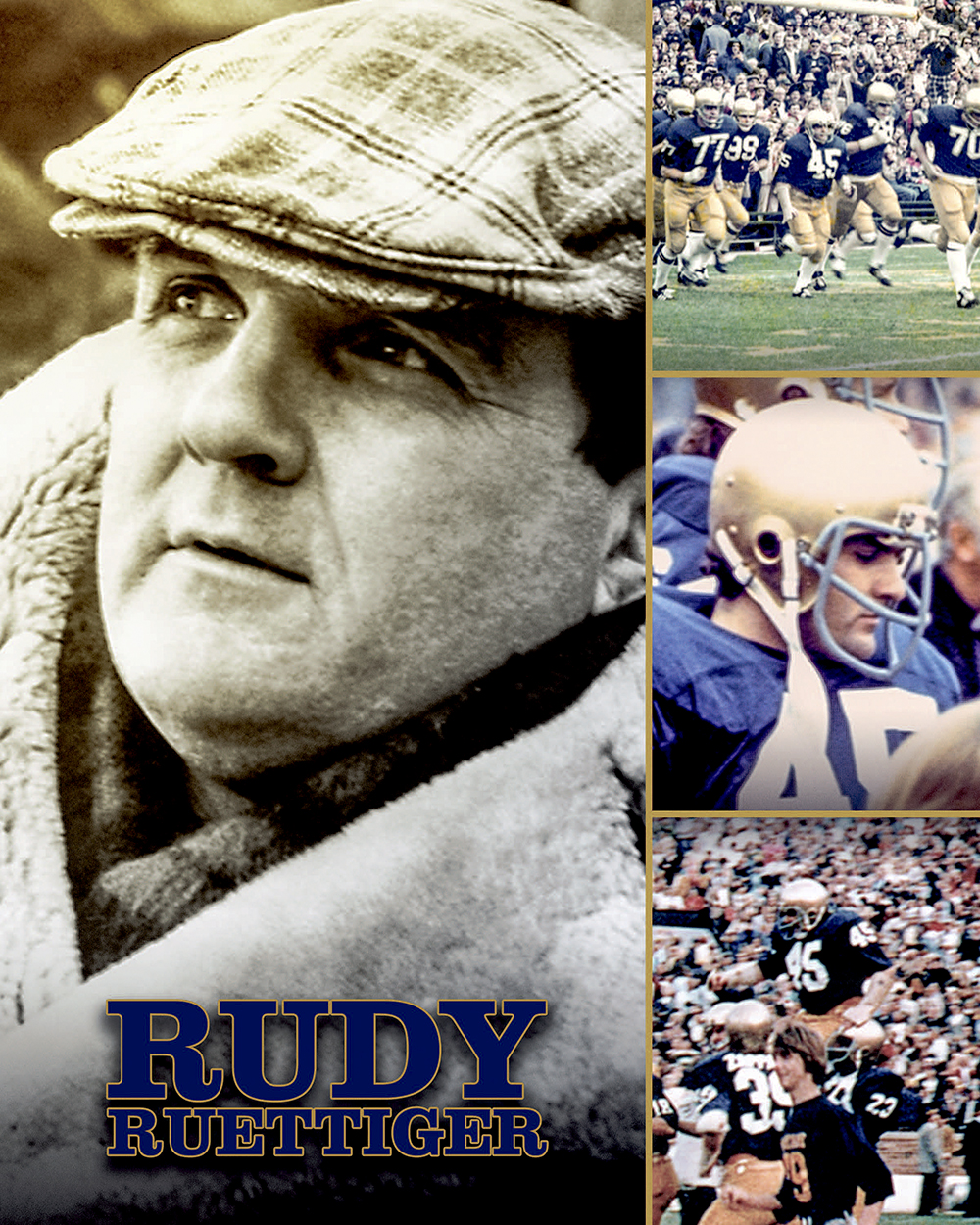 Whose idea was Rudy?
Mine. A sports writer was in the locker room after the final game of the season when I was carried off the field. After hearing some of my story, he said, "this only happens in Hollywood." That's how I first got the idea.
How did you go about getting the movie made?
It almost didn't happen. At first, I couldn't get UND to agree to let us film on campus. They didn't understand my vision. The only movie ever filmed on the university's campus was Knute Rockne, All American that starred Ronald Reagan in 1940. They weren't interested in another football movie, particularly one that starred a walk-on. It didn't fit with their brand of All Americans.
So, I did what I always do. I found another way.
I went out to Hollywood to try to sell the script. I told a lot of people my story. Ironically, the manager of the hotel where I was staying was the brother of Angelo Pizzo, who wrote Hoosiers. He told Pizzo about the script. Eventually I met with Pizzo. I had to convince him. He said he didn't want to get pigeonholed as a writer of Indiana sports films. Also, he didn't like Notre Dame.
I knew he liked my story, though, so I built a relationship with him over the next two years. One day I came home to a message from Pizzo on my answering machine that the movie was greenlighted. He onboarded David Anspaugh, who directed Hoosiers, and we went from there.
At that point, the producers gave me 48 hours to get UND on board. After two days, they were going to scrap the project. I had to convince the priests to let the film crews onto campus. It took some tall talking, but eventually they came around. We had to get things right in a short time. The entire last scene at the football game was shot in one take during halftime of the 1992 UND vs. Boston College game.
In the end, it went well and UND is happy about it now!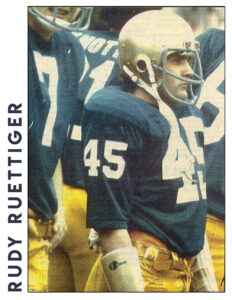 What advice do you have for underdogs?
Life is about leaping out on faith and going for our dreams. Don't ask permission for your dream, reach out and grab it. And if the obvious path doesn't work, find another one.
I had to work very hard, but I got into UND because of the relationships I built. I made the football team because Coach Parseghian and the others saw that I was willing to give my all at every turn.
We're all successful in one way or another. Some of us just don't see it because we're comparing ourselves to other people. Don't judge yourself by other people's successes. Do your best, figure out a way to overcome the obstacles and collaborate with others. And have hope. That's what Rudy is all about.