Cammi Granato, first lady of U.S. Women's Hockey
By Maureen Callahan
Cammi Granato has had a lot of firsts. The first little girl to play Downers Grove Huskies hockey became the captain of Team USA's inaugural women's hockey team at the 1998 Nagano Games. She was also the first woman to score an Olympic hockey goal. And the first female player to be inducted into the U.S. Hockey Hall of Fame. The list goes on. From her position as the first lady NHL scout for the Seattle Kraken, to one of the first female assistant general managers of the Vancouver Canucks, she sets an ambitious- yet distinctly humble- tone. Granato leads by example for any girl who thought her chosen sport or career was out of her reach. Faced with the glass ceiling early in life, she learned to skate right through it. Come what may, she never gave up, forging a path for a generation of female athletes that have the option to play- and excel- at hockey. The doors Granato helped open will never close. It took courage and determination to be the first. And a lot of hard work. Contributing Editor, Maureen Callahan, chatted with Granato via Skype, from the front office of the Vancouver Canucks.
HOW DID YOU START PLAYING HOCKEY?
I played a lot with my siblings. I'm the fifth of six kids, so there was built-in competition from the beginning. And built-in chaos! We always played on Prince Pond and whenever there was ice at Doerhoefer Park. My brothers played DG Huskies. I had to convince my parents to let me play, too. They thought I wanted to figure skate. From first grade all the way through high school, I played with The Huskies.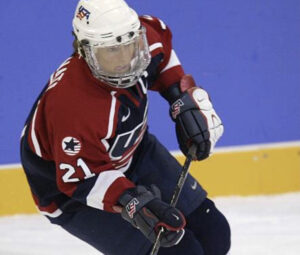 WERE YOUR COACHES AND TEAMMATES SUPPORTIVE?
Ultimately, yes. I was the only girl in the league the whole time I played. It wasn't easy at first. After a while, it became less of a big deal. My teammates stuck up for me. Several times, I was the captain of teams with boys who were two years older than me. But they respected me because I could play. The visiting team parents often made comments. I got used to it, but I didn't like it. It was good life experience in a way, however, because I learned from the beginning that it's just noise, and to tune it out. One year, the Huskies were contending for the State Championship. We were allowed to invite a kid from out of district to play on our team. My coach found a very good defenseman from St. Rita High School, but when his dad learned I was on the team, he wasn't going to let his son play with a girl. Initially, my coach rescinded the invitation. In the end, the kid joined us. Before long, his dad became my biggest supporter. And his son was protective of me on the ice. So, sometimes people surprise you. (Granato smiled)
WHAT ROLE DID YOUR FAMILY PLAY IN YOUR SUCCESS?
My parents, Don and Natalie Granato were incredibly supportive of their six kids. They led by example. I owe them so much. Playing hockey is what I love and what I was born to do. A lot of women contacted me after we won the gold at the 1998 Nagano Winter Games, saying they had wanted to play but weren't allowed. It was my parents who let me play, and I never forgot that. My family was kind of my first team. My parents instilled in us the idea that you love and encourage your siblings. We were each other's playmates, best friends and biggest advocates. My oldest brother, Don, (Coach of the Buffalo Sabres), was always coaching us while we were playing pond hockey. I still call him now for advice. My sister Christina was the only one who didn't play hockey, but she always cheered the rest of us on. On my eighth birthday, she drew a picture of me in a hockey sweater adorned with a captain's "C," on a card. Inside, she wrote 'you'll be the first woman to play in the Olympics.' Who would have known? I still have the card.
WHAT WERE SOME OF THE ISSUES YOU FACED ON YOUR PATH?
Early on, not having a place to dress at the rink was tough. The figure skaters would turn the bathroom lights off and call me names while I was dressing for games. Eventually, the owner of the Downers Grove Ice Arena rehabbed a broom closet for me to dress in across from the team locker room. He put a bench and a light in there. I never forgot that kindness. As I got older, the problems got bigger. The Husky coaches always had my back, but there were some mean coaches on opposing teams. One threatened to break my collar bone when we played against his team. I played anyway. We beat them 2-1! We won the state championship that year. I think the hardest thing, though, was the realization that I wouldn't be able to go as far in the game as my brothers. We all grew up wanting to play for the Blackhawks. Luckily, the Women's World Championship and Olympic teams were starting to form. The pendulum swung at just the right moment for me. There were plenty of other qualified athletes that came before me that just didn't have the same opportunities.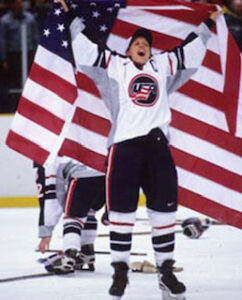 YOU WERE OFFERED A CHANCE TO TRY OUT FOR THE NEW YORK ISLANDERS, CORRECT?
Yes. The General Manager of the Islanders had daughters that played hockey. He was genuinely trying to give a woman a chance to try out. It was the same time that the Olympic team was forming, though. Women's hockey was finally going to enter The Games. I knew it wouldn't have been the same 80-game season for me as the other draft picks, however. I knew I wouldn't get a pro contract out of it. I also knew if I got hurt, my Olympic dreams would have been shattered. It would have been exciting to play in the NHL, but I know I got further going the Olympic route.
WHAT IS THE GREATEST ACCOMPLISHMENT OF YOUR PLAYING CAREER?
The Olympic gold medal, for sure.
HOW IS IT BEING THE ONLY WOMAN AROUND THE TABLE?
I'm used to it. I always had my brothers, close boy cousins and lots of friends and teammates who were boys, around me. So, when I got my first job scouting with the [Seattle] Kraken, I was surrounded by men, but they were all hockey people, so it was honestly comfortable. It's all about hockey. We all love the game. The idea that women couldn't be hired for roles like I have had, is quickly changing.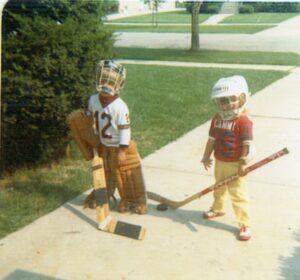 YOU HAVE BUILT AN AMAZING, DECADES-LONG CAREER. ANY IDEA OF NEXT STEPS?
I have pretty much surpassed where I thought I would ever get, professionally. Building the Kraken, from a concept to a team name, to constructing a stadium, to scouting the players and creating the organization, was amazing. Then for the general manager position to open here in Vancouver with the Canucks just a couple years later, where I've lived for 20 years, isn't something that usually happens. So, I'm thrilled! I don't even think about next steps. I just try to learn as much as I can, wherever I am.
DO YOU SEE A WOMEN'S NHL LEAGUE?
I do. I think it's on the horizon. I think past performances at the Olympics, and other women's sports basketball, tennis, golf etc., -have put us past the idea that women's sports won't sell tickets.
HOW ABOUT YOUR CHILDREN'S BOOK?
I Can Play, Too, is a sports book about girls. My nephew, Tony's son, Dominic, illustrated it, so it was a neat project to collaborate on with him.
DO YOU STILL PLAY HOCKEY?
Not really. I'm at a point in my life where I don't need my wrist broken by someone playing too competitively. I still skate with the Canucks alumni sometimes. I coached my kids a little. I have hockey all around me all the time. That's good enough!
*Photos provided