Hinsdale Central High School grads bicycle cross-country for charity
By Larry Atseff
There are several ways to help people with disabilities or people in need. You can write a check. You can volunteer your time and effort and help them physically on a personal basis. Or you might take another route, like participating in a cross-country bicycling marathon fundraiser over 60 days and 4,000 miles. Charlie Fix and Zack Northey, two 2020 Hinsdale Central High School alumni and personal friends, took the latter approach and said they would never forget it. Their bicycle group of 17 riders and five support members, following in a truck, joined two other groups from the same University of Colorado Pi Kappa Phi fraternity. Together, all 58 of them raised $370,000 pedaling across the country. They began their journey on June 12 in San Francisco and finished on Aug. 13 in Washington, D.C. What possessed them to participate?
Their fraternity has had a tradition of doing charitable work this way for decades. Since 1987, "Journey of Hope" has not only helped the men of Pi Kappa Phi become service leaders but has raised funds and awareness for people with disabilities. It has raised millions and helped thousands across the country. The event caught the imagination of Charlie, Zack, and several other fraternity brothers. They talked to others who had participated and were told it was something they would never regret, but it would be challenging for various reasons. First, they had to set aside more than two months of their lives during summertime for the cross-country journey.
Then, once committed, they had to start a personal fundraising campaign by asking family, friends, neighbors, and acquaintances if they would support their "Journey of Hope" by donating for every mile they rode. That was a valuable life lesson in itself for the duo, garnering a mix of pledges and rejections. Ultimately, they succeeded, with Charlie raising $15,026 and Zack raising $12,280. Before the ride, both also had to prepare mentally and physically to bike the 75 to 90 miles a day over 60 days with the barest of essentials and places to sleep and eat. The training was vital to their success, but Charlie did regret not taking more 20-mile rides to prepare. According to him, "the physical half was robust the first two weeks, particularly going through the Rockies and a sizzling climate. By the end, it was psychologically taxing. We had to stay constructive and centered.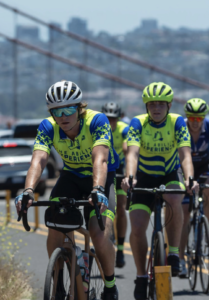 Along the way, Charlie and Zack experienced many emotions from "friendship visits" as they met with organizations that assist people with disabilities throughout the country. These visits along the way spread the message of empathy and acceptance and helped both understand the circumstances of the people they were helping. These visits were highly memorable for Charlie. "We came to realize how fortunate we are and were not prepared for the gratitude from the people we were helping," he said. "It's been unimaginable watching wheelchair softball for example. I felt fortunate to be part of these events, which was undoubtedly the best part of the journey." Zack concurs, saying, "the visits allowed me to meet many individuals I would have never met. I like spreading positivity, and it's been an extremely nice lesson. The response we got from everybody we met on the journey was unimaginable." Both credited their parents for their support. Zack said his father Dave Northey is an Ironman Athlete and helped him train ahead of time. Charlie's Mom, Sara Fix, also is an Ironman Athlete.
As they approached the Chicago area, Sara joined Charlie and Zack's group in Iowa. "I am beyond proud to have a son that would commit to helping others and connect with all the friends he made at the visits as well as the teammate bond," Sara said. Sara herself was lucky enough to ride 450 miles over four days with the group and participate in a visit. "I covered the miles, and I watched the team bond firsthand. Lucky me, it was nothing short of spectacular and will be in my heart forever," she said. "Having my mom join the tour undoubtedly helped put me into a groove. The psychological side is about preserving a constructive angle. You need to smile and snicker along the way," Charlie added. When asked if they will do it again? Charlie and Zack said it was a once-ina- lifetime experience. The Fix and Northey families would like to thank their kind and generous friends and family for their support. Charlie was one of the top fundraisers with Zack not too far behind. Donations are still being accepted in the name of:
Charlie (www.classy.org/fundraiser/3638973)
or
Zack (www.classy.org/fundraiser/3666376)
"Journey of Hope" is a mission of The Means Expertise which gives grants to roughly 200 organizations serving folks with disabilities representing communities in 41 states. It offers hands-on group constructing, fundraising, and empathy-promoting actions to enhance the lives of younger males and people with disabilities throughout the nation.