Luggage rises to the occasion
By Maureen Callahan
We've all been there. A crowded airport terminal with a longer-than-expected layover. No open space for the kids to put their food or do their homework. Somewhere to set a coffee and a laptop at exactly that moment would be perfect. Maggie Gerth, Hinsdale resident and mother of four, spent years in those situations. In addition to the airport scenario, Gerth constantly found herself on the losing end of keeping hotel rooms organized, with a family that frequently traveled. One day in a chaotic hotel room with one luggage rack for six people, Gerth had an a-ha moment. She began to think about how she could elevate suitcases off questionably clean hotel floors. Out of this frustration evolved PROPS, the first suitcase on the market with expandable legs. This stateof- the-art travel case will eliminate inconvenience, one business traveler -or stressed parent- at a time. Not since the wheel was added to the suitcase has the travel industry seen such an overdue solution. In short, it will revolutionize the luggage industry.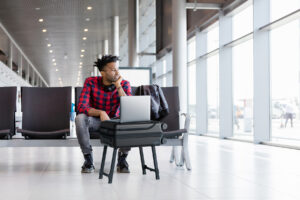 The PROPS suitcase does just that prop up on legs. A barely visible handle near the wheels provides an easy way to grip the case to turn it from vertical to horizontal. The legs easily fold out to transform the suitcase into a small, table-like structure ready to hold a laptop, lunch or beverage. The outer polycarbonate shell is remarkably durable, despite its seven-pound (empty) weight. It's light enough to easily handle, while hard enough to provide a sturdy work surface. "People always say to me 'I can't believe nobody ever thought of this,'" Gerth said. ''Actually, they had." Several patents for less-sophisticated ideas have been filed over the years. However, none of them ever made it to market. "Now I know why," Gerth laughed. "Creating it was an engineering nightmare." Unsure of where to start, Gerth and husband Robert attended the Travel Goods Show in New Orleans. There they hired a luggage consultant. Next came the design engineer, whose task was to bring an idea initially sketched on a cocktail napkin, to life. Overwhelmed by early engineering meetings, Gerth quickly learned to trust her team. "You don't have to know everything, but you do have to hire the right people and trust them," she said.
Unable to design a case that met the specifications after a year, a second engineer had to be found. The already expensive endeavor was lengthened. All luggage must pass rigorous testing before it can come to market. After each of the eight prototypes was developed, Gerth was sent videos of every test, with requirements of the changes needed. Finally, the current design passed. A TSA-approved combination lock system was added to ensure the security needed to prevent theft, while allowing airport security to open the case without damaging it. The patent process was not for the faint of heart, either. A name, logo and design had to be finalized before the trademarking could be assigned. It's a complicated procedure in which there is much room for error. A Milwaukee marketing firm was hired to promote the product. Twenty or so possible names were discussed. "You begin to recognize the importance of a name when you're looking to market your product," Gerth said. "Ideally, the name of the product explains what it does." Currently visible on Instagram, Facebook and TikTok, PROPS are starting to appear in airports throughout the world with internet influencers.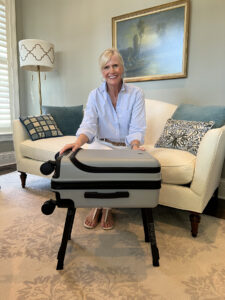 In addition to its iconic fold-out legs, the packing system is another unique PROPS feature. While the suitcase is comparably sized to other carry-ons, an interior compression system maximizes space, accommodating as much as an industry standard-sized case. Everything is packed into one main compartment with a top-lid opening approach. Top-of-the-line YKK Zippers smoothly expand the depth always needed for unforeseen souvenirs. Available in four modern colors thus far, the palate has changed considerably over the length of the project. "Believe it or not, creating and naming colors is quite an involved process," Gerth relayed. While Graphite and Midnight are the closest to traditional dark luggage colors, they are still several shades from those currently found in airport bag38 gage claims. Ivory and Ice offer a bright, modern look. After four years in the making, the PROPS website went live in June with the first product rollout set for mid-September. It's been a long road. There were a few hiccups, the largest of which was COVID. Gerth found herself creating a travel product for an industry that was essentially frozen.
"I had a few moments of doubt," Gerth confessed. Ultimately, she kept on with the project, hoping that the launch would coincide with the restart of travel. Perfect timing. Gerth credits the encouragement of her husband Robert and daughters Colleen, Mary, Elizabeth and Kathleen, with the completion of the project. When asked what kept her on task in frustrating moments, Gerth thoughtfully reflected before stating, "I have four daughters. I started this project because I wanted to bring my idea to life. But I also wanted my daughters to understand that if you want to accomplish something, you must see it through." ■
Look for PROPS suitcases as travel get back on track this fall. Visit https://propsluggage.com