From friendly people to charming bed-and-breakfasts, lively pubs to music jams, this historic cobblestoned city will rise to meet you.
By Kerrie Kennedy
Although it's the largest city in Ireland, Dublin's size — roughly 45 square miles — makes it just right for a relaxing getaway. It's also easy to get to. A little over a seven-hour flight from Chicago, Dublin is a 20- to 30-minute taxi ride from the airport. Once there, you won't need a car — Dublin is a very walkable city. And although Irish is the official language, English is more widely spoken, so there's no language barrier to worry about. Dublin is also relatively safe and the locals have built a reputation for friendliness. If you're looking for conversation, it's as simple as popping into a pub for a pint of Guinness and a bite to eat. Even the lodging is friendly. Dublin's charming B&Bs and guesthouses feel like a homeaway-from-home, and most of them will treat you to a full Irish breakfast in the morning, more than enough to fuel a day of sightseeing.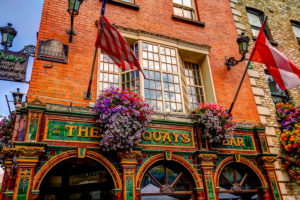 Here's what to do and see in Dublin:
Visit St. Patrick's Cathedral Founded in 1191, Ireland's national cathedral and its largest church is also the burial site of "Gulliver's Travel's" author Jonathan Swift, who was once dean of the Cathedral.
Read at Trinity College Library Dating back to 1592, Ireland's largest library houses 200,000 works and is home to the Book of Kells, a 9th-century Gospel manuscript. The library's long room served as the inspiration of Hogwarts Library is "Harry Potter" and is one of the most instagrammed spots in Ireland.
Go Pub-Hopping in Temple Bar District One of the oldest areas in Dublin and often described as the city's bohemian quarter, the cobblestoned Temple Bar neighborhood — and its plethora of pubs — is one of the best places to hear live Irish folk music.
Tour Dublin Castle Dating back to the 13th century, Dublin Castle sits on the site of a Viking settlement, complete with a medieval castle. And for 700 years — up until 1922 — it was the seat of British power in Ireland.
Check Out a Trad Session at the Hairy Lemon This green and yellow 19th-century house hosts some of the best Trad Sessions — casual and sometimes impromptu gatherings of musicians playing traditional Irish music — in all of Dublin.
Walk the Ha' Penny Bridge Built in 1816 over the River Liffey, the bridge got its name from the half-penny toll that was required to cross it. Depending on when you visit, you might be able to catch live performances by some of the best musicians in Dublin through the "Music Under the Bridge" series.
Visit a Historic Pub One of the oldest and best traditional pubs in Dublin, Toner's on Baggot Street dates back to around 1818 and is said to be a favorite watering hole of the poet W. B. Yeats.
Have Dinner at The Church Built at the beginning of the 18th century, the former St. Mary's Church of Ireland is now a tastefully restored bar and restaurant, serving up some of the best Guinness Beef Stew in the city, perfect to warm you up on a rainy day.