For Hinsdale Hospital's Most Vulnerable Patients
By Larry Atseff
For more than 100 years, Hinsdale Hospital has cared for generations of families from Hinsdale and the surrounding communities. The hospital has been a destination for women and children. Adam Maycock, President, and CEO, states "Our goal is to offer women and children exceptional care in an exceptional environment." That is why Hinsdale Hospital and the Hinsdale Hospital Foundation are committed to renovating the Level III Neonatal Intensive Care Unit (NICU) "Hinsdale Hospital's NICU renovation is a critical component to ensure our community hospital has the space, technology, and equipment needed to support the most advanced neonatal care in the area. With our NICU renovation, we will expand our capacity to care for our community's tiniest and sickest babies."
Since September, there has been a groundswell of support for the NICU renovation. It all began with a small local celebrity bartender night at Il Poggiolo hosted by Dana and Peter Burdi. The evening was a huge success, but local Hinsdalean and NICU Campaign Cabinet member Kari Galassi had a bigger vision. From the moment Kari toured the NICU, she knew her work was only beginning. She rallied friends and family to get involved and took it one step further by hosting a fundraiser at Ruth Lake Country Club where the result was overwhelming. Within a few hours over $600,000 was donated. Kari Galassi said, "As a mother who delivered three healthy babies, I did not realize the importance of a Level III NICU. Our work has only just begun to help our hospital offer the best possible care and environment for the tiniest of patients."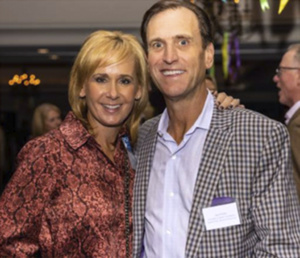 It takes a special team to create a world-class NICU, from the clinical side to the community. NICU Manager, Laura Cronin states "the NICU renovation will allow for greater patient healing and safety. With the addition of private and semi-private rooms and state-of-the-art technology, the transformation will be a jewel in the Hinsdale Hospital crown." "Any parent will tell you that one of the most difficult parts of the experience is going home at the end of an exhausting, emotionally draining day, and having to leave their baby behind. Our current environment is not conducive to allowing a parent to feel comfortable to spend all the time they want with their baby. One study has found that when parents are more involved with the care of their NICU babies, their babies are released 5 days sooner. Plain and simple, babies get better when parents are less stressed." Lanny Wilson, MD, NICU Campaign Chair and retired OB/GYN is focused on helping the most vulnerable patients. "Premature babies often spend two or more months in our care.
During that time, development and healing is critical. While the clinical team of physicians, nurses and clinical specialists provide compassionate and cutting-edge care however the Neonatal Intensive care unit at Hinsdale Hospital has not been updated in over 20-years". Hinsdale Hospital Foundation has played an integral role in developing the relationship with the community through the Board, the Campaign Cabinet, Hinsdale Assembly Board, Junior Board, and more. The HHF mission is to provide good will and raise funds for Hinsdale Hospital. Board Chair, Jay Pollitt stated "the HHF Board serves as the bridge between the hospital and community. Our role is two-way – one by acting as an extension of the hospital. Two – by serving as the voice of the town and its needs back to the hospital." "For me, it's personal, I grew up in Hinsdale, my father was a surgeon and I witnessed his care for friends, neighbors and family. Being on the HHF Board is a way of honoring my father, by supporting the hospital to help provide the best care possible for the community." "I am proud to work side by side with community leaders like Karen Fiascone, Patty McKay, Shana Robinson, and Lanny Wilson, MD." The most recent events for the NICU renovation have created momentum within the community, helping us reach closer to our goal so that the renovation can begin.
If you wish to contribute, go to amitahealth.org and click neonatal intensive care unit (NICU). If you wish to see the current NICU unit, call Hinsdale Hospital Foundation at 630-856-2000 and they will gladly arrange a tour.