Independent and private schools continue to thrive
By Abbey Hayes
The western suburbs are lucky to be the home of several exceptionally strong schools. Many have a rich history and are known throughout the communities they serve for academic excellence, a wide selection of extracurricular programs, and an inspiration for learning. Choosing a private or independent school is a complex decision for families and students, with many great options available. Visiting each school is paramount for an informed choice, but insight into each school's unique traits – from their point of view – helps illustrate their message. Thank you to our partners highlighted in this exclusive feature for Hinsdale Magazine Group to provide our readers with relevant information and enable them to discover each school's distinctive characteristics.
AVERY COONLEY SCHOOL
The Avery Coonley School (ACS) is a leader in gifted education serving children in preschool through grade eight. For over 100 years, advanced students have thrived at the school, immersed in a mutually talented community led by highly skilled teachers who understand their academic and social-emotional needs. Students at Avery Coonley represent 40+ zip-codes in the Chicagoland area and come from a variety of socioeconomic backgrounds. This is due to the School's commitment to diversity and a robust financial aid budget for need-based tuition assistance. Students at ACS enjoy being challenged and learning at a minimum of one entire grade level above their current grade. In tandem with a multifaceted educational approach, the depth of conceptual learning in all areas differentiates ACS from traditional schools. As a collaborative learning environment with a student-led approach to learning, classrooms, lessons, and expectations are structured to meet the best interests of gifted children.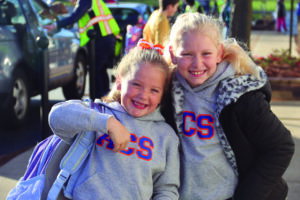 Avery Coonley's 11-acre campus in Downers Grove offers state-of-the-art technology and flexible spaces for individual and collaborative work. An expansive art studio, computer lab, and Makerspace, along with 9,000 square feet of outdoor play area, including a pond, inspire learning. The new Student Service Center, opened in early January, allows Avery Coonley's 325 students to interact with staff specialists in a space designed specifically for them. Students enjoy activities and clubs, including fine arts, chess, strategic gaming, and debate. Avery Coonley has a very strong, engaged parent community as well, who are the key to the welcoming atmosphere. The Home & School Association organizes many activities throughout the year, and Parent Ambassadors volunteer to give campus tours. The School's environment harnesses the energy of students' curiosity and interests allowing them to be themselves while exploring and developing their talents. Upon graduation, ACS students are motivated citizens of the world, creative thinkers, and independent, lifelong learners ready to meet their full potential in high school and beyond.
FUSION ACADEMY
The educational philosophy at Fusion Academy is "Love, Motivate, and Teach." The unique model offers a personalized school experience for every student through one-on-one instruction and life-changing results for students and families. Fusion Academy Oak Brook, one of 80 campuses in the country and one of four in the Chicago area, opened in 2016. Currently, the school has 40 middle or high school students. These students benefit from a personalized education experience with a one-to-one teacher and student model. Academic support happens in real-time, helping students flourish emotionally, socially, and academically. The foundation of Fusion Academy, a fully accredited school, is creating a trusting, authentic relationship between the teacher and student. Once this is built, the motivation determined in partnership between the student and teacher helps teachers keep students engaged and inspired. From there, all teaching is personalized to the student's strengths and learning preferences, with the teacher ensuring a student understands the material – mastery learning – before moving on to new topics.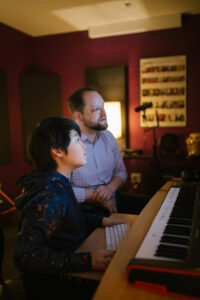 Beyond personalized learning, The Oak Brook Campus offers various extracurricular activities, including student council, Dungeon and Dragons club, improv club, art club, Internet Creators club, drum club, chess club, and anime club. The schools host various events for parents and the community, like education nights on essential topics, art showcases, and more. Students can start at any time of the year, including mid-semester. In addition to the full-time program, any student can attend Fusion Academy for tutoring or single- class credit. Full-time or part-time, there is a commitment made to the students to develop them into critical thinkers who are resourceful, self-aware, and inclusive. These outcomes embrace the Social-Emotional Learning themes, which are also embedded into the curriculum and programming. Each Fusion Academy graduate has a unique path, but graduates have been accepted at over 250 US. Colleges and Universities. Graduates are ready to forge their path due to the positive mentoring relationships and personalized education experience Fusion Academy offers.
MONTINI CATHOLIC HIGH SCHOOL
Founded in 1966, Montini Catholic is a family-centered, college preparatory comprehensive high school rooted in the life and teachings of Jesus as emulated by founder, St. John Baptist DeLaSalle. Their LaSallian tradition recognizes the sacredness of all persons and educates students of diverse abilities, cultures, and socioeconomic backgrounds while emphasizing the importance of service and responsibility to Church, family, and community Academically, their college preparatory experience prepares students for success in college and beyond. With an emphasis on small class size, courses are offered within three learning levels: Advanced Placement, Honors and College Prep. Four dual credit courses are also offered. A Signa Fidei program is offered for 20 students each year who enter Montini below grade level. Students are not placed in academic tracks and benefit from an individualized "Four Year Plan for Success" which helps them explore career interests and set goals.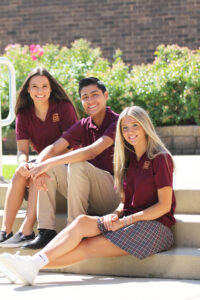 Over the last five years alone, graduating classes have averaged over $18,000,000 in college academic scholarship offers per year. Bronco athletes take the same qualities for success in the classroom and apply them to the field! Bronco athletes develop crucial life qualities including leadership, dedication and confidence! Montini offers 13 men's and 12 women's athletic teams and have celebrated a total of 30 IHSA State Championships. Extracurricular activities, clubs, and organizations play a significant role in the overall development and education of a Montini student. 95% of the student body are involved in at least one extracurricular activity. Montini boasts one of the top Math and Robotics Teams in the state of Illinois. They also have the unique ability to live their faith through numerous retreats and service opportunities including two Habitat for Humanity trips and an International Service Trip. The Montini Catholic family inspires its students to appreciate their differences and thrive as one community.
NAZARETH ACADEMY
Nazareth Academy, centrally located in the western suburbs in the heart of La Grange Park, offers a short commute for many families in the area. As one of the oldest educational institutions in the suburbs with a 123-year legacy of educating the whole person, Nazareth offers a small school atmosphere with "big school" opportunities. Established by a pioneering group of Sisters of St. Joseph in 1900, Nazareth continues to be sponsored by the religious women of the Congregation of St. Joseph. Fourteen students were originally enrolled in a six-room house; today, it enrolls over 750 students from more than 100 local grammar schools in over 65 communities. Nazareth values scholarship, service, spirit, and unity, which underscore the Congregation's mission and support the Catholic Church's values. The academic approach has resulted in a legacy of high-achieving students who care for one another, feel seen and heard, respect the school community, engage in opportunities, and find a place to grow.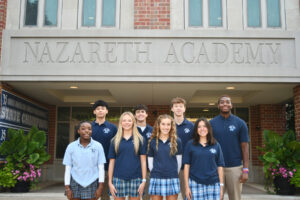 Nazareth is a family where there is something for everyone. The strong relationships built between students, teachers, and college counselors underscore the value Nazareth places in helping ALL students to succeed. The academic investment in students is reflected in the Class of 2022. Graduates are now enrolled at 73 different colleges in 25 states with 31 million dollars in merit-based scholarships. At Nazareth, 96% of students participate in a club, sport, or the Fine Arts. Student activities are a reflection of students' passions and reflect the diversity of students' interests. The dedication of student-athletes is incredible. Since the Fall of 2021, Girls' Volleyball, Baseball, and Football have all won State Titles. Nazareth fosters a culture of inclusivity and a welcoming environment. When this is added to the outstanding academic curriculum, Nazareth can successfully care for the whole person while preparing students for success in college and beyond.
NOTRE DAME SCHOOL
Walking through the double doors into Notre Dame Catholic School's welcoming central space, one immediately feels the warm and supportive environment that has been a hallmark of the Clarendon Hills community for almost seventy years. The school first opened its doors in 1956 to 331 students, with a majority of the teaching staff being Sisters of Christian Charity, who lived on site. Today, Notre Dame welcomes students and teachers not just from Clarendon Hills, but from all over the Chicago area. Families are drawn to Notre Dame's lifelong family community as part of a larger parish setting. Small class sizes with individualized attention and weekly school mass foster service and leadership, embodying what Notre Dame stands for: a culture of prayer and kindness.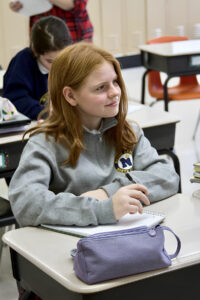 Within a safe and nurturing learning environment, students are encouraged to utilize high-order thinking skills, establish a disciplined work ethic and develop spiritual, intellectual, and emotional characteristics. Notre Dame proudly offers a variety of extracurricular activities and academic enrichment opportunities for students, such as school musical productions, Scholastic Bowls, STEM Club, and Altar Servers. Full-day kindergarten options are available for families as well as before and after-school care. The Parent Teacher Guild is integral to the school, offering parents fellowship and volunteer opportunities inside and outside the classroom. The children's formation is rooted in the teachings of Jesus Christ, with a school of dedicated staff partnering with parents to set students on a path of success—A path following God, caring for others, and believing in oneself. Graduates carry this philosophy instilled in them at Notre Dame to find success at their first-choice high schools and throughout life.
ST. ISAAC JOGUES SCHOOL
St. Isaac Jogues Catholic School, a member of the Joliet Diocese, has been nurturing students' minds and souls since 1932. St. Isaac's is endorsed by the Illinois State Board of Education and prepares students academically, spiritually, socially, and emotionally for their future in the 21st century. The curriculum incorporates core values of faith within the classroom, weekly mass as a school community, and working with families to balance a rigorous curriculum with a nurturing environment based on the teachings of Jesus Christ. The strength of St. Isaac's is the partnership between home and school. Parent involvement is encouraged with their children's education, and parents take the lead with St. Isaac's service program. "We Invite, We Include, We Inspire, We Ignite," connects students and their families to the St. Isaac community.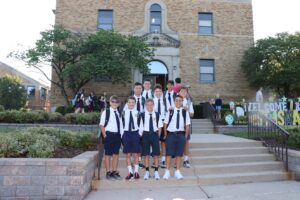 The co-curricular activities support the challenging academic program. The Fine Arts program offers choir from kindergarten through eighth grade and an annual musical. Intramural and interscholastic competition is offered for boys and girls in basketball, cross country, track and field, as well as girls' volleyball, football, and cheerleading. St. Isaac's has a no-cut policy for all athletic teams. Enrichment, Student Council, Academic Bowl, DARE, Chess Club, Lego competitions, Science Fair, and Math Team are additional offerings. In 2018, the Exceptional Learner Center (ELC) was opened. The center's vision was to support the learning of students performing above and below grade level, allowing each child to reach their individual potential. A graduate will leave St. Isaac's with the essential verbal and written communication skills, collaboration, critical thinking, and creativity to reach their full potential as citizens who can meet the challenges of a changing society. Graduates encourage acceptance, tolerance, and understanding of all cultures as global citizens and practicing Catholics within a culturally diverse world.
TIMOTY CHRISTIAN SCHOOL
As a National Blue Ribbon School of Excellence, Timothy Christian Schools is a preschool through 12th-grade college preparatory school located in south Elmhurst. It is committed to an excellence- driven academic program fostered by the eternally relevant morals, virtues, and values found in the Bible. Whatever a child's goals are — they can reach them at Timothy Christian Schools. From personalized and targeted instruction in the classroom, Timothy combines challenging programs with a Christ-centered community. Elementary and middle school students are placed in small groups to provide justright instruction, whether intervention, additional practice, enrichment, or extension is needed. This continues through high school, where time is built into the day for one-on-one and small group instruction. Timothy has academically rigorous classes for students who need to be challenged.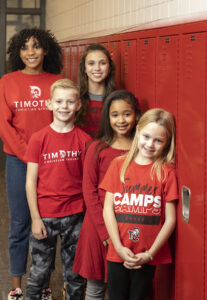 Teachers ignite academic growth and help students identify and nurture their God-given gifts and talents — one student at a time. There's a spot for every student, from clubs to athletics to performing arts. Timothy offers over 40 extracurriculars and co-curriculars, with many students participating in two or more activities. Many of the extracurricular programs compete on the state and national levels. Last year, the Mock Trial team won State and competed in Nationals. In the last decade, Timothy has invested nearly $60MM into capital improvements — including a new middle school, a high school renovation, and, most recently, a new athletic stadium with a turf field, tennis courts, and track. Timothy has done it all without debt and is committed to having one of the lowest tuition fees for a private school with similar programming and size in the western suburbs. Timothy Christian Schools offers more for less. Timothy is committed to excellence in every area of our school. But above all, it wants all students to leave Timothy with the conviction to live out God's purpose for their lives — and do it all for His glory.