Thirty years later, Marty Lloyd still takes the time to daydream
By Maureen Callahan
Thirty years ago, midwestern roots rock group Freddy Jones Band (FJB) appeared on the local music scene. Their folks/blues-influenced sound was unique; their lyrics largely based on their own life experiences. Originally from South Bend, IN, they quickly captured the ear of local Chicago audiences, while working their way up the music charts. Their catalog of songs earned the respect of listeners in a style that would come to be recognized as a slice of Americana. Downers Grove was honored to have FJB headline for District 58's recent Oktoberfest fundraiser. The band was impressed, too. "Oktoberfest was really fun," said founder and front man, Marty Lloyd. "The crowd and the crew brought their "A" game for sure." Contributing Editor Maureen Callahan connected with Lloyd via telephone from his Brentwood, CA home.
WHERE ARE YOU FROM, ORIGINALLY?
I was actually born at Hinsdale Hospital. Shortly after, my parents moved to Long Beach, IN, near the Michigan border. I grew up there. Most of my family has left that area, but the band was back there this past July. We played the Michigan City Botanic Gardens. I got to go back and see the beach and my old neighborhood. It was great catching up with the people I grew up with.
HOW DID FREDDY JONES BAND GET STARTED?
Paul Bolger from Mr. Blottoanother Chicago band- and myself both attended La Lumiere School in LaPorte, IN. He was a senior when I was a freshman. His family had a summer house in Grand Beach, MI, and I lived in Long Beach, IN, which is pretty much next door. We started playing music together way back then. That was the beginning of how FJB came together. I ended up at Holy Cross College, with aspirations of getting into Notre Dame. At that point we were playing local gigs. After a while, it became obvious that the band needed to be in Chicago. So, we moved up to Wrigleyville.
"I think as the years have passed, our music has evolved while still honoring our original sound."
We had some fun years and mostly played bars around that area. Then we opened for Widespread Panic at Park West. That's when Capricorn Records showed up and invited us to their office in Nashville. From there, it happened kind of lightning fast. We were in the studio three weeks later recording our first album, Waiting for the Night. Then we played HORDE (Horizons of Rock Developing Elsewhere) Fest dates in the 90s and accompanied Big Head Todd on the Sister Sweetly tour. "Take the Time" was our first single. I don't think the plan was to hold "Daydream" back, which was already written at that point. We thought the lead single should be "Take the Time," which did very well. But then people really liked "Daydream." That one definitely hit. Fast forward to last summer. We played with Big Head Todd and The Samples in Denver. We sold a ton of tickets. The lineup was killer! I had kind of forgotten that these bands hadn't really been in Chicago together since HORDE Fest. But we crushed it! We've crossed paths over the years, but those three bands hadn't played together in quite a while. So that's how the summer kicked off.
WHO IS FREDDY JONES?
Funny you should ask that. We have been answering that question for years, but it's never the same answer (Lloyd laughed). Back in the day, we would tell people Freddy Jones was the first Canadian to cross Lake Michigan in an inner tube, or some other crazy tale. Ridiculous, made-up stuff. Then we started reading about ourselves in magazines and found that people printed those stories! The real answer: we were still living in South Bend and some friends of ours from Notre Dame had a band called The Pat Gibson Band. Pat Gibson was not in the band; he was just a friend of theirs. So, we took it one step further and made up a fictitious person. It's really just a college joke.
HOW DO YOU GET YOUR INSPIRATIONS FOR SONGS?
Songs kind of show up in a lot of different ways. Sometimes it's just a melody that appears in your head. I can't really pinpoint the inspiration. Sometimes it's a lyrical phrase that I have in my head for a while. Sometimes it's just playing around with the guitar. Some of the best songs are effortless to write. "In a Daydream" didn't take long to write. I was in college when I wrote that song. I was sharing a house with a friend who recently reminded me he was in the next room while I was dinking around on his guitar, starting to write the song. I didn't even have an acoustic guitar back then. It's ironic, because it was not a nice day at all; it was an idle Tuesday morning with crummy weather. I kind of wrote it to cheer myself up.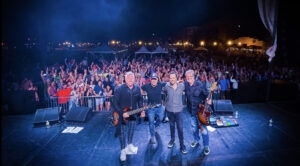 DOES FJB EMULATE A PARTICULAR STYLE OF MUSIC?
In the beginning, the band had very diverse music tastes. There was a blues element that entered into the music back then. Then some guitar hero creeped in. Then there was my type-kind of singer/songwriter Americana. I think as the years have passed, our music has evolved while still honoring our original sound. People are commenting that they have never heard the band sound this good. A little hard work has paid off to get to this point.
DO YOU HAVE A BUSY TOUR SCHEDULE?
We had a crazy tour schedule this past summer. Much more than I would have anticipated, going into this year. We hooked up with a new booking agency in Nashville in 2020. We started playing that year with ten dates in a row. We hadn't played ten in a row in quite a while. But people were coming. We were selling the tickets. We played the Midwest, then the east coast- Boston, New York, etc. All these places we hadn't been in years. Then boom! The world shut down. But we're back on schedule now.
IS YOUR FAMILY INTO MUSIC?
Music was a big theme in my house when I was a kid. On my mom's side, my whole family would be playing together at family reunions, sitting on the porch. Somebody would grab a guitar and we would all start singing together until late in the night. It's carried on with me. I have two college-age daughters. The older one is at UC Santa Barbara. The younger one is at music school in Nashville. She plays keyboards, piano and guitar. She writes music. She's a great singer. She's studying music production to start.
BESIDES MUSIC, WHAT ARE YOUR OTHER INTERESTS?
I'm a hopeless fitness junkie. It's my thing. I used to do a lot of triathlons. That's one of the reasons I moved out here (CA). I wanted to be able to exercise year-round. I love being able to swim all year out here. I'm always out running. Recently, there was a mountain lion in my neighborhood, right where I run, though, so I might have to find a new route! (Lloyd laughed). I opened a Fleet Feet store in Santa Monica. The guys in Chicago who started that company are good friends of mine. So, I reached out to them with the idea.
WHAT'S NEXT?
Big Head Todd and us at the Riviera in January. It's going to be a good show. Guys from when we were first starting out that had us play at Gamekeepers and Joe's on Weed Street are chiming in on social media to support us. Ryan Arnold from XRT has been talking about it on his show. The lineup is resonating with people who liked us from the beginning. They're coming out to see us. We can't wait! See you there! Three decades along, Marty Lloyd still holds a clear vision of the band's future. Listen for "Mirror Ball," a new single set to release this fall. Get tickets for the FJB and Big Head Todd & The Monsters show, set for January 21, 2023 at the Riviera Theater. Visit FreddyJonesBand.net for more information.
*Photos courtesy by FJB