The shelter faces challenges heading into 70 years of serving local communities
By HM Staff
Hinsdale Humane Society has helped pets and pet owners in 12 nearby communities for 70 years. The time has come. Residents from these communities must return the favor. The Hinsdale Humane Society (HHS) has launched an S.O.S.: SAVE OUR SHELTER Campaign to keep the doors open. During COVID, thousands of spay or neuter surgeries did not occur in our area. As a result, litters of puppies and kittens are showing up on the shelter's doorstep almost daily. HHS has been over capacity for months and relies on foster homes to help with the overflow. At the same time, donations have substantially diminished, and inflation is causing costs to rise, creating an imbalance that has jeopardized this Hinsdale shelter. "As we're having conversations with our donors to explain what we're up against, we're hearing again and again that people assume we have an endowment and that because we are in Hinsdale with a beautiful facility we don't need any financial help," said Jacki Rossi, HHS Executive Director.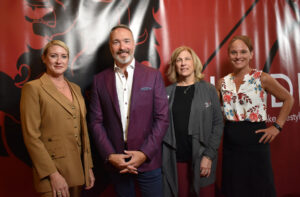 "That is just not the case. We receive no government funding, have no endowments, and put every dollar into saving as many animals as possible," Rossi says. "Couple that with the pandemic fallout of animals flooding our system and inflation cutting down charitable donations to our organization, and we are experiencing severe financial difficulty. We desperately need the help of the communities we serve." HHS provides stray services to police stations in the following 12 communities: Brookfield, Burr Ridge, Clarendon Hills, Hinsdale, Indian Head Park, LaGrange, LaGrange Park, Oak Brook, Western Springs, Westmont, Willow Springs, and Willowbrook.
"When stray pets come in from the communities we serve, we ensure they get proper medical care, food, water, socializing, exercise, and enrichment until we can reunite them with their families or get them adopted out," said Dr. Kristin Tvrdik, Medical Director, of HHS. Tvrdik continues, "a disturbing trend is that many stray pets coming in are no longer being claimed by their families. We are now caring for discarded pets, in addition to all of the homeless pets from a lack of spay or neuter surgeries." Dr. Tvrdik has performed nearly 3,000 spay and neuter surgeries this year, not only for HHS adoptable pets but also for 13 different rescue groups in need of surgeries for their pets. The veterinarian shortage is another crisis we›re all up against in the animal welfare industry right now,» said Dr. Tvrdik.
"It's a tough time for rescue groups everywhere." Adoption fees, community services, and programming revenue don't come close to covering the expense of caring for all animals that need help now. HHS is asking for the support of the communities it serves to ensure it will be here for its 70th year and beyond. "There are so many more animals in need than ever before," said Rossi. "We need the support of our communities to help us help them." To make a donation, go to hinsdalehumanesociety.org and click the blue donate button.
THOUSANDS RAISED FOR THE HINSDALE HUMANE SOCIETY
Hinsdale business owners host a fashion show
On September 29th, Rino Burdi, owner of Burdi Clothing, hosted a well-attended fashion show along with several other local businesses to raise funds for the Hinsdale Humane Society. The combined effort led to over $12,000 being donated. Continental Auto Sports displayed several Ferraris along the store's sidewalk to add a luxury touch, and Vistro Prime provided the hors d'oeuvres while guests enjoyed a beverage and socialized. When it was time for the show, Ben Bradley from WGN-TV served as host. Models strutted down the runway in fashions from Sweet William in the first half. Burdi not only hosted the show but asked several Hinsdale gentlemen to join in the fun by modeling the menswear brand from Burdi Clothing. DJ Lee Michaels, the official game DJ for the Chicago Blackhawks, performed as guests mingled and then provided the music for the fashion show itself. Violinist Binta Kai added even more musical entertainment after the show. To close out the evening, Hinsdale Humane Society Executive Director Jacki Rossi, and board member, Deborah Kraus, thanked everyone for their support. Both thanked attendees for their contributions since the shelter is being overwhelmed by more and more pets, and donations have fallen considerably.
*Photos courtesy by Hinsdale Humane Society