Hinsdale Historical Society Woman's Board takes kitchen walk outdoors in 2021
By Mike Ellis
The Coronavirus pandemic has challenged local nonprofit organizations to exercise their ingenuity in modifying traditional events or developing new ones to comply with social distancing recommendations. After being unable to host its popular Hinsdale Cooks! Kitchen Walk event in May 2020 due to the pandemic, the Hinsdale Historical Society (HHS) Women's Board is unveiling a kitchen walk "outdoor edition" on June 25, featuring tours of seven outdoor spaces in Hinsdale and Burr Ridge. "All of the yards will be beautiful at that point," event co-chair Ruta Brigden said. "Everyone's landscaping will be fully in bloom for the most part." Brigden said when the state entered shelter-in-place in 2020, then-kitchen walk co-chairs Emily Van Houtte and Liz Oliverio were seeking ways in which to continue the annual tradition, including the concept of an outdoor walk. The board ultimately elected not to hold a walk, given the circumstances, but the idea of an outdoor event lived on into 2021, with the pandemic persisting. "That's what we started off with, because all these events take a year to plan, so not knowing what a year ahead would bring, we wanted to make sure that, in any event, it would be safe if the virus was still an issue," Brigden said. Brigden said safety will be a point of emphasis on the kitchen walk outdoor edition. "Nobody will be going inside the houses," she said. In order to allow for social distancing, the walk will be divided into two time-slots: the traditional 10 a.m. to 2 p.m., plus a late session from 4 to 8p.m.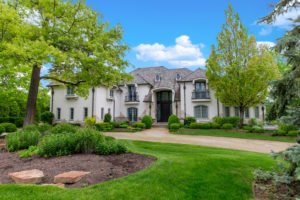 Coupled with keeping the event outdoors, Brigden said "we feel like that will hopefully be a safer way for people to participate." "With seven homes, we think people will be able to spread out as well," she said. With the event spread across the entire day, Brigden said the board is hopeful to attract more working ladies that could not ordinarily participate in the walk, as well as spouses. As for a limit to the number of people in an outdoor space, Brigden said organizers will be fixing a harder cap closer to the event date, once they establish how many volunteers will be present in each space. "We want people to do whatever's comfortable to them," she said. "We'll make sure to encourage people to social distance in line. … We will be cognizant of how many people are in each backyard." In selecting and obtaining homes for the tour, Brigden said as with the traditional indoor kitchen walk, organizers sought out a "variety" of backyard spaces. "There are some homes that have pools; there are some homes [in which] more of the focus is [on] gardens and landscaping; [at] some homes, more focus is on the entertaining spaces," she said. … "I think we have a great variety—sizes and different types of entertaining spaces for different sizes of families and different sizes of entertaining." On the north-side of Hinsdale, guests will visit the Houder home on north Adams Street, which features a pool and outdoor entertaining space, and the Isidore home on west Maple Street, which boasts an entertaining space with a pizza oven that Brigden described as a "unique feature" on the walk. Crossing the railroad tracks, we first come to the Zoberis home on Third Street in southeast Hinsdale, designed by renowned local architect R.Harold Zook.
"Everyone's landscaping
will be fully in bloom for
the most part."
An addition the family put on before moving in several years ago more than doubled the size of this house, and includes a pool that will be prominently featured during the outdoor walk. Heading a few blocks to the south, guests will find the Katz/Coleman home on south Garfield Street that Brigden said has "an amazing garden space." On nearby Washington Circle is the Weller house, an historic home that contains a pool in the backyard. Passing over 55th Street, guests will arrive at the Berger home on east 57th Street, which is a renovation of an originally smaller home. Last but not least, entering Burr Ridge, attendees will visit Saddle Hill Farm, a ranch-style horse farm spread across a spacious property. "That will be absolutely unique this year, and something that we wouldn't have otherwise done if it was a focus on interiors," Brigden said. The trolley tradition will resume this year, with the women's board supplying four trolleys for VIP ticket purchasers during each session; however, onboard capacities will be reduced to permit greater distancing between passengers.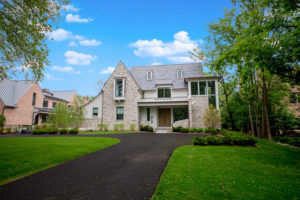 A pair of VIP parties will also be held in advance of each session before boarding the trolleys. General admission tickets are available for $55 apiece, and VIP trolley tickets are being sold for $125. Roughly 1,200 tickets were sold to the kitchen walk in 2019. Each home on the tour will have docent volunteers, and with two sessions scheduled for the walk, Brigden said organizers welcome anyone interested in volunteering. "We are looking for anyone that is willing to volunteer," she said. Brigden said the HHS is continuing to work on developing other fundraising events throughout the year, as it is in the process of renovating the Zook home and studio at Katherine Legge Memorial Park in Hinsdale. The historical society has set a fundraising target of $1 million for that project. Brigden said the modified walk "will be exciting this year for lots of reasons." "I think people are looking forward to getting out and doing something," she said. … "We live in a great community, and people should come out and support it, and see these wonderful homes." The Hinsdale Historical Society Women's Board will present the inaugural Hinsdale Cooks! Kitchen Walk Outdoor Edition on June 25, from 10 a.m. to 2 p.m. and 4 to 8 p.m.
Tickets are being sold exclusively online at www.kitchen-walk.com. Dayof tickets will be available for $65.
*Photos by Marcello Rodarte