Nut butter-filled dates are changing the snacking world… for Realsy
By Maureen Callahan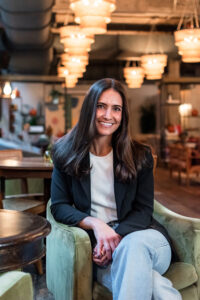 It's tough to find healthy snacks these days. You wander up and down grocery store aisles looking for items presented as health food that aren't, in reality, good for you. There are many "greenwashed" brands, falsely marketed as more natural, wholesome or free of chemicals than their competitors. Often, it's hard to find the real deal.
Enter Sophia Karbowski, former Hinsdale resident and co-founder of Realsy Snacks. Karbowski and business partner, Austin Patry, got tired of searching for a grab-n-go snack that was even remotely nutritious. "We walked around the grocery store searching for something healthy, but always ended up back in the produce section trying to piece together a snack," Karbowski stated. "Often, we bought some type of nut butter on the side to make it more substantial, but a lot of those products have seed oils and other fillers in them. It negated the quality of a fresh fruit snack."
Constantly finding themselves back at square one, they brainstormed a healthy snack that combined produce with protein. The result is a fresh, pitted, medjool date filled with almond butter, peanut butter or a peanut butter/cocoa mix to create a chocolate taste. They are sold three to a resealable pouch unit for $3.99 in fun, retro-colored packaging. The dates are quickly gaining traction with those seeking better snacking alternatives.
Their roadmap of the route from a good idea to a prototype to an actual product is an interesting tale.
Karbowski and Patry met as business students at Texas Christian University (TCU) in Fort Worth about a decade ago. "Austin and I were constantly trying out new recipes, just for ourselves, because we both love to cook," said Karbowski. Both realized the serious lack of healthy food options offered by the university. There weren't any healthful choices in the school's vicinity, either. As classmates in an entrepreneurial major, they decided they could solve the lack of healthy food issues themselves. So, they did just that.
They began testing their concoctions on friends. Their acai bowls- a Brazilian fruit puree, mixed with various ingredients such as other fresh fruit- were a huge hit. They literally decided to put the show on the road and started with a food truck. After raising funds through an Indiegogo Campaign (an online fundraising platform), the pair bought a used pickup truck and trailer and learned how to hook it up and move it around. Acai bowls on wheels became Rollin'n Bowlin', their first joint venture. They parked the food truck down the street from TCU campus. It gained instant popularity. Eventually, additional items such as smoothies and avocado toast were added to the product line.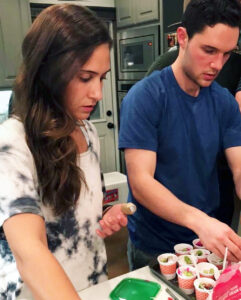 The partners shrewdly made themselves available to the university chancellor and others in decision-making positions. "Our professors and TCU in general were very supportive. They hired us to cater campus events," Karbowski relayed. "There were students lined up for blocks waiting for the truck, before we ever pulled up." A year after graduation, the university allowed them to open a brick-and-mortar space in the student recreation center and accept meal plan dollars.
This was a game-changer. They gathered food service contacts at higher education institutions across the country and reached out to other schools. Tulane, Loyola (Chicago), University of Denver, SMU, Baylor and Notre Dame took them up on it, offering campus space to set up shop. All rolled along smoothly until COVID hit.
Unable to access their campus locations due to the lockdown, Karbowski and Patry were forced to make changes to their business model. To stay relevant, they realized the need to pivot. Within six weeks of the start of the shutdown, they created a packaged line of their campus store smoothie recipes and learned how to ship frozen product across the country on dry ice. Customers ordered products right to their doors during the pandemic through a subscription model. Soon after, they launched this line of single-serving smoothies into retailers nationwide.
"From there, we signed on with a natural foods distributor that helped us navigate and learn," said Karbowski. They applied to a program for new and exciting businesses, which helped increase their visibility and therefore got them into natural stores across the country. The program minimized the legwork of getting in front of buyers who were able to learn about their products through distributors.
Meanwhile, COVID had slowed and most of their campus locations had reopened. Although their frozen business was growing, food and labor costs had risen significantly from the time they started. Also, the snack idea whispered to the partners. Realizing that snacks were more the avenue they wanted to pursue, they rebranded Rollin'n Bowlin' to Realsy, their up-and-coming snack line.
They taste-tested snack ideas among friends. The result is a medjool date filled with nut butter. It's a delectable, no-sugar added, healthy snack, consisting only of dates and nutbutter. Nothing else. The texture, as well as taste, is like a soft, filled, caramel.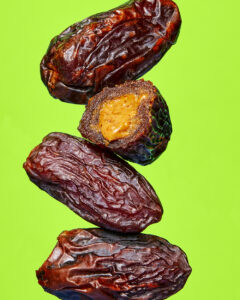 As before, the pair wanted to source the healthiest possible ingredients. They located an organic, family-run date farm in Mexico. Workers literally harvest the dates and fill them themselves, using organic nut butters created and shipped over from another family-owned nut farm. Patry has been to the farm and participated in roasting nuts to create different levels of saltiness. He sends Karbowski samples for her input. Final decisions are made together.
Aside of being the healthiest way to create the snack, both the nut and date farms employ working mothers, thereby contributing to the area's local economy. "Aside from it being the healthiest and most cost-effective way to create the snack, we like that it's not just transactional," said Karbowski. "They want us to do well and we're glad to partner with them."
The filled dates are the first product on the Realsy line to hit the market. And hit, they did! They're a huge success and can be found locally at Fresh Thyme and Kramer's in Hinsdale. Customers can also order directly through the website, eatrealsy.com. Next, the duo plans to reinvent popular snacks with healthier ingredients than what currently occupies grocery store shelves.
Gauging by the dates, this snack line will be wildly successful! ■