By HM Staff
Finding a house is a significant undertaking and a major milestone. As a long-term investment, house hunters are faced with a myriad of decisions to fulfill their dream home vision. Luckily, the western suburbs offer a variety of neighborhoods to choose from that fit a range of lifestyles. Thankfully, it is also home to many local expert resources, including realtors who advise their clients through the buying or selling process and interior designers who help create a harmonious and functional space. If looking to modify a current home, architects may map out a new layout and design, or professionals that remodel, renovate and restore are available to assist. Hinsdale Magazine Group proudly features some of these noteworthy local industry leaders in this edition to help make your house your home.
Greg Cutler – Sterling Studio kitchen & Bath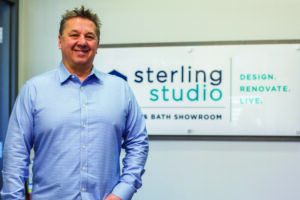 It's been said that you can buy a home, but not a neighborhood. People often become vested in an area and don't want to move. A current trend in the housing market that sees homeowners renovating their living space instead of putting the house up for sale, packing and moving, strongly supports this concept. No one understands this better than Greg Cutler of Sterling Studio Kitchen & Bath. A lifelong Downers Grove resident, Cutler understands the remodeling needs of those who want to stay in their home but have changing needs. His team works to create a thorough, full-service, home renovation experience. Thousands of decisions make up a well-thoughtout design, followed by the selection of materials, to the eventual project installation. Careful planning, paired with an easy-to-follow process, is paramount. "There are no shortcuts when it comes to executing an impressive design build project," Cutler believes. These days, many people wish to 'age in place'- remain in their existing home- rather than downsize or relocate. Often, however, the home needs to be replanned to suite the homeowner's current lifestyle.
Cutler and his team take pride in whole house re-designs, space by space, to meet clients' needs. Sterling also specializes in dream kitchens, lux bathrooms and whole house renovations. They also have experience with basement bars, open concept kitchens and first-floor remodels. Anything a client needs to make a home more comfortable at that moment in time, is possible. From the demolition of the old space to the framing, and all the small details that accompany a project, Cutler loves when a plan comes together. "It's really priceless, after working hand in hand with a customer through the whole process, to see their excitement at their newly re-imagined house," he said. After earning a marketing degree from the University of South Florida, Cutler worked in corporate sales before chasing his true passion in home building. "My favorite home is my own home because it's where my wife and I are raising our family," he said. "Home is where the heart is!" Cutler looks forward to continuing to build a successful business that prides itself on partnering with clients to create the perfect home for any stage of life.
Chad Esslinger – Chad Esslinger Design
To Chad Esslinger, the most rewarding part of his job as an interior designer is the partnership he formulates with people and families to make their house a home. "It is a special thing to be invited into a home and help a vision become a reality," he said. From choosing paint colors, furniture, and décor – to designing layouts and specifying products and materials for home renovations and new constructions – his clients are his inspiration and the spaces he creates are extensions of their personalities and experiences. A native of Illinois, Esslinger has expressed an interest in creative projects and home design since a young age. He graduated from the University of Illinois with a degree in Industrial Design. After spending years in the development of home décor products, he left the corporate world to venture into his own design business. Today, he has people throughout Chicagoland and also works with clients nationwide to design, decorate, and renovate their spaces. His goal is to make spaces feel classic and curated. According to Chad, "I like to create spaces that are contemporary but also timeless.
Your space should feel current but also stand the test of time. Nobody wants to redo a kitchen every five years." Lately, Esslinger has incorporated the trend of warmer, richer colors and materials in his work, with sterile and pristine spaces taking a backseat. "The home means different things to different people these days and it needs to be productive and functional, but also a sanctuary to escape. It must be a place to gather with family and friends but also might need to function as a workspace, some or all of the time," he said. Esslinger is no stranger to personal projects, either. The design project nearest and dearest to his heart? "My own home," he said. "It was built in 1999 and when we moved to Downers Grove in 2014, it had all the original finishes and features. Over the years, we've updated just about everything with just a couple more rooms to renovate."
Steve Sobkowiak – Oakley Home Builders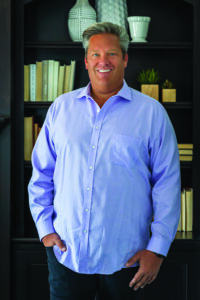 While cruising through the streets of the Western Suburbs, there is a strong likelihood that you will pass a house designed by Oakley Home Builders. For the last 19 years, Steve Sobkowiak, co-owner, has worked with over 200 clients to make their vision a reality through the creativity that designing a custom home entails. Sobkowiak grew up in Downers Grove and attended Montini Catholic High School. A proud University of Iowa alum, he majored in marketing and human resources. A brief stint in the corporate world led him to his future business partner, Ryan Dunham, and the two started Oakley Home Builders in 2004. Their time on the corporate ladder allowed them to master project management, sales, and taught the importance of accountability. The result? "We were convinced that we could create a more efficient custom build process by transferring what we learned from the corporate world into a new industry, and I believe we successfully accomplished that," he said. The key to their success is predicated on three key principles. First, dedication to clients before, during, and after their build is paramount. "We don't just walk out of our client's lives when we hand over the keys," he said. Oakley's proven t rack record of new business stemming from client referrals is a testament to this commitment. Success also starts with accountability. The entire team at Oakley feels a deep responsibility to work hard to keep their clients' best interests in mind. Finally, predictability and efficiency. "We pride ourselves on being on schedule or earlier. Our business is constantly evolving and we are always working to improve our processes to deliver on our promises to clients." Sobkowiak himself is a proud Oakley homeowner, but his favorite project to date is the Downers Grove home he built for his parents. With insider knowledge of how his parents and extended family would utilize the home, he was thrilled to be able to execute their vision. Today, he gets to experience their joy firsthand. Now expanding into Naples, Florida, Oakley Home Builders has broadened its operations to the sunshine state to meet the needs of clients. "It's a well-known vacation spot for area families and it just felt like a natural fit for us," Sobkowiak said.
*Photos by Carolina Menapace and LifeLensAndLove Photography