By Kristina Taheri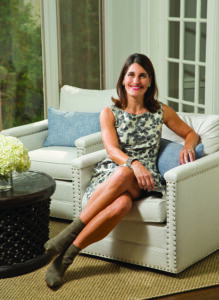 There are ever-changing trends for a lifetime event that has remained fundamentally the same. A couple meets, love happens, and a proposal is forthcoming. Excitement ensues as dates are set for engagement soirees, showers, ceremonies, and receptions; all celebrating a new life together for the bride and groom-to-be. The wedding planning begins! But where to start?
Let's look at some specific trends for 2023.
SIZE: Micro weddings are not necessarily going away after trending due to the pandemic. These charming events are not always about saving money, but about the intimacy which can be created by a ceremony shared with those closest to you. That being said, after the wedding boom year of 2022, we are now seeing a trend toward maximalism in décor, lighting, music, food, and guest count in response to the pent-up demand and shortage of options of the past three years. Let's go bold is on the mind of many!
VENUES: 2023 is about reinventing the wedding rush of the recent past. There is now slightly more time to lock in a choice of venue and available dates. The more relaxed process of seeking a location and personalization should enhance the experience. For those desiring a destination wedding, the dollar is presently strong and travel restrictions are easing substantially. A villa in Italy surrounded by vineyards, a historic Spanish Parador with mountain views, or a tropical beach in Costa Rica are all, more than ever, within reach. Scatter the event with local cultural touches, and your guests are sure to be delighted.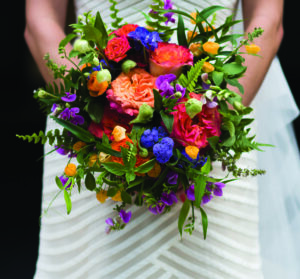 DATES: Couples have recently had to realize that flexibility of dates, days of the week, and timeframes could be a plus in planning. More venue choices are available on a Friday or Sunday. Late morning or early afternoon ceremonies allow guests to rest up for a festive nighttime reception. A sophisticated champagne brunch in a chic setting with jazz playing or a rustic Ralph Lauren-inspired outdoor lunch with interactive entertainment can be memorable and unexpected settings following the ceremony.
DÉCOR: Mirrored or artistic dance floors with dramatic overhead ceiling décor are in vogue. Large ceiling fixtures in brass, crystal, or drum shades draw the eye up. Swaths of lush mixed florals hanging over the bridal table or other clustered areas define the spaces for added dimension. And while classic soft bridal pallets of white mixed with organic green foliage or textured neutral tone-on-tone decor are timeless, vivid colors are coming on strong for 2023. Flowers in sophisticated but seasonal shades of deep purple, hot pink, sunny gold, or vivid orange are adding excitement. And, if patterned linens, custom lounge seating, espresso martini bars, and rock-star bands sound like a night of disco; that may well be the appeal for some party-on clients. Whimsical designs and esthetics are taking center stage as this year progresses. And let's not neglect the importance of many bridal couples' thoughts toward more stainability. Eliminating items of single use, preferring large potted plants placed around the room for refreshing décor, and donating floral arrangements after the reception to note a few.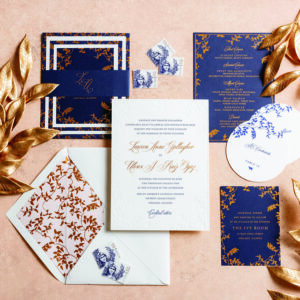 INVITATIONS: No longer just a destination wedding concept, guests today may receive a suite of invitations. Formal requests to attend events such as themed ice-breaker welcome parties, rehearsals, the main draw, or a day of golf or spa activities for those with spare time may be extended. Many recent invitations are showing high-touch personalities like custom water-color crests, witty wording, and vibrant hues for 2023, yet online response tracking is a-ok with our tech-savvy couples.
FASHION AND JEWELRY: Brides are starting to go all out in whimsical gowns with an emphasis on their personalities. From classic Kate Middleton to chiffon ball gowns with full sleeves to flowing florals. Silk pastels are everywhere in flattering baby blue, pink, and ivory. Veils are going longer and edgy slits are showing up in full gathered skirts. The attire change to a chic white cocktail-length dress with feathers or the satin pantsuit adds unexpected sophistication. And brides may be curating their outfits in white to complement each special event ranging from the engagement party to the big day. The wedding party is more frequently encouraged to show their own personality. Given general guidelines for individual selection of attire based on color, fabric, or pattern, bridal attendants' own style can be more clearly appreciated. For men at the party, more velvet, dark blue, and even dark green is becoming more popular this year.
CATERING: The oversized wedding cake is back and heavily decorated. Multiple tiers are showing up with texture, décor, sentimental toppers, and swirls of cascading flowers. Ethnic food trucks for snacks toward the tail end of an outdoor tented wedding are catching on and vegan and vegetarian dinner options at receptions are more popular than ever. Brown bars, carts of specialty drinks rolled between guests, and interactive food presentations will be big this year.
BEAUTY: Brides are leaning toward a more natural look in skin, make-up, and hair. A more sophisticated version of their typical hairstyle is being buffed up for the day. The same is being done with makeup as it is being professionally applied. Makeup that is too unnatural or a heavily sprayed and pinned up hairstyle does not offer today's brides the feeling of wanting to look like themselves…but just a little more glamorous!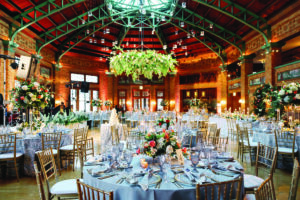 PHOTOGRAPHY: Many bridal couples now want to capture this magical time more naturally. They want fewer interruptions for posed groups and formal photos. The bride walking solo prior to joining her parents halfway down the aisle, friends bent over with laughter, the young ring bearer nearly dropping the rings, or an elegantly dressed guest looking suspiciously at her ten-year-old in his first suit as he sidles dangerously close to the wedding cake. Candid shots more realistically capture the day. And don't forget the couple's pet pooch which has become a big part of the festivities. In Blur Motion style or vivid realistic photos, time is lovingly preserved.
GIFT REGISTRY: Gifts of fine China, crystal, and candlesticks are taking somewhat of a backseat. Couples now seem to be opting for more casual household pottery and goods as well as items such as camping gear, funded experiences, or donations to personally meaningful organizations. In summary, we advise our couples to always consider fresh, current ideas but balance choices so that your wedding tips towards timeless vs. trendy.
*Photos provided by Kristina Taheri Special Events