OMG's dance card is full- of success, camaraderie and positive life lessons
By Maureen Callahan
The Irish year is planned around St Patrick's Day. Nothing could be truer for Eileen Mulhern O'Kane and Coleen Mulhern Malloy, sisters and proprietors of Westmont-based OMG (Onórach Mulhern Geraghty) School of Irish Dance. And there's no downtime on the horizon. Once the whirlwind of St Patrick's Day performances and parades has passed, the sisters will accompany 28 of their dancers (18 American and 10 Irish) to Montreal, less than three weeks later, for the Irish Dance World Championships. Anyone who has spent even a little time in the company of these two former world champion contenders knows that the success of their dancers is largely due to their dedicated teachers. Now about to embark on their 19th trip to World Finals over the last 23 years, one thing has never changed: the mantra that every student matters. From beginners to world qualifiers, they each get the same attention. Obviously, hard work and consistency are the hallmarks of champions.
Dancers must put their time in. But long before that, the happiness of the dancer came first, not the promise of talent. All students are paid the same careful notice. "If they come into the studio, we'll make a dancer of them," said Eileen. "How far they go is ultimately up to them." It's true. From the start, OMG teachers take the rapport with their students seriously. They respect the children while keeping the tone light. They've learned, over the past two decades, how to read kids. Achievement will follow, particularly for little ones starting out, if they're having fun. Games and contests are worked into classes to head off boredom or frustration. If concepts don't come right away, other methods are employed until it clicks. As they progress, challenges put out to students are met. "This is how success is built," stated Coleen. So it goes, with one year leading on to the next. Often, beginners evolve into world champions. The methods taught by OMG are traditional, with an eye toward beauty and aesthetics for the girls. The traditional male approach to Irish dance is one of strength. This is the presentation in the "lads only" classes, which teach beginning boys strong fundamentals apart from the girls.
"Every child needs a success story in life, a way to feel positive. We're not just teaching kids to dance; we're giving them a positive experience,"
The tried-and-true learning techniques, along with the school's integrity of practice, stand out in the world of Irish dance. These qualities, coupled with the fondness Coleen and Eileen have for their students, prompted a group from the Twin Cities to recruit them a few years ago. The group had observed OMG's teacher-student interactions at competitions over the years. They wanted to hire the sisters. Already juggling full schedules and children of their own, they began trading off flying to Minneapolis on Wednesday mornings and returning late the same evening. The Minnesota branch of their school was born. Just before the lockdown, they were noticed once again by another school that also liked their style.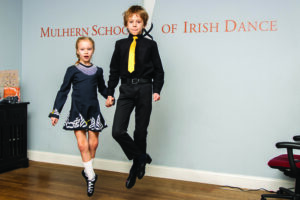 Brian Geraghty- the "G" in OMG- reached out and convinced them to merge with his enterprise in Dublin and Roscommon, thereby launching the Irish branch of the school. And the "O" stands for "onórach," the Gaelic word for "honorable." It's no misnomer. Eileen and Coleen Mulhern are the youngest two of a family of seven siblings. For them, like many children of Irish immigrants, "the dance" has deep roots. Their first steps were taken at family events to keep up the old-world tradition. Having shown promise at an early age, friends suggested to their parents that they enroll the girls at Dennehy School of Irish Dance, one of the few organizations training competitive dancers at the time. "Our parents had never even heard of competitions for Irish dance," Eileen laughed. "So, when my teacher suggested they take me to New York for Oireachtas (regional finals), our parents didn't know what to say." It was all downhill from there. Eileen won Oireachtas every year that she competed, with Coleen turning up similar results. Both hold medals from World Championships.
Along the line, they began to train with the legendary Michael Flatley, who later went on to Riverdance fame. They remember him fondly as an amazing teacher, not only of dance but also of the fiddle and tin whistle. "Flatley built up so much confidence in his students," Eileen recalled. "He really gave us the dream and the means to attain it, not only in dance but music as well." Under Flatley's tutelage and alongside the world-renowned Liz Carroll, both sisters qualified for the World Irish Music Championships. They were able to make only one such journey in a year; however, their performances on the world stage were limited to dance. Eileen and Coleen realize that every child who enters the studio will likely, at some point, finish Irish dance. But their joint hope is that it stays with their students, in some capacity, throughout their lives. "The life lessons of hard work, cooperation, and respect will do them well not just for dancing but for their education and, eventually, their professional lives," said Coleen. "It's unlikely they'll be able to do every dance forever, but hopefully, they will always be able to identify and relate to it."
Please visit OMG's school website at www.omgirishdance.com for more information.
IRISH DANCE SCHOOLS IN THE WESTERN SUBURBS:
Bentley Academy of Irish Dance
bentleyacademydance.com
McNulty School of Irish Dance
mcnultyirishdancers.com
Trinity Academy of Irish Dance
trinityirishdance.com
*Photos by 726 Visuals