"What could be more timely than enhancing your outdoor living space so you can entertain more. I would be glad to visit, see your space and sit down and listen to what you would like to do. We have the expertise and capabilities to help you plan a wonderful space for you to enjoy more outdoor living and entertaining."
By Hinsdale Magazine Staff
While you may not have a palace with a value of $7.7 million, your home is your "castle". And, like you, your home has been through an extraordinary year. It has had you and your family in and around it much more than usual because of the lockdown. Like you, it has had to perform to new standards of behavior and cleanliness. You may have caused rooms to change their purpose to accommodate a home office, or places where children can connect with their schools via Zoom. You have probably adapted your home and different rooms to more internet connections for work, school or entertainment.
As you have spent more time at home, you have noticed that maybe it is time for some changes or repairs, inside and out. Maybe you're tired of the paint on the walls. Maybe some new furniture is in order. How about the window furnishings? How about the kitchen and bath area…ready for an upgrade? Is this the year you create more living space outdoors. Maybe this is the year you get rid of accumulated stuff and de-clutter.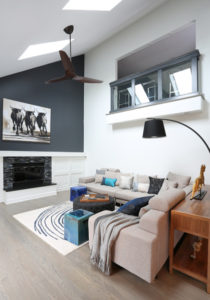 Normandy Builders

At the same time, perhaps you have foregone a cleaning service, worried about COVID-19, or cut back. As spring approaches, COVID-19 vaccinations are starting to spread throughout the community, which, in turn, is encouraging a lifting of restrictions. That means you can once again have relatives and friends over and start entertaining again. On top of all this, the housing market is hot. Home prices, including yours, have risen, and they are likely to continue to rise since mortgage rates are the lowest in history. Maybe a re-finance would enable a major remodel. After all, it is your castle. Maybe this is the year to truly enjoy it, and reward yourself for getting through a very tough time. And watch the value of your home jump even more. Maybe this is the Spring when you say it is time to move, and it is time to start looking.
Or, maybe you just need a little cleaning up, or a deep clean. What to do? Spring is a traditional time to make decisions about your home, and rarely have so many had so many options to consider that can add value and comfort. We asked those in the business of buying and selling, remodeling, repairing your home, landscaping, and home financing for their thoughts. Read on. Advice from Roy Spencer, President, Perma-Seal "After a hard winter, with its heavy snows and deep freezes, right now would be a great time to have your foundation inspected. Our certified technicians will inspect your home, inside and out, looking for cracks that may have opened up, drainage issues, sunken concrete, as well as a thorough inspection of your sump pump systems. We also have licensed plumbers and electricians on staff. This is our 42nd year as a family run business and we're proud to have provided outstanding customer service to over 450,000 homeowners in the greater Chicagoland area.
Call today at 800-421-7325 or visit www.permaseal.net and ask for a free inspection." Andy Wells, President of Normandy Remodeling, offers these thoughts: "This past year, people have come to appreciate what they love about their homes, and what needs some attention. While kitchens and bathrooms are high on the list of spaces to remodel, we're seeing an amazing number of people who are looking to add on to their homes to get more space. While home offices may be the predictable option, we're seeing people opting to add b e d r o o m s, bathrooms, and expanding family rooms.
Flexibility has turned out to be one of the most desirable aspects of a home, and creating spaces that allow for togetherness as well as options for privacy, have become a key driver in many home remodels." Tillie Bruss, owner of Jane Dilworth & Associates, has an interesting take on this upcoming season. After the past year, she knows most of us would like to get back to more entertaining She says, "What could be more timely than enhancing your outdoor living space so you can entertain more. I would be glad to visit, see your space and sit down and listen to what you would like to do. We have the expertise and capabilities to help you plan a wonderful space for you to enjoy more outdoor living and entertaining." www.janedilworth.com