Why everyone naturally loves the village Paul Butler created
By Larry Atseff
Thanks to the vision of Paul Butler, the little village of Oak Brook, (population just over 8,000 residents) is so well thought out, that you really don't have to go anywhere else. In fact, the world of polo has come to Oak Brook for years, attracting the best teams. The world's best golfers came to Butler National for 17 years for the Western Open. And Oakbrook Center is still regarded as one of the finest shopping malls in Chicagoland. And, right now, life-size reproductions of the works of Michaelangelo from the Sistine Chapel are on display at the former Sears store in the mall. Even if you have been to Vatican City to see the work, you have a much closer, better view than looking up at the ceiling in Italy.
There are 34 large-scale reproductions and dozens of other scenes in actual size that enable you to appreciate the genius, imagination and talent of Michaelangelo. You also appreciate the immense effort…it took him from 1508 to 1512 to complete the works. You can actually see the brush strokes as he brought so many famous scenes from the Bible to life. "We get at the stories he was trying to tell," said Dakota Laurin, manager of business development for SBX Group, which has partnered with Los Angeles-based SEE Global Entertainment to tour the exhibit. You walk through at your leisure and you can take as many pictures as you want. Each scene has an explainer card and diagram showing where it is actually located in the Chapel. The exhibit is open through August 15, and comes complete with educational materials about Michaelangelo himself, his life and times. Of course, there is so much more about Oak Brook to like.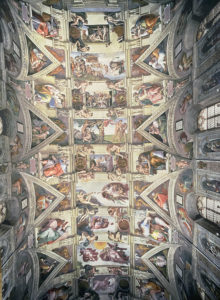 There are housing developments with expansive lots and beautiful homes with streets winding through just as nature created the land…just as Butler thought it should be. You can also work in Oak Brook minutes away from your home, thanks to Butler's foresight in planning low-rise office complexes, set apart from the homes. No factories. Again, thanks to Butler, there is the sports core, complete with bath and tennis club, public Oak Brook Golf Club, private Butler National golf club, and polo fields with a complete season in swing through September. He also made sure there were public parks throughout the village as well.
Oakbrook Center is home to over 170 stores, including the most complete collection of upscale retailers you will find anywhere. This includes some of the finest restaurants in the area. And, in and around Oakbrook Center, there are additional smaller malls with still more stores and restaurants. There is a quite a selection of fine hotels for visitors, conventions, business meetings and celebrations of weddings and anniversaries. Last, but not least, there is live entertainment just minutes away at Drury Lane, which is resuming its long famous run of great Broadway plays and musicals this fall, as well as fine dining. Not only is all of this completely planned out for everyone's pleasure, the sales taxes collected mean no property taxes for Oak Brook's residents.