An exclusive interview with jazz legend Ramsey Lewis and his wife, artist Jan Lewis
By Julie Jonlich
"How far is the journey from here to a star", are the lyrics from Irving Berlin's popular 1932  song "How deep is the Ocean" Ramsey and Jan Lewis are sweetly singing to one another from their beautiful Streeterville apartment. It's one of the couples favorite songs they say. This inspiring, ultra-dynamic husband and wife that met by chance in the 70's, seems to effortlessly live in harmony while supporting each other's continued success.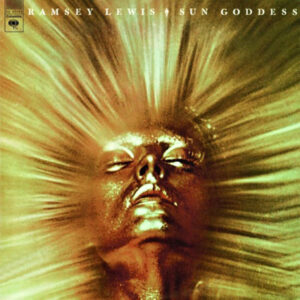 "The highlight of my career was playing Carnegie Hall."
Born in Chicago to hard-working parents, Ramsey Lewis began taking piano lessons at the age of 4. Lewis says he convinced his parents to let him take lessons when his older sister, Lucille started lessons at the home of their church organist Earnestine Bruce, a well-known piano teacher on the near-north side of Chicago. 'Whatever my older sister Lucille did, I wanted to do, too". "When I was really young, I wanted to play ball with the neighborhood kids, instead of practice piano". That all changed when Ramsey started taking lessons with Dorothy Mendelssohn. A petite piano teacher at Chicago Music College, Lewis credits Mendelssohn (whom he says was the most influential person in his career), with teaching him to connect with people through music. 'To this day, I remember her saying "you must make the piano sing!" Fast-forward a few years to the age of 15. When the talented Lewis is invited to join a popular seven-piece Jazz band, The Cleffs. Ramsey, a high school freshman at the time, fondly remembers getting picked up by the band, playing Jazz sets, and making it back home in time for school the next day.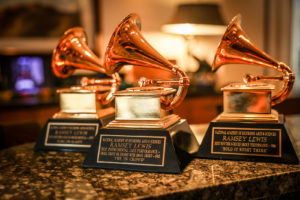 Ramsey may be best known for his iconic Ramsey Lewis Trio. This Grammy-winning trio formed with bassist Eldie Young and percussionist Redd Holt shot up the charts in 1965 with the hit single "The In-Crowd", which reached no.5 on the pop charts, and the album no.2 – right up there under The Beatles no.1 Help! ' It was one of the few instances of a jazz instrumental being played on top 40 radio stations", Lewis said. Playing in famous New York jazz clubs and touring as full-time musicians, in 1966, Lewis formed a new trio, for which he recruited Cleveland Eaton as bassist, and Maurice White as drummer (who later formed R & B super group, Earth Wind and Fire). "Maurice would always ask questions about the business-end of music", says Ramsey. "Each time I saw him, he would ask a different question. One day he said – I'm going to form a group that's all about dancing, along with the music". White eventually founded R&B super group Earth Wind and Fire. Known for spanning musical genres and selling over 90 million records. They are one of the worlds best –selling bands of all-time.
"Take Ramsey Lewis there, He's got gospel and classical and jazz all mixed up together."
Ramsey says he and Maurice remained close friends until White's death in 2016 at the age of 74, from Parkinson's disease. Lewis says he was honored to speak at his funeral. This charismatic world-renowned pianist, composer and radio personality who has three Grammy awards, seven Billboard Gold records, has recorded over 80 albums, performed at the White House, and worked with countless musical artists including Tony Bennett, George Benson, Dave Brubeck, Herbie Hancock, Nancy Wilson and Stevie Wonder, just to name a few, says performing at Carnegie Hall is the highlight of his professional career. Lewis has also been extensively involved at Ravinia, The Joffery Ballet, and many charitable organizations. When asked what he sees for the future of jazz and the next generation, he says the pandemic has changed things for young people. "They can't get to know an instrument like before". Adding "music is not in schools as much as it used to be". Ramsey says he is "retired from O'Hare", meaning he continues working from Chicago, rather than touring.  Each day he heads to his gorgeous Steinway in their living room. "I'll play for a couple of hours a day, playing scales and arpeggios". Meanwhile, Jan is busy creating one-of-a-kind exquisite wood pieces in her art studio. This accomplished artist studied at the prestigious School of the Art Institute, and earned a BA in Anthropology from the University of Illinois at Chicago. "I took only hands on classes – I'd had enough of books", she says.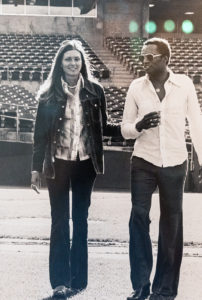 Jan's passion for dots is obvious in her highly improvised work.  "I have no design in mind when I start a piece". She says he love of drawing as a child gave her a distinctive style. Adding, studying anthropology played a role in her designs. "My designs and patterns are subliminally influenced by the many different cultures around the world that I've studied". When I'm working on a piece, I become so involved, I loose track of time". Inspired by many things around her such as textures in nature, and places she's traveled. "I remember Calcutta, India for all of its amazing colors", she said. "The bangle bracelets were my first creation". While away, and wanting to stay creative, she took wood bangles with her to paint, and her dot style developed naturally. Jan's stunning jewelry and pieces have not gone unnoticed.  Her bangles were one of the items in the coveted "Oscars" gift bags for three years in a row.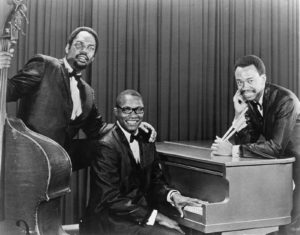 The highly desirable gift bags are for actors that have been nominated for an academy award. "When I first got a call about having my bangles in the Oscar swag bags, I didn't think it was legitimate". Jan has also designed women's scarves and men's neckties for Ravinia. When asked what they like to do for fun, this fabulous couple says they love watching movies, especially classical ones (from their large personal collection) in their comfortable city apartment, which in addition to being filled with Jan's gorgeous art and Ramsey's awards, are the collections of treasures from their travels around the world.  They say London and Paris are two of their favorite places they have visited in their extensive travels. The holidays are an enjoyable time with the Lewis' big family. Ramsey says not only does  Jan fantastic culinary skills, she has also perfected their favorite Manhattan for when company comes. Professionally speaking, Ramsey's super popular "Saturday Salon" performances. which take place on the last Saturday of every month, feature a 60-minute concert performance at 1:00PM CT,  will stream a special Friday edition on Christmas Eve, on the streaming platform Stageit.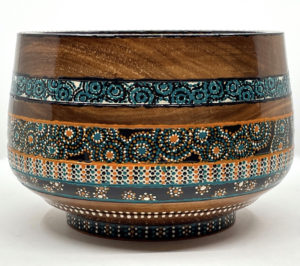 This digital platform is available to audiences worldwide and will feature more Sounds of Christmas  – one of the best-selling Jazz albums with his classic trio of Redd Holt and Eldee Young. Grooves like "Winter Wonderland", "Santa Claus is Coming to Town", 'Sleigh Ride", and Lewis" "Christmas Blues" will be performed. Tickets for the performances are $20 per show and are on sale at www.stageit.com/RamseyLewis Season passes are also available for purchase until Jan 30 for $200. Portions of the proceeds benefit the Jazz Foundation of America (JFA), an organization focused on aiding Jazz musicians who are struggling financially.
That chance meeting in Denver so many years ago was fate, they say. Their extraordinary life together is proof of that.
"When I first got the phone call that they wanted to put my bangles in the Oscar swag bags, I didn't think it was legitimate."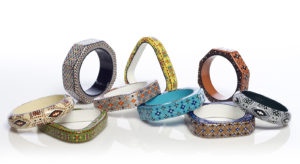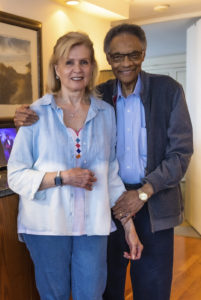 *Photos provided by Ramsey Lewis, and taken by Carolina Menapace