Designed in 1894, had no legal protection from demolition for redevelopment. It will be restored and protected with a preservation easement by new preservation-minded buyers.
By HM staff
Thanks to efforts led by the Frank Lloyd Wright Building Conservancy, Hinsdale preservationists and Landmarks Illinois, the Frederick Bagley House in Hinsdale, Illinois, will be restored by preservation-minded buyers. It had recently been listed for sale and faced a clear threat of demolition and redevelopment. The Bagley House, a unique and irreplaceable early work by Frank Lloyd Wright, designed in 1894, has no legal protection, and alterations over time have concealed Wright's original design intent for the house. In July, the Bagley House went on the private market in the Village of Hinsdale, a community which has recently seen many older houses torn down to make way for new development.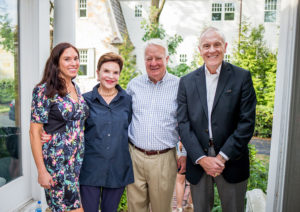 Hinsdale preservationists became alarmed and contacted the Conservancy when a pre-plan review was filed with the Village of Hinsdale showing the lot's potential for redevelopment. It seemed entirely possible the Bagley House and its architectural legacy could be lost forever to demolition and replacement by a new building, as has happened to neighboring houses. Together, the Frank Lloyd Wright
Building Conservancy, Hinsdale Historic Preservation Commission and Landmarks Illinois raised a substantial amount of regional and national
interest in the fate of the Bagley House. Wright fans and preservation advocates across the country appealed to Hinsdale village officials
for intervention to save the home.
The call for help also inspired Safina Uberoi and Lukas Ruecker, owners of the Wright-designed Tonkens House in Cincinnati, to put in an offer with a preservation guarantee that was accepted by the sellers. "While we were concerned about the potential risk to the Bagley House, a vital part of Wright's canon whose loss would have been tragic for the Wright community, we are grateful for the overwhelmingly positive response and support from the Village of Hinsdale, especially its Historic Preservation Commission, and the broader community of Wright lovers in the US and abroad", says Barbara Gordon, Executive Director of the Chicagobased Frank Lloyd Wright Building Conservancy. "We are pleased that, in line with our mission to preserve the remaining built works designed by Frank Lloyd Wright, we were able to help find a preservation-minded buyer in the short time of one week. We look forward to assisting the new owners by making available our expert technical resources and services."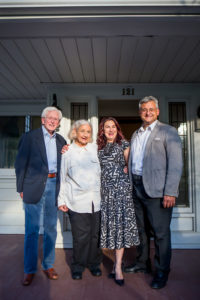 "This sequence of events highlights the need for proactive preservation efforts in our community," said Alexis Braden, a neighbor and member of the Historic Preservation Commission. "Fortunately, the story of the Bagley House had a happy ending. It also re-energized discussions around developing preservation guidelines for our community." "Hinsdale has worked hard to restore many of its historic buildings," said Village President Tom Cauley. "Keeping Hinsdale's history in the forefront of what we do, the Village has been working for the last few years on preservation incentives and other important tactics to uphold our area's greatest treasures. Hinsdale has a robust collection of architecturally significant structures, and the Bagley House is one of hundreds of Hinsdale structures that deserve attention."
"We are grateful for all the support and warm welcome we received from the Village of Hinsdale and its Historic Preservation Commission," said Safina Uberoi and Lukas Ruecker, the buyers, "and excited to take over as stewards from the sellers, who took care of the Bagley House for several decades. Working on the Wright-designed Tonkens House in Cincinnati taught us that a successful restoration is a community effort, and we anticipate working closely with the Village of Hinsdale and the Conservancy over the next few years to do the same here." While developing a detailed conditions assessment and historical structure report are the first step, the buyers indicated that they hope to use the Conservancy's resources to restore the building to Wright's original design, while considering sensitive ways to add living space. They will also work on listing the Bagley House as a local landmark, and upon completion of the restoration, will donate a preservation easement to the Conservancy so that the Bagley House is protected from demolition in perpetuity. The Conservancy will document the progress of the restoration on its website, www.savewright.org
*Photos by Marcello Rodarte