Guaranteed Rate Hinsdale office suits home-grown team
Despite the pandemic, one ray of sunshine has been the real estate market. 2020 was great for low-cost mortgages. While home prices rose, homes moved quickly, inventories tightened, yet rates stayed as low as anyone has experienced in modern history. Industry reports indicate the trends will continue in 2021.When you enter a home market with momentum like this, you will want to work with experienced professionals, whether it is a real estate agent, financial advisor, builder and, of course, a mortgage lender. There is no room for missed opportunities because of a timing glitch, or a nervous seller who worries about strangers coming into a home, or any number of problems that can crop up during the time a loan is started until the sale is finalized. In other words, trust is essential among all parties involved to do their part at every stage of fast closings. Not one but two of the most accomplished local mortgage lenders happen to be right here in downtown Hinsdale at 14 W. Hinsdale Ave.: Dan Gjeldum, senior vice president, and Sam Sharp, executive vice president, at Guaranteed Rate. Here's why they are considered two of the local leaders in the residential lending industry.

Dollar volume in loan originations is one true measure of lenders or a mortgage company. The better the lender, the more he or she can close, and the more top agents, builders and others in the real estate community want to work with them. When experience and trust are present, closings happen fast, lots of business gets done, and volume grows, year after year. "Since a mortgage is the largest decision most people will make, that trust is critical," Gjeldum said. "We opened the office in November 2019, and fortunately, we have been able to establish that trust quickly in the community," Sharp said. In an extraordinary 2020, the two combined for $730 million in closed home loans, double what they did in 2019. "For perspective, an above-average mortgage lender will write $30 million in mortgages in a year, and there are more than 400,000 originators in the U.S.," Gjeldum said. Both are ongoing members of the chairman's circle at Guaranteed Rate, which is reserved for lenders who exceed $100 million in a year. And both have finished among the top 200 loan officers in the United States every year since 2011. The two have a combined 43 years of loan officer expertise. Gjeldum has 24 years as a home lender under
his belt, and has been with Guaranteed Rate since 2011.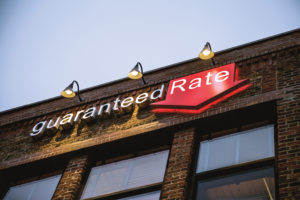 Sharp has been a loan officer for 19 years, and joined Guaranteed Rate in 2009. In our interview, Sharp referenced the limited housing inventory, and how quickly a deal has to be done to satisfy so many individuals in the transaction of a home purchase. "We are used to the current pace," he said. "We know that if you sleep on it, you won't sleep in it.'' As for Guaranteed Rate itself, the company also had a great year, originating $73 billion in mortgages, ranking in the top three retail mortgage lenders in the nation for 2020. The company is licensed in all 50 states, and has more than 8,000 employees. It is now known as Guaranteed Rate Companies, with a retail division Guaranteed Rate Inc. in which Gjeldum, Sharp and their staffs work, plus two other divisions that include joint ventures with Coldwell Banker (Realogy) and @properties. Just a few weeks ago, the company acquired Stearns Lending for $20 billion. "Since we can lend in all 50 states, we can help not only homeowners here in Hinsdale, but when Hinsdaleans own homes anywhere across our country, we are there to help," Gjeldum said. Guaranteed Rate was launched in 2000 by another Hinsdalean,
"Since a mortgage is the largest decision most people will make, that trust is critical."
Dan Gjeldum
Victor Ciardelli. Hinsdale Magazine interviewed Ciardelli in April 2017, when Guaranteed Rate had just acquired the naming rights for the stadium where the Chicago White Sox play (Guaranteed Rate Field), and had just concluded a year of $36 billion in closings. The company has expanded its involvement with sports beyond the White Sox, adding a NASCAR sponsorship (Ryan Newman), an IndyCar sponsorship (Alex Palou), multiple UFC title-fight sponsorships, sponsoring the College Football National Championship pregame show, and becoming the official mortgage partner of the NHL and U.S. Figure Skating. In our 2017 interview, Ciardelli told Hinsdale Magazine, "One reason for our growth is that the company was an early developer of the 'digital mortgage,' where prospects could get an appraisal in minutes, securely upload approvals and digitally sign loan documents during an entirely transparent, digital mortgage application process." Ciardelli said he "built the company on the principles of honesty and fairness, and guarantees that the borrower's rate is based on their qualifications."
"The first-time buyer is going to get the same rate as savvy buyers, with the same credentials," he said. "We are never going to take advantage of anyone." Sharp said Giardelli's foresight in developing the speed and reliability of digital mortgages "has given us, the real estate teams we work with and our customers an important edge in today's fast-moving market." "We are truly ready to serve in today's virtual meeting environment," he said. "Our technology allows us to react faster, act quicker and deliver more efficiently than any other mortgage company." Gjeldum said when the pandemic struck, within roughly two weeks, the company's IT division set up more than 6,000 employees to be able to work from home. "Certainly, part of our success has been our ability to quickly adapt," he said. Gjeldum and his wife and four children have lived in town since 2013. "Even with such a busy 2020, I have to hand it to Dan and his wife," Sharp said. "They have been able to juggle work and family and community amazingly well." The Sharp family also came off of a busy 2020. "We moved to Hinsdale in 2019," Sharp said. "Our two kids are a little younger, but we've been able to make time to enjoy a lot of what Hinsdale has to offer. It is a great family community."