By Maureen Callahan
The ceremonial sound of bells elevates any event to a special occasion, especially the particular elegance of a handbell choir. It's truly an art form that requires a high level of dedication from each ringer, not only to their individual bells but to the group.
The Agape Ringers, Chicago's premier community handbell choir, was founded more than three decades ago by David Weck, editor of Hope Publishing, a sheet music publishing company. Weck needed a recording choir for new musical demos. He invited a group of local directors who regularly played his music to form the group. Enthusiastically, they agreed.
The group has since been incorporated as a non-profit organization. They hold performances and workshops regularly. Each year, the group tours to a different domestic or international destination to perform. Anyone with a love of music and appreciation for the camaraderie of a small group is welcome to audition.

KC Congdon has had the Agape Ringers under her baton for the last four years. Her appreciation of the nuances of the bells is a big reason this group's well-earned reputation of excellence, started under Weck, is intact.
"Directing a handbell choir works best if you've been on the other side of the table, so you know what the ringers are experiencing," Congdon knows.
She knows because she's been there. Having been a founding member, Congdon has firsthand knowledge of her ringers' experience. She knows what each ringer can handle.
She acknowledges their challenges and shares their joy in perfecting pieces. It's how she gets the elegant sound for which the Agape Ringers have come to be known.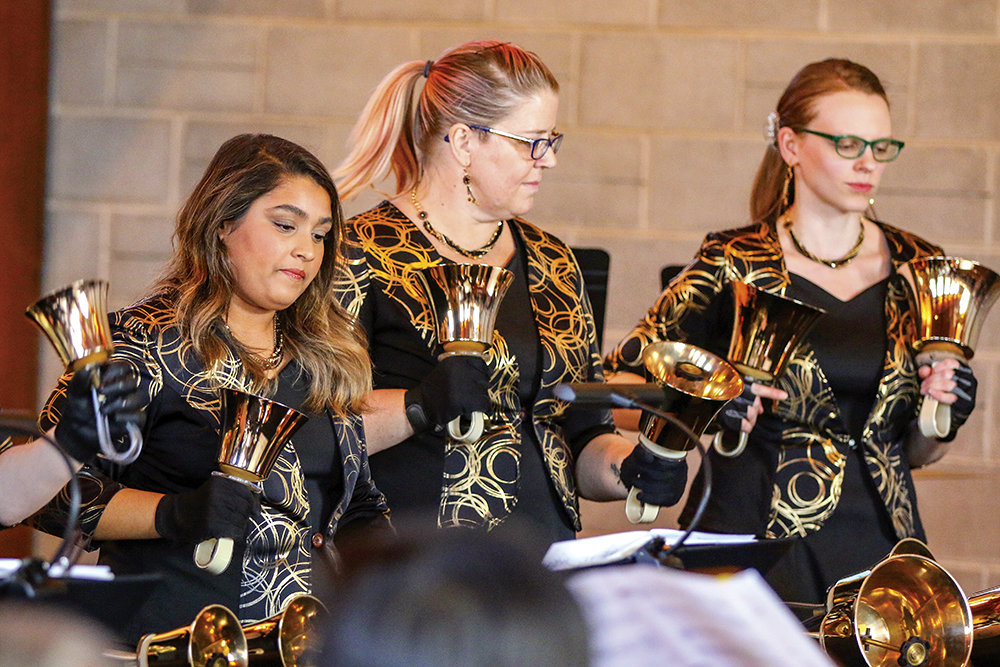 A handbell is exactly what the name implies – a bronze bell designed to be rung by hand. To get the sound, the ringer grasps the bell by its flexible handle and moves his or her arm to make the hinged clapper strike the inside of the bell. Each bell produces a single note.
With only two hands and one or two bells for each, a ringer can usually play up to two to four notes and their sharps and flats. To be successful requires focus. If a ringer is responsible for more than two notes, they must be coordinated enough to put one bell down and pick up another before the previous note appears again in the music.
That's one of the things that makes this type of music so community-building. Congdon loves the bells because "there's only one of each bell. If you're not there to play, you're missed because nobody else can cover your part; they have their own bells." There's a great sense of accountability to playing in a handbell choir.
---
"The bonding is different in handbells than anywhere else I have seen."
– Agape Ringers Director, KC Congdon, on the sense of community of a handbell choir.
---
Congdon is a lifelong musician. She began studying piano at five years old. In middle school, her teacher asked her to join her handbell choir. "I didn't know what it was, but it sounded fun," Congdon recalled. A few years later, Congdon's church was gifted a memorial of handbells. As the only person who knew how to play them, she was asked to conduct the choir as a high school senior.
She has been directing ever since. Congdon now directs six handbell choirs of various ages and stages of life. She literally teaches students from kindergarten through retirement. Her favorite age group is high school and college students.
"They want to learn things, and they're not afraid to try new things," Congdon observes. But she also appreciates watching older adults learn from their much younger fellow ringers. "It's fun to watch a 10-year-oldteach the senior citizen standing next to them what a symbol in the sheet music means," she smiled. "I love to watch the interaction."
Congdon loves what she does. "I give the music director at my church credit for seeing the potential in me to direct that first church choir when I was so young," said Congdon. "He could have gone to an adult. I'm always grateful he took a chance on me."
The Agape Ringers will perform their annual Christmas Show on Dec. 9 at 4:00 p.m. at Elmhurst Christian Reform Church.
For tickets, more information, or recordings, please visit their website at agaperingers.org