A tribute to local heroes
By Larry Atseff
A patriot is someone who loves, supports, and defends one's country. From the Revolutionary War until today, men and women have loved this country enough to serve in the military. They are patriots. This is the story of eight military members who served in World War II and The Korean War. They formed the Burr Ridge Veterans Memorial Committee in July of 2001. As patriots, they came together to build and maintain the Burr Ridge Veterans Memorial to honor those of the past, those who serve today, and those who will serve in the future. The original eight members included Tim Vaclav, Chairman, who originated the idea, John Curin, Jack Schaus, who served as Treasurer, Clarence "Andy" Anderson, Dick Coan, Warren Kubistal, Len Ruzak, and Steve Zaher. Vaclav, Coan, Ruzak, and Curin are still here today of that founding group. Other veterans over time have helped with the initiative, including Dennis Bull and Bob Sansone.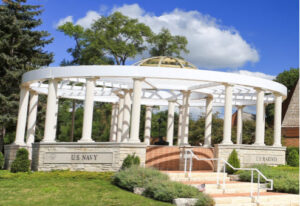 FUNDRAISING EFFORTS
The original members were not professional fundraisers but did have true dedication and connections. They met monthly, and each would share how their relationships could lead to donations. As Len Ruzak points out, "the memorial, in many ways, owes a great deal to many private citizens, companies, and organizations who were inspired by our memorial committee efforts over nine years. Supporters came not only from Burr Ridge but many other communities, near and far." According to John Curin, the group worked tirelessly with other local organizations to help raise the necessary funds. "Committee members worked with retirement communities like Brighton Gardens and King-Brauwert House, which held pancake breakfasts and spaghetti dinners. Committee members and their spouses stuffed water bill envelopes with pledge cards asking for donations to purchase honor bricks. ITT Technical Institute conducted car washes. Burr Ridge Public Works ran open houses for donations, and the Burr Ridge Park District collected contributions.
People hosted cocktail dinner parties where proceeds from the event went to the memorial." The committee also asked and received support from the Village of Burr Ridge for donations, and to this day, the Village contributes to the maintenance of the memorial. Many organizations, including the Willowbrook Burr Ridge Chamber of Commerce, joined the effort. The local Harris Bank branch also offered their lobby to the committee to ask for donations. One year, the Gower School District honored veterans on Veterans Day, and student-raised funds were given to the memorial. "One of the most ingenious and successful fundraisers," says As Len Ruzak, "was the appraisal fundraiser by MIR Appraisal Services." MIR appraises fine art and personal property, from antiques to furniture. Ruzak continues, "people brought their antiques to be appraised. MIR did this at no charge so that all raised went to the Memorial Fund." Beyond appraisals, MIR auctioned off a 1974 Lincoln Mark IV automobile donated by a local resident.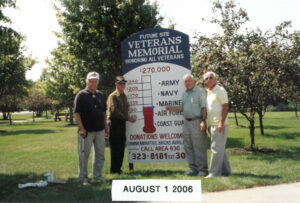 Burr Ridge Car Care donated the labor and parts to make the vehicle more attractive. A Wisconsin Ford Dealer purchased it, and all the proceeds went to the Memorial. Groups continued to raise money, and those small amounts started adding up. Large donors started to participate thanks to Joan Sunseri, a consultant to local foundations, who volunteered her services. She worked with her contacts which led to more memorial gifts. She later became a member of the committee. Many individuals reached out to friends and colleagues. Steve Zaher, who served as an Army Ranger, contacted Army Ranger Maurice Greenberg of New York and convinced him to make a substantial donation. And Paul Bailey, a former Marine, and a Burr Ridge businessman purchased bricks honoring service members for all his military employees. In addition, he backed the cost of funding the memorial fountain. From 2001 to the dedication on June 10, 2010, over $270,000 was raised. In addition, many organizations contributed time, equipment, and labor to help. It was a group effort, from clearing the site to make room where the memorial is located to installing all the honor bricks with the names of veterans on them.
DESIGN EFFORTS
When determining the memorial location, the committee took wise advice and selected a site different from the original plan. Initially, the memorial was to be located at McCullough Park (Plainfield Road and County Line Road). While a nice setting, access was problematic. Mayor Gary Grasso recommended a better site between the Burr Ridge Village Hall and the Police Station, so it would be highly visible and seen by everybody. He was right. When designing the memorial, there were also significant changes. At the outset, the committee worked with architect Keith Larson, who created a simple structure. As time passed, he was asked to make a more substantial memorial with five columns (representing each of the military services), a dome, and a fountain. He was also asked to incorporate honor bricks into the entire design. Groundbreaking occurred on June 6, 2009 (the D-Day 65th Anniversary). And then, on June 26, 2010, the finished Burr Ridge Veterans Memorial was dedicated and open to the public. One plaque lists the original committee members. Another plaque lists that that gave special donations of support and the groups who contributed their labor, materials, and expertise. Since then, the Veterans Memorial Committee has held events for both Veterans Day and Memorial Day. But the most significant event now conducted annually is the Armed Forces Day ceremony every May. It is free for all. This unique holiday honors the military currently serving on duty. Very few towns in the state or country formally observe Armed Forces Day, but Burr Ridge does so in a beautiful setting with the distinguished military on active duty speaking at the ceremonies.
IN THE FAMILY
Original founding member John Curin is proud of several grandchildren who have been involved with the memorial and Armed Forces Day ceremonies. Cody Curin served on the committee as the youngest ever at 24, from 2014-2017, while in ROTC in graduate school. He is now on active duty as a Captain and Psychologist in the Army Medical Corps. He hopes one day to be a speaker at an Armed Forces Day event. Ben Rydecki, another grandson, was primarily responsible for bringing the Marmion Academy military band to perform at the memorial. Being a trumpet player, he has also returned several times to play "Taps" and sing the national anthem. Lastly, two Curin granddaughters Morgan and Alanna Peters, sang the national anthem at the memorial in honor of their brother Mason. He was serving as an Army Paratrooper at the time.
*Photos courtesy of the Burr Ridge Veterans Memorial Committee