By Larry Atseff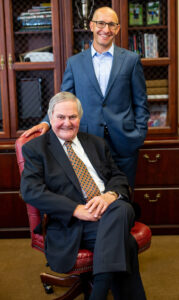 As a reader of this magazine, you live either in Hinsdale, Clarendon Hills, Burr Ridge, Oak Brook or Downers Grove. You live in one of the wealthiest areas in one of the wealthiest counties in the state and the nation, meaning there are large numbers of individuals, families and businesses with considerable means and talents. Further, you know DuPage County offers residents wonderful assets, from well-run, attractive towns and neighborhoods, to outstanding K-12 schools and colleges and universities, a wealth of arts and cultural activities and attractions, and great places to shop and dine. All of this makes where you live very, very desirable. At the same time, there are also those who need help, even in DuPage County— especially during these times. In fact, one in five families is considered low-income— which brings us to the large topic of giving back. And, of course, there are those with special talents in music and the stage and visual arts who want to express themselves…and share it with others. You can take and take and take what fellow DuPage County residents offer, and you will be better off for it. Or you can also give back…a little or a lot. And not only be the better for it, but also have the satisfaction of contributing to the community. Here are some examples to follow that just might get you off that comfy couch a little more often.
The Barretts of Hinsdale
Dick Barrett is a successful Hinsdale businessman, and with his son Jessie, they have helped many people invest wisely over the years, with their firm, the Barrett Group, Wells Fargo Advisors. "I still like to be active in the business and the community. It keeps me young.", he says. Dick started giving back when he was at Bloom Township High School in Chicago Heights where he played in the marching band. He was a good enough tuba player to later become a member of the Coast Guard Band in the 60s and traveled the whole country for years. Before living in Hinsdale, Dick lived in Western Springs. As his children, Jessie and Kelly, entered Laidlaw Elementary School in Western Springs, he led the PTA with wife Terri. After moving to Hinsdale in 1968, he began his career in the financial field in 1970, and has been with Wells Fargo for 49 years, much of that time managing the Oak Brook office for Wells Fargo for 30 years. He has been a member of Christ Church in Oak Brook for over 35 years. While working in Oak Brook, he served with the local Rotary for 25 years. That organization is well-known worldwide for its humanitarian services.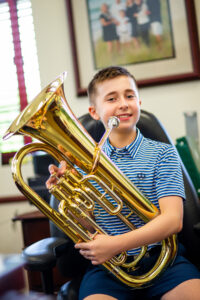 The organization campaigned for years to wipe out polio on global basis. According to Dick, primary to Rotary members, is giving back to the communities they live in, and they seek out people in need. Dick also served as a charter member and leader of the Oak Brook Rotary Wake Up Club, made of Oak Brook businessmen and women, and served as President in 1991. In Hinsdale, Dick and his late wife Terri got involved with Wellness House right from the beginning. Both have served on the Board for about 25 years. During that time, Terri also worked weekly as a volunteer at the Courtyard Consignment Center, where funds are raised in support of Wellness House to help cover operating expenses. They were both recognized in 2018 as Lifetime Trustees. Lisa Kolavennu, Executive Director, says "The Barrett Family has been an important part of Wellness House for many years. Their sustained giving is a shining example of the power of community support and how it directly impacts those who are experiencing cancer. Over 44,000 people have been helped by Wellness House. Central to its mission, Wellness House never charges its participants for the services received, including support groups, cooking demonstrations, wig services, and exercise classes among others. This is thanks to the generous support of donors such as the Barretts." In addition, Dick Barrett has been on the Hinsdale Hospital Foundation Board since 2019. His wife Terri was a nurse and they have always had an interest in supporting medical causes. According to Karen Fiascone, Hinsdale Hospital Foundation Chair, "The Barretts made a transformational gift to support the foundation's current Neonatal Intensive Care Unit (NICU) renovation campaign.
Their gift helps provide increased privacy and a larger footprint for our tiniest patients and their families. In addition, Dick's financial expertise has been invaluable as he serves on the HHF Finance Committee. We are grateful for Dick's commitment to the hospital and his other philanthropic interests which benefit Hinsdale and the surrounding communities." Along the way, Dick has also established the Barrett Foundation as a means for the Barretts to give back financially to the community. Last, but certainly, not least, Dick has inspired son Jessie. Jessie is on the Board for HCS Family Services, serving as secretary. Wendy Michalski praises Jessie for his leadership. "He always puts our mission and the needs of our neighbors first. When we decided to plan for a campaign, Jessie volunteered to chair the committee, and then he and his wife, Jessica, generously gave the first gift, a gift that will significantly impact the lives of those we serve and inspire others to give. Jessie is all about giving back to the community and transforming the lives of those in need." This non-profit helps families with emergency food. Annually, the HCS Food Pantries in Hinsdale and Willowbrook provide the equivalent of over 500,000 meals. In addition, they help needy families find other support groups. Like father, like son, and now, like grandson. The family tradition of giving back now involves Chase Barrett, son of Jessie and grandson of Dick. Like his grandfather, Chase, 14, is now playing the euphonium and marches in the Red Devil Marching Band. Frankly, that alone is very satisfying to Dick and his son Jessie. And Chase has been getting involved in the community. He volunteered loading groceries for Hinsdale HCS services.
"The Barrett Family has been an important part of Wellness House for many years. Their sustained giving is a shining example of the power of community support and how it directly impacts those who are experiencing cancer."
And, in sixth grade, Chase saw an environmental opportunity. He noted that not all schools were using compost bins. He stepped up and organized the effort to get compost bins established at Clarendon Hills Middle School. As Chase says, "I think it is very important to take part in the community and give back, just like my grandfather and father have done." As the Barretts clearly show, volunteering helps you grow as a person. You learn something new, you build leadership skills, you grow your network, you show your values to those around you, and you find new opportunities. It is true: what goes around, comes around.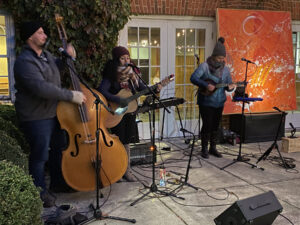 Another Option For Giving Back: Working With Foundations
Instead of working directly with a non-profit, you can look to an organization like the DuPage Foundation, a community foundation that serves as a conduit between donors and non-profit organizations serving the needs of our community. According to the Council on Foundations, community foundations are "grant-making public charities that are dedicated to improving the lives of people in a defined local geographic area. They bring together the financial resources of individuals, families, and businesses to support effective not-forprofits in their communities." Since its inception in 1986, DuPage Foundation has awarded more than $65 million in grants to non-profit organizations serving the residents of DuPage County and beyond. Dave McGowan, President and CEO of DuPage Foundation, says, "The needs in DuPage County are staggering, and many of our neighbors face daily challenges that were amplified by the pandemic. Together, with the support of our donors and community partners, we are creating significant impact in DuPage by providing resources to the not-for-profits that mobilize assistance where it's needed most. We are proud to do this work and serve as your community foundation." Specifically, there are two main components that make up the foundation. First, of course, there are the donors themselves. Second, there are hundreds of non-profit organizations that apply for grants from the foundation's flagship grant program, called the Community Needs Grant Program. Eligible non-profits fall into five categories for this DuPage Foundation program:
• Health and human services
• Education
• Arts and culture
• Environment
• Animal welfare
As a donor, you can designate amounts as "unrestricted," which means the grant committee can best determine where those funds will have the most impact based on the greatest need, or you can direct funds to specific causes or organizations (donor-advised, designated or field-of-interest funds). Several of those not-for-profits are right in our part of DuPage County:
• Candor Health Education (formerly the Robert Crown Center)
• Community Adult Day Center
• The Community House
• Creating IT Futures Foundation Inc.
• Downers Grove Area FISH, Inc.
• Downers Grove Choral Society
• First Folio Theatre
• Graue Mill and Museum
• HCS Family Services
• Hinsdale Humane Society
• Hope's Front Door
• Lizzadro Museum of Lapidary Art
• LOVE Christian Clearinghouse
• Mayslake Village
• Reclaim13
• SEASPAR
• Sharing Connections
• Variety the Children's Charity of Illinois
• Wellness House
• West Suburban Humane Society
• The West Towns Chorus
So, you have lots of choices. The important thing is to make the commitment. Community involvement is important for your community, and for you. It can truly be a win-win for all. Think about it and then get involved!
*Photos by Marcello Rodarte