The Freshest coffee aroma brings you to Café La Fortuna
When you are walking through the Courtyard at Village Place, between Hinsdale Ave. and First Street, you can't help but be drawn to the fresh coffee aroma that takes you right to Angela Lavelli's Café La Fortuna. It really is a bit of good fortune. "That aroma tells people where they can get the freshest coffee and a warm welcome," Lavelli said. "I am very grateful to have so many customers who have found their way to our business, and who appreciate that we use only the finest ingredients for our drinks, paninis and specialty items in our pastry case. People tell me they feel like they are in my kitchen when they stop in, even if, for now, we all have to keep our distance." Every day since she opened in 2012, Lavelli makes the day's batch of fresh coffee. "We are committed to making you the perfect cup of coffee, and that means we need perfectly-roasted beans," she said. "There are several steps involved." "First, we roast our coffee beans in small batches every day, and use them in all of our specialty and coffee drinks.
"We are committed to making you the perfect cup of coffee"
Our beans are single origin, and come from small plantations in Mexico. The coffee-roasting process takes the just-picked green-beans, and turns them into dark-brown beans. High temperatures vary, depending on whether we want a light roast to darkest roast, and then they are cooked quickly." The result, according to Lavelli, is a bean that is "crunchy when chewed, and is then ready to be ground and brewed." "We do this in small batches each day, because the freshest roast beans make the most fragrant and flavorful drinks," she said.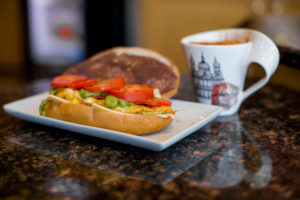 There are iced versions of these drinks as well. In addition to the aroma of fresh coffee, when you take a seat for a few peaceful moments, you can also catch a whiff of Lavelli's famous and delicious grilled paninis. There are seven panini choices, including:
• Brie, apple and turkey, mayo and fig spread
• Grilled cheese: your choice of cheddar, muenster, jalapeno, pepperjack, provolone, spinach or red bell peppers
• Grilled veggies
• Italian prosciutto, soppressala, mortadella, provolone and mozzarella
• Peanut butter and jelly.
• Quesadilla flour tortilla with your choice of cheese
• Spi Mo To: spinach mozzarella and tomato with balsamic dressing
You can also build your own. Mexican specialties include:
• Café de Olla cinnamon quills and sugar-cane are infused with a signature roast. An aromatic duo of sweet and spice soothe your senses.
• Mayan coffee: a pairing of Mexican hot chocolate with espresso. The cocoa is also sourced from Mexico.
Other favorites are Mexican hot and chocolate café con leche.
*Photos by Marcello Rodarte